Certified ScrumMaster® by Holistic Agility and Scrum Alliance
About this event
The industry-leading Certified ScrumMaster® (CSM®) course, delivered by Stuart Turner.
Use Scrum on day 1 in our full-session simulation.
Benefit from Stuart's more than 30 years of experiences using Scrum and agile in real situations.
Engage in a comprehensive range of activities with other participants.
With the above approach students are achieving:
100% pass rate
Average test score over 90%
As you can read on the front of the Scrum Guide, Scrum is a game:

How well you setup the game makes a big difference to how well you can play.
Of course this course helps you learn the game of Scrum and prepares you for passing the CSM test, but it also helps you learn how to make it easier to play Scrum in whatever situation you're in:
In the early stages of a C-level initiated agile transformation?
Need to use it for a fixed-price contract?
Highly regulated industry?
Customising off-the-shelf products?
Migrating off mainframes or other legacy systems?
Manager not very supportive of agile?
Client starting an agile project next week and you need to learn how to help them?
Stuart will share some simple techniques to help you make the most of whatever situation you're in.
Agenda
Preparation:
Desired Outcomes
Context for Scrum
Scrum Fundamentals
Session 1:
Connections
Preparing for Sprint 1
Simulation: This whole session is using Scrum, including:
Sprints, Planning, Review and Retrospective
Discovering in sprints
Delivering in small 'done' increments
Teamwork, decision-making
Session 2:
Comprehensive coverage of the Scrum Framework:
Roles: Product Owner, Scrum Master and Developers
Events: Sprints, Planning, Daily Scrum, Review and Retrospective
Artefacts: Product Backlog, Sprint Backlog, Product Increment
Commitments: Product Goal, Sprint Goal, Done
Values: Courage, Commitment, Focus, Openness, Respect
Rules: How it all fits together
Session 3:
Obstacles for Scrum
Tools and techniques
Implications for your organisation
Playing a good game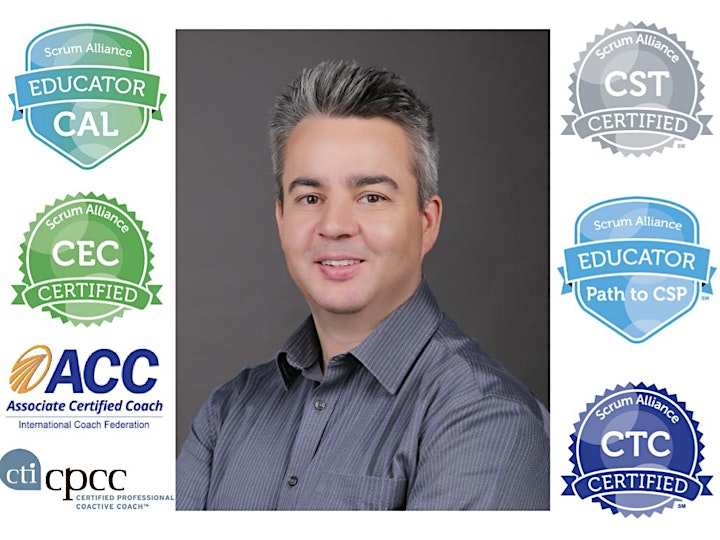 Stuart Turner is the originator of the unique, fun and highly informative (and much copied) Scrum simulation using balloons. One of very few courses that uses a simulation early on the first day, intentionally giving everyone a fidelitous experience of using Scrum and a shared context on which to build. The ordering of events in the course in deliberate, knowing experiential learning permits the deeper lessons and discoveries of the remainder of the course to be better understood, integrated and retained.
Of course, using physical balloons won't be possible in an online environment, so we'll be building something virtual.
As we build the product we experience using the Scrum framework to discover more about our product and how we're working using the principles of transparency and inspection. Based on what we discover we'll adapt our product and working practices in the pursuit of improving outcomes.
Through the CSM programme, you'll learn to:
Facilitate dialogue between the Product Owner, team members, customers, stakeholders, and executives.
Respond confidently when encountering resistance to change, lack of engagement, low motivation, and unavailability of key people.
Help your company adopt Scrum and support executives committed to Agile values.
Remove impediments that prevent long-term, deep adoption of Scrum and Agile practices by all parts of the business.
Explain the value of Scrum and Agile processes to sceptics.
Increase developer engagement to encourage greater accountability, commitment, and buy-in.
Extend the impact of Scrum throughout the organization.
Scale Scrum and Agile beyond a single team.
Leverage your learning to gain recognition and status as the local Agile expert in your company.
Most importantly, you will be able to improve your implementation of Scrum in the workplace and help keep your team on the right track.
What are some other benefits of becoming a Certified ScrumMaster®?
A focus on implementation – The CSM programme is designed to build on your foundational knowledge with enhanced skills for the implementation of Scrum and Agile techniques within your company and teams.
Stand out in your industry – As a member of the Scrum Alliance globally recognized community, you show your employer (or potential employer) your potential as a highly valued professional.
What do I need to join ONLINE?
A stable Internet connection
Either:
A laptop or device capable of running Zoom AND our interactive whiteboard, Mural
OR
Two devices - one for each.
Is there an exam?
Yes - but only if you wish to attain the Certified ScrumMaster® credential.
Is the exam fee included?
Yes!
What does the exam involve?
Once you complete the course, you will be registered with Scrum Alliance and receive an email with a link to take the test.
The test is performed online, after the course. You have up to 3 months to take the test and if you don't pass first time, you're entitled to a free retake.
Before taking the test we suggest rewatching the course videos and referring to the visual reference guide.
Create a space where you'll be able to focus for up to a full hour.
Correctly answer 37 out of 50 questions within 1 hour. Many participants tell us it takes significantly less time than one hour.
Once you pass the exam you may fill out your newly created Scrum Alliance profile and update your CV and LinkedIn profile.
Can I cancel or transfer to another course?
Up until 24 hours before the start time of the course you may:
1. Transfer to another course
2. Cancel for a full refund
Earlier notice is appreciated.
Why are you less expensive than other courses?
This course is offered directly by the course instructor/facilitator.
We don't believe in marketing, paid advertising, etc.
There are no costs for a training venue, catering, hotel, or travel.
There are no third-parties fees.