You are here for a reason, the world needs your light, your unique odyssey. We have been waiting for you.
About this event
"You're learning to work with other people but you're also learning so much about yourself in the process. I love the self-development work that comes with the training" ~ Thyme With Charlie student | Alicia, Spain
These energy-based courses will provide you with a thorough grounding in the techniques, science, and theory of sound and healing elements, chakra and subtle body connections, brain waves, hypnotherapy, and how to use sound to promote health and wellbeing.
An important focus of the courses is guidance on how to develop your own unique healing skills. You will work on understanding your own inherent wisdom and personal vibration to guide you to connect to your psychic abilities and intuition. This, in turn, will open up the possibilities of connecting with your guides and opening your healing channels to support you to heal yourself and others. This beautiful ancient practice of working with sound will act as a transmitter and amplifier of healing energy.
Everyone has the ability to connect with the healing power of sound.
Level 1 qualifies you to facilitate one-to-one sessions. Level 2 qualifies you to facilitate group sessions.
Completion of Level 1 Sound Healing Practitioner training with Thyme With Charlie is required to participate in Level 2.
In level 1 you will;
* Learn about the bowls through theory and practice.
* Learn about the history of Tibetan/Himalayan singing bowls, their use, and the technique of playing the bowls and other healing instruments.
* Learn to listen with your body, feel, sense, tune yourself and adopt this healing tool.
* Understand the resonance, frequency, and vibrations of sound.
* Study the chakras and auric fields and their connections to the different bodies (physical, mental, emotional, and spiritual).
* Read and align energies and how to use them with sound healing.
* Be guided to develop your intuitive and psychic skills, to open your channels.
* Receive guidelines on how to conduct interviews and start a healing diagnostic prior to a one-to-one session.
* Receive business guidelines on how to start and develop your healing practice from the ground up and beyond.
* Learn how to conduct a one-to-one healing session, to cleanse, balance, energise and harmonise.
In level 2 you will;
* Learn the basics of hypnotherapy and the theory of the mind.
* Discover the power of your voice and words to induce clients into a deep state of relaxation
* Create guided meditations and positive affirmations to lead a group into a trance-like state.
* Understand how you want to prepare your sacred space, yourself, and your clients.
* Work on creating your spiritual habits and how to maintain your personal spiritual practice.
* Receive practical business guidelines on marketing, admin, approaching studios and clients, etc, and how to start, and develop your healing practice from the ground up and beyond.
* Lead and facilitate group sound healing sessions
You will receive:
* Student Handbook
* Daily Meditation
* Theory and practice
* 1 Singing Bowl and mallet
* Snacks and refreshments
* Self-healing tools to ground, open, and prepare yourself before and after a sound healing session
* Basic business tools if you decide to use Sound Healing as a professional practice
* Ongoing support for your business and practice from Charlie
* Free access to my closed Facebook group of Sound Healers that have trained with Thyme with Charlie where you can network and get exclusive tips and advice
* Teachers discount on Tibetan Singing Bowls from Nepal
* Monthly practitioner sessions virtual/in person
* A profile space on the Practitioner Directory page of the Thyme With Charlie website
No prior qualification or experience is required.
All courses are Internationally Certified by the IPHM.
INVESTMENT*:
Level 1 – GBP £1208
Level 2 – GBP £632
Total 10% discount price for booking both levels – GBP £1656
*20% non-refundable deposit to secure your place
*10% discount if you book levels 1 & 2 together. Discount does not apply when booking both levels separately
*Payment can be spread over 1-6 monthly instalments with the final payment due on course completion. Certifications will not be issued until full payment has been received.
*£20 of every booking will be donated to a selected charity.
TIMES & DATES:
Level 1
The training is 30 hours in 5 days:
Wednesday 15th September 2021 - 10:00-16:00
Thursday 16th September 2021 - 11:00-17:00
Friday 17th September 2021 - 12:00-18:00
Saturday 18th September 2021 - 14:30-20:00
Sunday 19th September 2021 - 14:30-20:00
Level 2
The training is 20 hours in 3 days:
Friday 19th November 2021 - 12:00-18:00
Saturday 20th November 2021 - 14:30-20:00
Sunday 21st November 2021 - 14:30-20:00
VENUE:
Both levels 1 and 2 will take place at The Power Yoga Company. The studio is a 10-15 minutes' walk from Parsons Green tube. Paid on street parking is available outside the studio building:
The Glass House
11-12 Lettice St
London
SW6 4EH
+442077364429
https://g.page/thepoweryogaco?share
_________________________________________
NB:
- These courses are in English
- All prices are in GBP£
- Not advisable for epileptics
- Healthy snacks and refreshments will be provided during the training
- If you have any Tibetan bowls or other sound healing instruments, please bring them with you each day of the course as they will also be a part of the attunement process.
_________________________________________
ABOUT YOUR GUIDE:
You will be learning from Sound and Energy Intuitive, Charlie Christie who has been teaching and expanding her sound and healing language to the world for many years and been practising Reiki and energy Healing for almost 20 years. This incredibly transformative healing modality is open to all levels, whether you're a beginner called to know more about frequencies, healing and consciousness, or would like to integrate sound and vibration into your existing healing, yoga, or daily spiritual practice.
If you feel I may have missed something, please let me know. As always I'm happy to answer all questions and help as and where I can.
I look forward to welcoming you to this transformational journey.
With Love,
Charlie x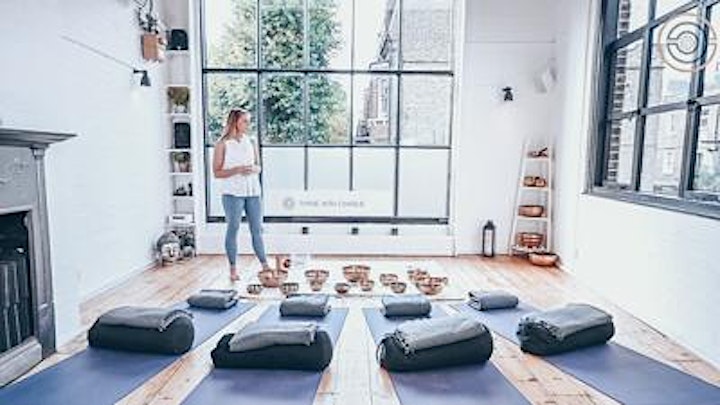 Organiser of Certified Sound Healing Practitioner Training - LONDON
About Charlie Christie ~ A Balance of Thyme
I started my love of movement as a dancer from 3 years old, which turned into my profession and trade until I injured my lower back in my 20's.   A combination of Energy Healing, Yoga, Pilates and Calisthenics became essential for my recovery and has been a consistent part of my life for over 15 years.
After many years of working in Operations Management in corporate environments and running a couple of independent businesses, I decided it was time to give my life a little more meaning.
I was exposed to the holistic healing world from birth and as a child I was always fascinated by what the human eye couldn't see.   When I was old enough to start to understand the potential power healing has for good, to be able to help people and seeing it work its magic, I learnt Reiki at 15 years old and practised on anyone whom I was drawn to help, including the family pets.
Thanks to my travels and places I have lived, I have been fortunate enough to meet, work with, be treated by and learn from wise and beautiful healing mentors from the land of karma and spirituality of how to channel these gifts.   I discovered Sound Healing whilst living in Dubai and immediately connected with it.   The practice aided the healing of both physical and emotional ailments and after seeing and feeling the results, I was hooked on this ancient healing modality.
Throughout the years I found the space, energy and love to develop my healing abilities as an intuitive lightworker and energy healer and after pursuing happiness and oneness I understand that now is the time to share my knowledge, experience and gifts I received to guide people to find their true self and inner peace.
I have been teaching Sound Healing Meditation classes with Tibetan Singing Bowls for a number of years and in 2017 I qualified as a Yoga Alliance Ashtanga, Vinyasa Yoga teacher.   I have been fortunate enough to teach Sound Healing, Meditation and Vinyasa Yoga in some beautiful parts of the world including the UAE, India, USA and the UK.
In my short and wonderful time on this earth, I have been through many ups and downs.   Life, at times, has been physically, mentally and emotionally challenging in both extreme and not so extreme ways and sometimes all at once.   As a result, I have learnt first-hand how precious our bodies, minds and time really are...I'm eternally grateful and respect these moments for bringing me to where I am today and inviting in all the things I love about life with Travel, Healing, Yoga, Meditation and Evolving creating, Thyme With Charlie.