Sales Have Ended
Registrations are closed
Thank you for your interest in the course. Unfortunately, we are full booked. You could register your details in the waiting list and if a place becomes available, the organisers will contact you.
Sales Have Ended
Registrations are closed
Thank you for your interest in the course. Unfortunately, we are full booked. You could register your details in the waiting list and if a place becomes available, the organisers will contact you.
Description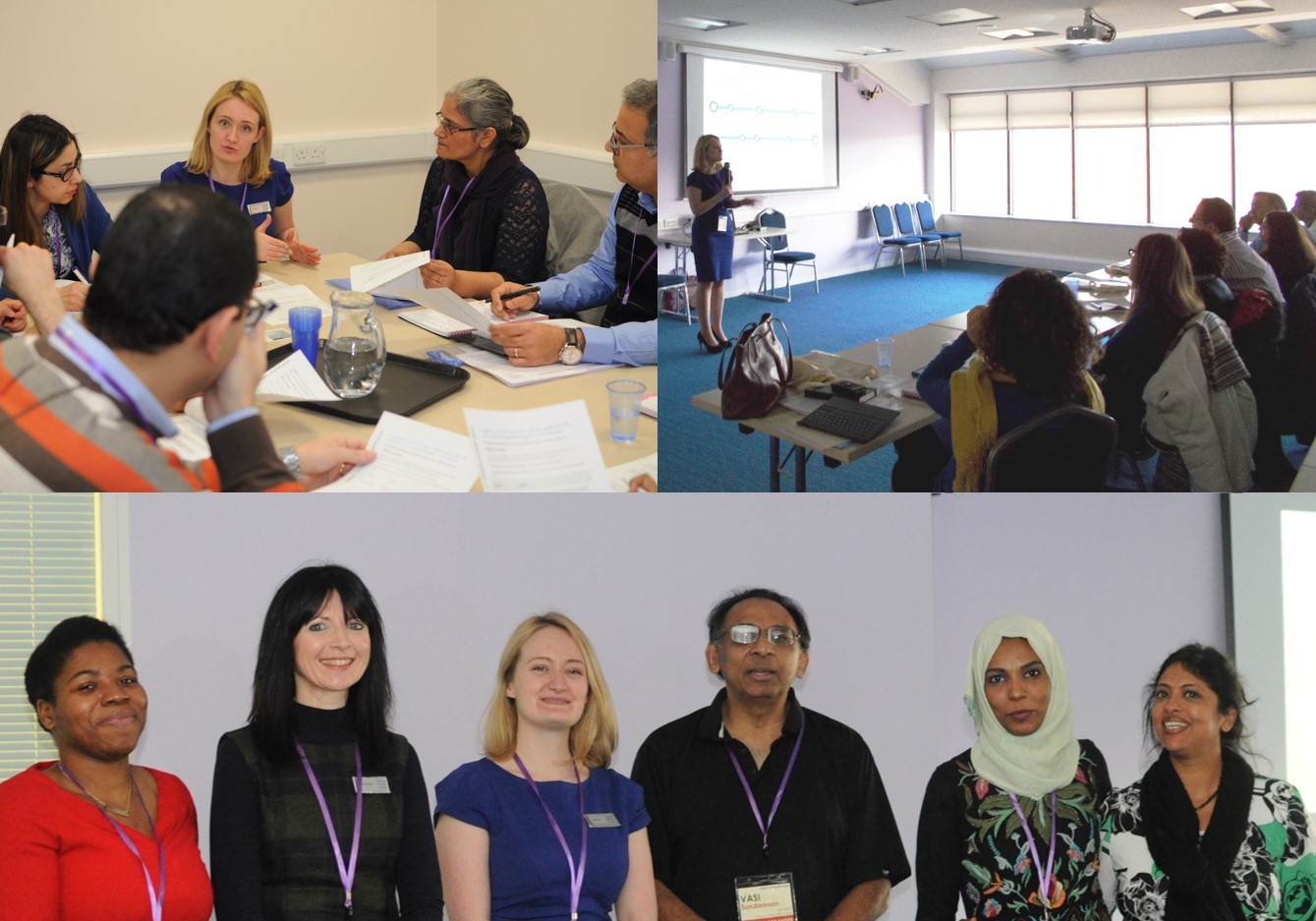 Generously Sponsored by HEE EoE and BDIAP, this SAS career day is for those applying for Histopathology Specialist Registration via the CESR (Article 14) route.
It will provide guidance on what to submit as supporting evidence, who to approach for a reference, and how to complete your application.
Invited speakers:
Prof. Bill Irish - Bill trained in Cambridge and London, before training as a general practitioner in Bath and pursuing a parallel career in postgraduate medical education. Until recently he was Director of GP Education in Health Education South West, chair of COGPED and co-chair of the medical selection quality and standards group for the UK. He is the UK lead postgraduate dean for the specialities of acute medicine, infectious disease and pre hospital emergency medicine. He is the HEE dean for integrated academic and clinical training for doctors and dentists in partnership with NIHR and the English medical schools. Bill holds visiting chairs of medical education at the universities of Bristol and East Anglia and has research interests in high-stakes assessment, medical trainee recruitment and selection.
Ms. Jessica Betts - Jess is a Team Coordinator on the Specialist Applications team at the GMC. The Specialist Applications team are responsible for processing around 850 equivalence applications via the CESR route each year. Jess regularly speaks at events offering potential CESR applicants an insight into the CESR process, and giving advice on how to apply.
Ms. Stephanie Wright – Stephanie is one of twelve advisers on the Specialist Applications team . Stephanie deals with applications across the full range of specialties and regularly provides future applicants with guidance on the CESR process at applicant training days.
Dr Ian Proctor - Ian became a Consultant Histopathologist in 2014 and works at University College London Hospital where he specialises in Haematopathology and Head & Neck pathology. Ian has a degree in genetics from the University of London (1992) and completed a PhD on inflammatory bowel disease in 1996. After training as a junior doctor, Ian also held various NHS management roles for 3 years. These included the delivery of the European Working Time Directive and 'Hospital at Night' projects. Ian was appointed lead Educational Supervisor in Histopathology at UCLH in 2015 and then became Training Programme Director for North Central London in 2017. He is responsible for developing the regional teaching programme in London, Kent, Surry and Sussex and sits on the RCPath curriculum development group committee. He also organises regional FRCPath Part 2 exam teaching and the biannual London mock exam.
Prof. Jo Martin – Jo qualified via Cambridge University and the London Hospital Medical College. She holds a PhD of the University of London and a Masters in Leadership. She is a practising histopathologist, with a particular subspecialist expertise in neuromuscular disease of the gut and renal pathology. Jo has previously run clinical and diagnostic departments. She acted as Medical Director and subsequently Chief Medical Officer at Barts Health NHS Trust and currently leads on education and research across the Trust. Jo was National Clinical Director for Pathology for NHS England from 2013 -2016 and is the President of the Royal College of Pathologists.
Prof. Michael Sheaff - Michael is a Consultant Histocytopathologist at Barts Health where he is the medical lead for medical renal biopsies and Cytology. He also has a special interest in thoracic and skin pathology, together with autopsy work. He has been a CESR application assessor for the RCPath for a number of years. He has
shared the training of pathology trainees at Barts Health for over 20 years including one who has gained her CESR through this route.
Ms. Joanne Brinklow - Jo is Director of Learning at the Royal College of Pathologists. She is a member of the Senior Management Team and has oversight of the Learning area of the College which comprises the Training, Examinations, Assessment and International departments. Joanne has worked at the RCPath for 18 years and helped to establish the CESR process within the College when it was first introduced in 2015/2016.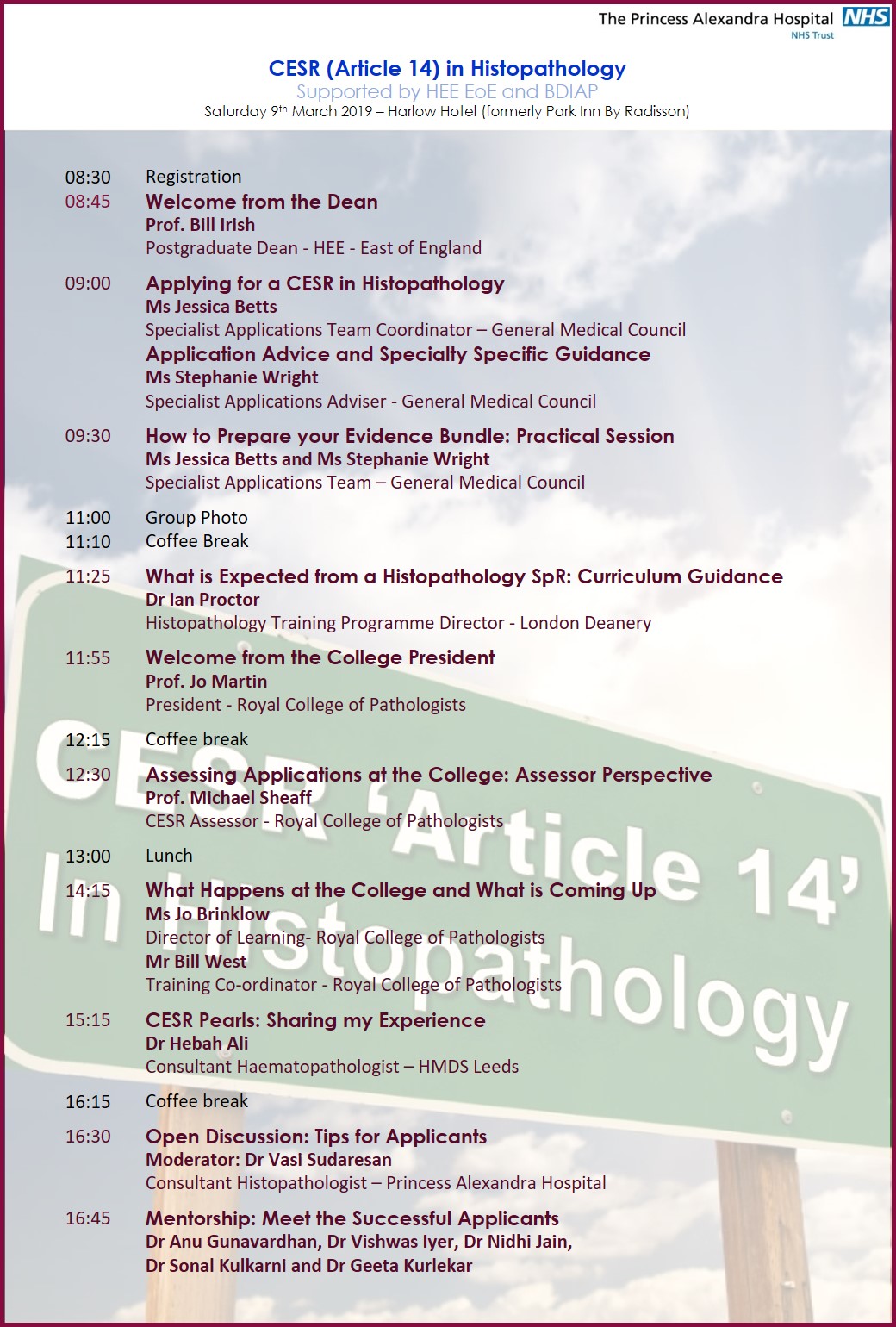 We are pleased that ten histopathologists who attended this event in January 2017 have entered the GMC Specialist Register:
'I came for your CESR course in Harlow. Glad to inform you that I cleared my article 14 last month. Thanks a lot for all your guidance'
'I have got my CESR in October 2018 and the workshop was so informative and your advice at every step was so valuable; I couldn't have done this without your help and guidance'.
'Thank you ever so much for all your support. I received the most awaited e-mail from GMC this weekend :) It's all approved and CESR sorted. Your presentation has contributed a lot. It was my guidance at every step'.
---
Harlow Hotel (formerly Park Inn Harlow) is providing special rates for course registrants: For single occupancy the rate is £55 room only or £60 with breakfast, and double occupancy is £60 room only and £70 with breakfast.