Description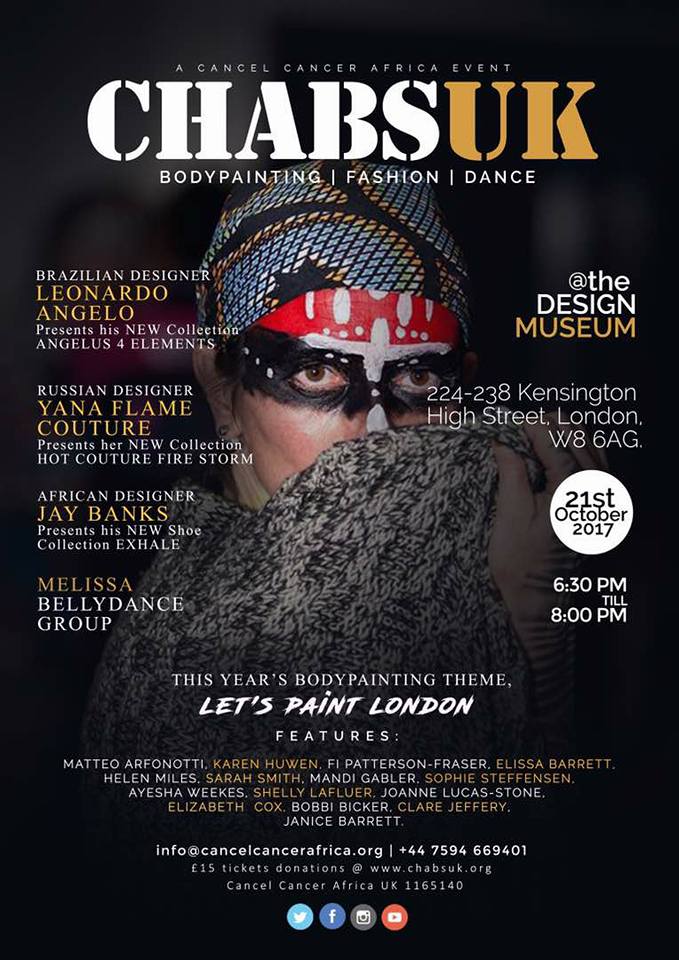 Summary of Event.
ChabsUK is a fusion of creative Bodypainting designs with a bold expression of Fashion.
'Let's paint London' themed event explores the creativity and expression of artists and designers as they interpret what the thriving capital means to them, thi stime in the new Design Museum in Kensington.
Come enjoy the display of Fashion, Dance, Live musical performances, and creative bodypainting, as you help us raise Cancer awareness in Africa.
Cancel Cancer Africa, the charity at the heart of this event, has been working in Kenya, South Africa and Nigeria since 2009 to bring awareness, education and free screening to rural Africa.
Proceeds from 'ChabsUK' will contribute towards building a centre in rural Africa to enable development of best practices, measure progress and act as a model for the provision of screening centres in other communities.

---
Event Flow:



6:25pm - Welcome drinks.
Brazilian deisgner Leonardo Angelo presents his new collection '4 Elements'.
Russian designer Yana Flame Conture presents her 2017 collection 'Fire Storm'.
Nigeria designer Jay Banks presents his new fotware collection 'Exhale'
The Mellisa Belly Dance group performs 'Awakening'
BodyPainting displays 'Let's Paint London'
Date: Saturday, October 21st , 2017.
Venue: the Design Museum, 224-228 Kensington High Street, London, W8 6AG. United Kingdom.
Nearest stations: High Street Kensington or Earls Court station

After party: Parabola London from 8.00pm to 11.00pm. Music, Bar and enough space to dance away.