Description
The Chachi Power Project is bringing two major personalities from the body positive world to Edinburgh in May for Chachi Live. Michelle Elman of Mindset for Life will discuss what the body positive movement is all about, how to change your mindset towards your own body confidence, and the real effect that could have on your life. And Nadia from the Self Esteem Team will talk about the importance of good self body image in young people and how to empower the children in your own life.

We hope this event brings knowledge, understanding, some relief and helps you realise what could be possible for you and for the young people you are connected to. This event is suitable for 12 yrs+.
Tickets are a suggested donation. This event is not-for-profit so any money raised will go to the charity Penumbra, a mental health and wellbeing charity based in Scotland. We will also have some cute Katie Abey prints available for purchase and artist Kayleigh McCallum will be displaying her work from her Beauty Laid Bare Initiative. Please pick which ticket type suits your budget and THANK YOU.
Event Format:
3.00pm: Arrivals and Registration
3.15pm: Introduction
3.20pm: Michelle Elman speaks about the body positive movement, increasing body confidence and the impact it can have on your life.
4.05pm: 10 min break for nibbles and refreshments
4.15pm: Nadia from The Self Esteem Team talks about how to instil body confidence and self esteem in young people
5.15pm: Close. But extra time for nibbles and conversation if you can stay.
Speakers
Michelle Elman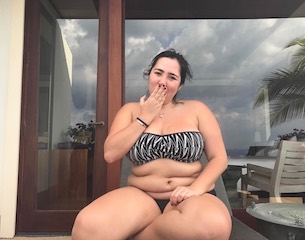 Michelle Elman is a London based, 5 board accredited life coach, Master NLP practitioner and Hypnotherapist with a degree in psychology. She has been a Body Positive Advocate for 4 years and is a major social media personality. Her writing has been featured in Cosmopolitan, Huffington Post, Teen Vogue, People, The Independant and so on... She is an active blogger on many subjects to do with body positivity and started Mindset for Life as her personal brand to coach and encourage others to improve their body confidence.

She created a campaign called #ScarrednotScared to start a conversation around surgery scars and the side effects operations can have on a person's life. It was a personal mission for Michelle as she has undergone 15 surgeries herself. By the age of 20, she had had a brain tumour, a punctured intestine, an obstructed bowel, a cyst in her brain and a condition called Hydrocephalus. Since showing her scars in a bikini and sharing her story, she has been praised as a body confidence role model, having been chosen as one of the top body positive moments of 2015 by Cosmopolitan. Check her out on Instagram.
Nadia from the Self Esteem Team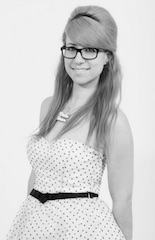 The Self Esteem Team travel the UK working with teens on mental health, body image and self-esteem. They also deliver parent workshops and teacher training. Through their combined lived experience of depression, anxiety, eating disorders and self-harm, they understand firsthand the challenges our younger generation face today. To date, they have worked with 70,000 teens in 300 schools (and counting). They are currently developing a primary programme, and are trialling a series of 10-minute exercises for teens to be practised daily which will create positive mental health habits.
Nadia is a Showbiz Editor. She has worked for the majority of Britain's best-selling tabloids. Her job gives her a unique perspective on the inner workings of fame and celebrity, which in turn has played a huge part in our relationship with body image and self-esteem. Having self-harmed from a young age, she has since found different ways to express her emotions; through writing and an individual sense of style. Now fully-recovered, Nadz credits therapy and creativity with understanding her illness. She exudes positivity and a youthful outlook. And as the ultimate partygoer and storyteller, Nadz has a powerful but extremely relatable way of communicating.
ADDITIONAL
You can follow The Chachi Power Project on Instagram or Facebook or Twitter to get body positive inspiration.

If you love the idea of body positivity and believe in the aims of this event and it ties in with your brand then you may want to sponsor this or future events? If so then please email chachipowerproject@gmail.com.

If you'd like to donate towards the running costs of this event then that would be gratefully received! Please contact chachipowerproject@gmail.com.
Volunteers to help greet attendees or help with event set-up on the day would be warmly welcomed! Please use the same email contact as above and get in touch!
Many thanks go to Whitespace for donating their beautiful events space, to both the speakers and to everyone who has given their time and energy into making this event a reality.
#chachipower