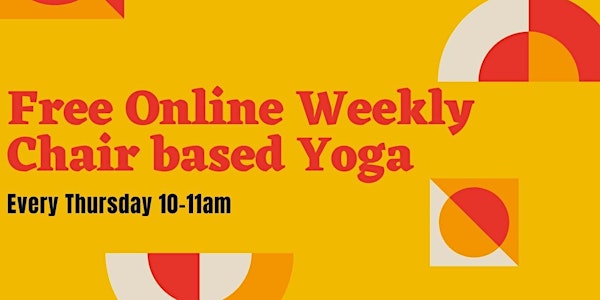 Chair based Yoga - Beckton and Royal Docks Community Neighbourhood
Online Chair based Yoga (with Beckton and Royal Docks Community Neighbourhood)
About this event
Tuesdays 10-11am
This online Chair based yoga and Meditation helps to improve your quality of life. The benefits of weekly class have the following benefits decrease stress, balance blood pressure, anxiety, inflammation, and chronic pain. The goal of chair yoga is to develop strength, flexibility and improve mobility. The class is online, for you to practice in the comfort of your home and relax after the session. The session is suitable for all abilities. All you need is space and a chair
Important information for all class attendees
Regular yoga class will benefit your health and wellbeing. However, like any physical activity yoga can be physically challenging and carries with it risks. These include the risk of personal injury, or the exacerbation of existing injuries or conditions, or damage to property around you during your participation.
Please introduce yourself via the chat function in Zoom when you log on and switch on your camera for the tutor.
Please note that although you may appear on video link during the live stream of the class, the instructor may not be able to see you clearly or instruct you individually as is possible in a face-to-face teaching scenario.
Participant Rules:
• You take responsibility for your health during the session.
• You must not participate if you are pregnant or under the influence of alcohol or non-prescription drugs.
• The will not able to give specific advice about your medical condition. You must obtain professional or specialist advice from your doctor before participating if you are in any doubt.
• Clear enough space to safely carry out the exercises without hitting items around you.
• Check that the device you are using is securely positioned and will not interfere with your movement.
• Listen to your body. Follow any safety instructions or suitable modifications or adjustments to the exercise as instructed.
• Never continue with a class or a movement that is too difficult for your level of experience or ability, or if you feel any discomfort.
In the absence of any negligence or other breach of duty by your teacher, participating in this yoga class is entirely at your own risk.
To ensure your online safety and fellow attendees you must not share the zoom link to your class, all attendees must make their own booking via Eventbrite
By accessing and participating in these classes, you confirm that you have read and understood this disclaimer.
If you need help learning to use Zoom please come to Beckton Globe Library to ask for help.
You can email us on: CN.BecktonRoyalDocks@newham.gov.uk or call 020 337 30853