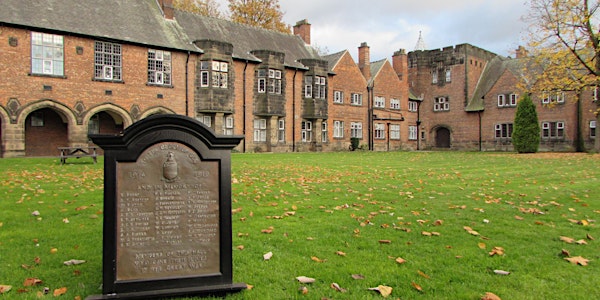 Chairs that Stand Empty: The men behind the names on the Hulme Hall First W...
Location
The University of Manchester
Oxford Road
Manchester
M13 9PL
United Kingdom
Description
Established in 1870 as a Church of England Hall of Residence for students of Owens College, Manchester, Hulme Hall has grown and adapted to meet the changing face of university life in Manchester over the past 147 years.
The Hulme Hall community faced its biggest examination throughout the First World War. 250 students and staff of Hulme Hall served in the armed forces between 1914 and 1919. This figure accounts for over 50% of the total number of students who passed through the Hall after it reopened in 1887. 


Forty did not return home.
The first killed was Second Lieutenant Wilfred Trevelyan who was hit by shrapnel whilst repairing a support trench near Ypres in May 1915. The last was Major Ernest Cunliffe who passed away in the Lake District in March 1919 after contracting an illness whilst serving at Military hospitals in Manchester and France. 


Former Hulme Hall resident James Hern has spent the last five years piecing together never before published letters, photographs and documents to tell the story of the lives and death of the men who did not return home. Stories such as those of:
Charles Hamilton Murray Chapman; whose family posthumously published the children's book he had painstakingly written and illustrated before the start of the war. 



Robert Bedford; who wrote vividly of his time in Gallipoli, Sinai and finally France. 


Harold Swift's wife, Muriel; who discovered the heartbreaking news her husband had died a month after his death in the newspapers.


Arthur Lord; who fought overseas underage. Wounded twice and prompted to Captain by the age of 19, he lied at least twice about his age on Army documents.
In this presentation, James will expand upon the stories and themes published in his book Chairs that Stand Empty, which was published in April 2017.