Are you looking for the step in an Early Years Career? Come along to our open day at our Chalfont St Peter nursery to learn more.
About this event
COME ALONG TO OUR RECRUITMENT OPEN DAY
Are you a qualified Level 2 or Level 3 Practitioner or looking for an Apprenticeship in Early Years?
Come along to our open day on Saturday 15th May between 10am-1pm.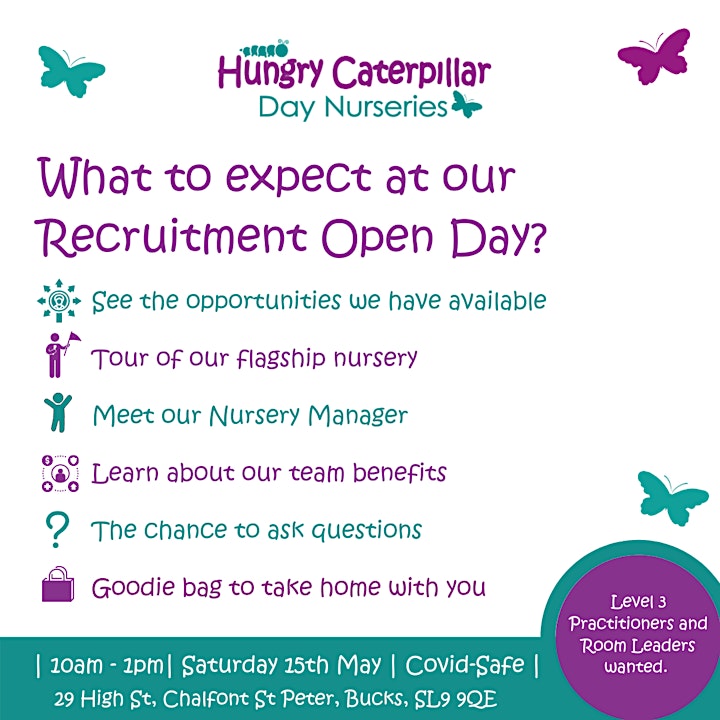 We are hiring for a range of positions including:
Early Years Apprentice
Level 2 & 3 Early Years Practitioner s
Room Leaders
& MORE
Come along to learn how you can take the next step in your career with Hungry Caterpillars.
Visit our website for more information, Click here.
Event Information:
How to find us:
Our Address:
Hungry Caterpillar Day Nurseries, 29 High St, Chalfont St Peter, SL9 9QE
We are located in the heart of Chalfont St Peter town centre.
Parking: FREE parking for 1 hour at the Co-op car park or at Marketplace car park (near M&S), both are a 1 minute walk to the nursery.
Bus Route: 104 / 105 from Uxbridge or High Wycombe, get off at Market Place stop - which is 1 minute walk to the nursery.
We will have signs up to direct you to our nursery garden, where the event is taking place.
What to bring with you:
1) Your CV & Qualifications
2) Your ID documents
3) A face mask
COVID-19:
The event is taking place outside in our nursery garden, you will also have an opportunity to receive a tour of the nursery (socially distanced) – where a one-way system will be in place.
Please ensure that you wear a facemask for the entirety of your visit. We will be taking temperatures upon arrival and hand sanitiser will be available.
If you have any symptoms of COVID-19 (Temperature, persistent cough or loss of smell/taste) on the day please do not attend the event. Get in contact with us and we will make alternative arrangements for you.
How do I change my booking?
To change your booking slot– please email admin@hungrycaterpillars.co.uk
On the day of the event, please call the nursery on 01753 882 617 if you have any issues.