Challenges in the deployment of OR projects

Thursday, 19 March 2020 at 13:00

-

Friday, 20 March 2020 at 16:00 (CET)
Event Details
Challenges in the deployment of OR projects
Thursday 19 March, 2020 (1:30pm) - Friday 20 March, 2020 (4pm)
The third edition of the EURO Practice of OR working group conference will focus on OR projects that have met with difficulties during their implementation - including particularly tricky or unusual technical requirements that had to be addressed during the development phase or issues related to the use or acceptance by non-OR-expert end-users. Presenters will also discuss their experiences with the management of change in operations due to the introduction of an optimisation or analytics application in an organisation.
Sponsors 
  

    



  

 

 



 
 
 
 
Full Workshop Programme
The workhop handbook including the detailed programme is now available.
Keynotes
Optimization in Finance – Practice and Challenges by Adrian Zymolka, Managing Director at Axioma, Germany
The seminal work of Harry Markowitz in the 50's introduced mathematical optimization to the world of finance, based on quadratic programming which just became practically usable. His ground breaking vision to optimally trade off risk and return however inspired many portfolio managers in their daily work and helped shaping the area known as quantitative finance.
Meanwhile, finance has become a domain of economics, statistics, and optimization.
This talk will (p)review usage of optimization in finance - from past to present, from theory to practice, and from vision to reality - and in some cases also back (into the future).
It will also disclose who really (may have) shrunk the alpha.
Delivering OR Solutions for Everyday Operations in Energy Trading by Colin Silvester, Senior Modelling Specialist at Uniper, UK
This talk will share some insights into the challenges faced over many years of implementing OR techniques as part of the daily operations of an energy trading business. The focus is on creating solutions that will be used by non-OR practitioners as part of their normal work within software environments that fit their day-to-day work.
Specialists in a particular business process will often have little appreciation of the capabilities of OR techniques and we will discuss how an OR-specialist can identify where optimisation can make a positive impact in the organisation. The implementation of OR will often need to overcome organisational and personal barriers as there will be a need to positively influence key stakeholders involved in making change happen and to allay fears that automation through optimisation could lead to a degradation of individual roles.
We will go on to describe the technical challenges of delivering a solution that is to be integrated into the daily operations of trading business. This encompasses the integration with other IT systems whilst retaining the ability to support and enhance the core optimisation solution. We will also discuss the needs for operational systems to be reliable and to prevent unhandled infeasibilities leading to process failures. It is also critical that these solutions deliver optimisation performance that is aligned with decision-making timescales and which are appropriate to the accuracy of the model inputs.
We will also look to the future and how containerisation of algorithms and data will allow more flexible development and reuse of optimisation solutions.
Successful Value Chain Optimization at a Chemical Company by Steffen Klosterhalfen, Operations Research Expert at BASF SE, Germany
Chemical value chains are characterized by a largely divergent product structure where very few raw materials are converted through various production steps into a multitude of intermediate products which in turn are further processed and refined into hundreds or even thousands of finished products sold in different industries and different regions around the globe. The different target markets are managed by different business units. Hence, several business units participate in one and the same value chain and are responsible for steering their specific part of it. Traditionally, each business unit has planned and operated its value chain part mainly in isolation of the others. Due to the technological advancements in recent years a lot of progress has been made towards a more holistic approach to steering a value chain. In this talk, we illustrate our approach in developing value chain optimization solutions and share our experience and lessons learned.
Operations Research supporting Germany's energy transition by Ralf Werner Head of IT Management (CIO) and Digital transformation (CDO) at Open Grid Europe
The binding climate targets from the Paris Climate Agreement are leading to a profound change in the energy industry. Green hydrogen will play a central role in a decarbonized and secure energy supply. This leads to new challenges for Open Grid Europe, Germany's largest gas network operator.
Open Grid Europe meets these challenges with innovative products and solutions that are often based on Operations Research. We would like to provide an insight into our innovation process and show challenges and approaches to solutions based on sample projects.
One example is the navigation system for our technical network control. We are on the way to develop a smart, forward-looking, analytics-based decision support system. For this to work, it was necessary to utilize three types of analytics:
Descriptive: modeling and simulating the gas flow in the network,
Predictive: predicting future gas supply and demand from outside the network,
Prescriptive: recommending network control measures to ensure safe and efficient operation of the network

.
This system is designed to propose recommendations for the operation of 92 compressor units, almost 300 regulators and more than 3,000 valves to control 12,000 km gas network for delivering about two-thirds of Germany's natural gas demand.
Putting Operations Research into Operations in Deutsche Post DHL Group transition by Baris Cem Sal of Deutsche Post DHL Group Data Analytics Center of Excellence
Deutsche Post DHL (DPDHL) Group is home to two strong brands: Deutsche Post is Europe's leading postal service provider. DHL offers a comprehensive range of international express, freight transport, and supply chain management services, as well as e-commerce logistics solutions.
DPDHL has kicked-off its journey of building data analytics capabilities internally in 2014 through its Data Analytics Center of Excellence (CoE). Starting with only a few employees in the CoE, the topic has grown significantly over the last few years, growing into a community of several hundred Data Scientists around the globe.
The CoE has started building its Operations Research capability by 2017, and in only a couple of years, the Operations Research team has developed algorithms and solutions that can unlock double digit Million Euros in savings every year. The talk focuses on the challenges the team has encountered, as well as the achievements reached over the last years. Many of the team's use-cases have scales that make them complex from a mathematical perspective. But the real challenges faced were mostly around the business processes and change management than the technical challenges. So in this talk you will hear how we design the routes for more than 50.000 postmen, or route 20.000 parcel delivery vehicles daily and many other use-cases; but you will also learn, for example, why sometimes the best route is neither the shortest nor the fastest, but the one most likely to be accepted by the driver. Finally we share how (and why) the team integrates Machine Learning more and more into its Operations Research use-cases.
Preliminary Programme
Thursday 19 March
12:30 - Registration
13:30 - Opening session
13:50 - Keynote 1: A.Zymolka (Axioma): Optimization in Finance – Practice and Challenges
14:50 - Contributed talks (C1)

M.Pozzi (Optit): When the "world of ideas" meets the ground: Stories of applied Operations Research (and Machine Learning) in real life

S.Griffioen (Netherlands Railways): Optimizing seating probability in passenger trains
15:30 - Coffee break
16:00 - Keynote 2: C.Silvester (Uniper): Delivering OR Solutions for Everyday Operations in Energy Trading
17:00 - Contributed talks (C2)

M.Günther (Stadtwerke München): Implementation and Operation of a Gas Market Model at Stadtwerke München

G.Ayres de Castro (SAP)

: A Framework for Extending SAP IBP's Optimization Capabilities with FICO Xpress and Data Intelligence

E.Cakici (IBM): ÇIMSA End-to-End Sales and Operations Planning
18:00 - Keynote 3: R.Werner (Open Grid Europe): Operations Research supporting Germany's energy transition
19:00 - Close
20:00 - Conference dinner (optional)
Friday 20 March 2020
8:00 - Registration
8:00 - Interactive poster session + coffee
8:40 - Introduction to day 2
8:45 - Keynote 4: S.Klosterhalfen (BASF): Successful value chain optimization at a chemical company
9:45 - Contributed talks (C3)
M.Moullin (Public Sector Scorecard Research Unit): From snow ploughs to child obesity – Overcoming challenges in the deployment of OR projects in the public sector

M.Brandeau (Standford University): Analytical Projects at Lucile Packard Children's Hospital Stanford

M.de With (OrTec): Creating an employee planning application that can be trusted
10:45 - Coffee break
11:00 - Parallel discussion group sessions
12:30 - Lunch
13:30 - Keynote 5: B.Cem Sal (DPDHL Group): Putting Operations Research into Operations in Deutsche Post DHL Group
14:30 - Contributed talks (C4)

Z.Balaporia (FICO): Conquering the 'Last Mile' and 'Extra Mile' of Implementing Optimization Projects

T.Schlechte (LBW Optimization): Trust is good, optimal control tours are better!
15:00 - Summary of parallel sessions
15:45 - Closing remarks
16:00 - End of event
.
Submission deadline: 10 December 2019 extended to 15 December 2019.
Speaker registration deadline: 31 January, 2020
Early registration deadline: 10 February, 2020
Workshop contact and information:  ewgporberlin@zib.de
Directions to ZIB and accommodation suggestions can be found at  http://www.zib.de/sites/default/files/page_attachments/Hints_for_visitors_0.pdf
There are only a few hotels within less than half an hour walking distance of ZIB, which are listed below. If those are booked, we recommend to look for accommodation close to the subway line U3, the bus line X83 or the bus line 101, all of which have a stop close to ZIB.
**** Seminaris CampusHotel Berlin
Address: Takustr. 39, 14195 Berlin
Web: https://www.seminaris.de/hotels/berlin/seminaris-campushotel-berlin
Getting to ZIB: 300 metres to walk
Rates: starting from 100 EUR per night
Apartment Hotel Dahlem
Address: Clayallee 150-152, 14195 Berlin
Web: https://www.apartment-hotel-berlin.de/en/the-hotel/
Getting to ZIB: 6 minutes by bus X83 plus 600 metres to walk OR 25 minutes to walk
Rates: starting from 80.00 EUR per night
*** Ravenna-Hotel Berlin
Address: Grunewaldstr. 8-9, 12165 Berlin
Web: https://www.novum-hotels.com/en/hotel-ravenna-berlin
Getting to ZIB: 3 minutes by bus X83 plus 400 metres to walk OR 20 minutes to walk
Rates: starting from 50.00 EUR per night
**** Hotel Steglitz International
Address: Albrechtstraße 2, 12165 Berlin
Web: https://www.si-hotel.com/
Getting to ZIB: 9 minutes by bus X83 plus 150 metres to walk
Rates: starting from 80.00 EUR per night
*** Hotel Pension Dahlem
Address: Unter den Eichen 89A, 12205 Berlin
Web: https://www.hotel-dahlem.de/
Getting to ZIB: 4 minutes by bus 101 plus 150 metres to walk OR 20 minutes to walk
Rates: starting from 55.00 EUR per night
Hotel Eckstein
Address: Schildhornstraße 72, 12163 Berlin
Web: https://www.hoteleckstein.de/
Getting to ZIB: 25 minutes to walk
Rates: starting from 90.00 EUR per night
Organizing committee

Timo Berthold (FICO), Susanne Heipcke (FICO), Thorsten Koch (ZIB), Inci Yüksel-Ergün (ZIB), Andrew Harrison (Northrop Grumman)
How to find us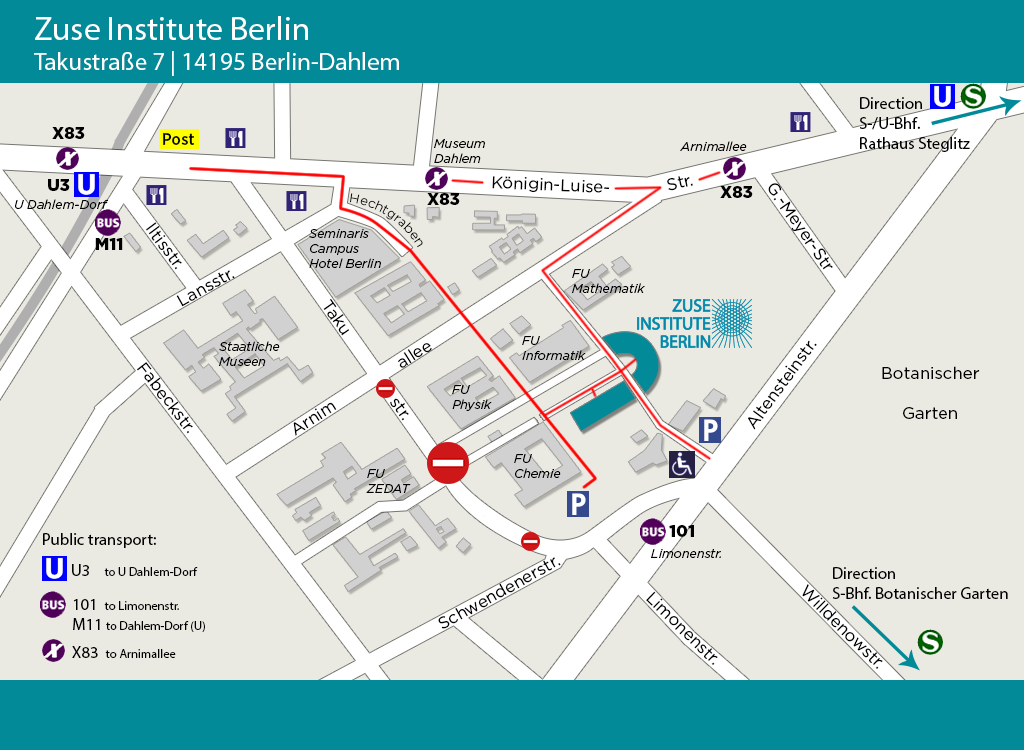 Save This Event
When & Where

Konrad-Zuse-Zentrum für Informationstechnik Berlin
Takustraße 7
14195 Berlin
Germany


Thursday, 19 March 2020 at 13:00

-

Friday, 20 March 2020 at 16:00 (CET)
Add to my calendar
Organiser
This working group aims to enable O.R. professionals to have more impact on the outside world, by helping them find solutions to typical practical challenges, gain understanding of tools/techniques they haven't used before, build their networks, and learn from others in order to inspire and expand their own practice. We also see great potential in cooperation between practitioners and academics.