Sales Have Ended
Ticket sales have ended
Once you have purchased your ticket, please register with ZOOM via the link we will send you at the bottom of your confirmation email.
Challenging behaviour can be really difficult to manage at home and in the classroom, we discuss what causes it and how to prevent it.
About this event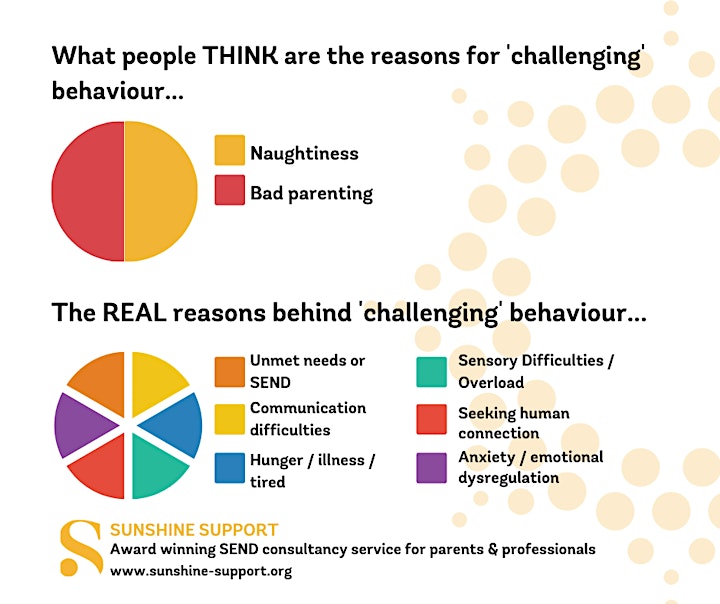 We are asked all the time to support families who's children display what is commonly known as "challenging behaviour".
We are delighted to bring our expertise into a webinar where we aim to share our knowledge and improve understanding of behaviour.
The first stage in being able to manage behaviour to ensure it's healthy and appropriate is to spend time understanding the reasons behind it. THERE WILL ALWAYS BE AT LEAST ONE REASON (often more!).
Using Corrina Wood's 'Say OUI to Managing Behaviour: Observe, Understand & Implement" we will cover in depth:
The development of the brain & what happens to the brain when a child feels anxious or 'triggered'
Why children may struggle to make sound decisions when in a state of anxiety/anger/worry/frustration
Causes of these big emotions
Masking; the reasons behind a difference in presentation or behaviour between settings (ie, home Vs school)
De-escalation - healthy ways and means
Low arousal approaches; re-framing what we do and say as adults
The lasting effect of these 'episodes' , how to minimise trauma for all involved
Ways to reconnect and recover
When and how to have honest discussions about safety and when to have such discussions
As always there will be time for questions throughout the presentation.
Slides, references and CPD certificates will be available to attendees along with a recording to watch the webinar again for up to 30 days afterwards.
How do our webinars work?
1. Once you have purchased a ticket, you will be emailed a link to register for the event on ZOOM. It's really important you register as soon as possible, as we manually check everyone in for safeguarding and security reasons.
2. Once registered you will be sent a link to join us on the night, almost as if the 'room to the door' is opened for you and you're checked in.
3. Click on the link to the ZOOM room 15 mins before the live webinar is to start, and make sure you are logged into ZOOM beforehand.
If you encounter any issues please visit www.sunshine-support.org/troubleshooting
The video of the webinar will be available to watch for 30 days after the webinar takes place, so if you need to leave the webinar at any time or can't make it at that specific time you can watch again at your leisure. The link to the recording will be sent to you within 24 hours of the webinar taking place.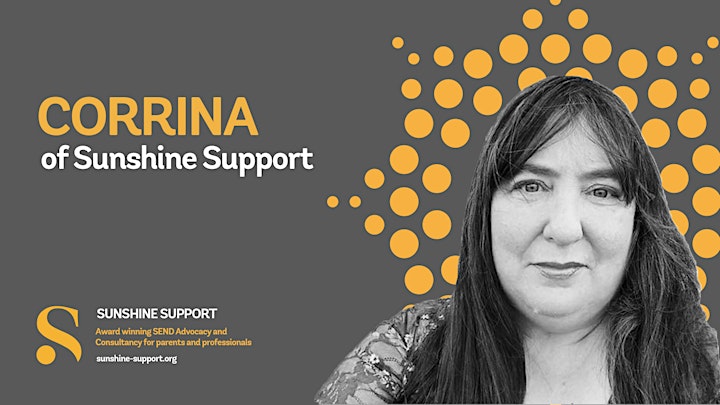 About Corrina
Corrina Wood has experience of managing and developing support services for families for over 15 years. She has a Joint Honours Degree in Psychology and Human Geography and a Masters in Autism.
Corrina is an authorised facilitator of the evidence-based Cygnet training programme for parents of Autistic children and delivers regular training and consultancy on neurodivergent presentations.
Corrina provides incredible and meaningful family support and strategies for parents and carers, undertakes parenting assessments to evidence specialist social care support for tribunals and court cases. Corrina can advise on Child Protection issues, benefits, social care, FII (Fabricated or Induced Illness) and provides specialist advice/guidance for families all over the UK.
Corrina has 4 children with Autism Spectrum Conditions so has first-hand experience of the challenges faced both personally and professionally.