Chamber at Côte - chilled business networking in Richmond upon Thames
Sales Have Ended
Ticket sales have ended
Dear Guest, Thank you for booking the Chamber Coffee Morning at Côte Bistro on Friday, 13 March 2020 at 10:00. The restaurant is located on Hill Rise Rd in Richmond town centre, which is a 10 minutes' walk from Richmond Station and major bus routes. There is ample parking available in the Paradise Road pay and display car park nearby. We remind you to bring business cards, so that you can connect easily with other business professionals and we promise you an enjoyable relaxed Coffee Morning in this beautiful central location. Please feel free to contact us on email@richmondchamberofcommerce.co.uk should you have any further questions and we look forward to seeing you there. Kindest regards, Chamber Team Richmond Chamber of Commerce Richmond Borough _____________________________________ Marketing, representing and supporting over 5,000 businesses and CSR Richmond Entrepreneurs Conference 2016 Video: https://youtu.be/DD5SLucGi3s Enter the Richmond Business Awards 2019- www.richmondbusinessawards.com Richmond Business Awards 2016 Video :https://youtu.be/DD5SLucGi3s The Richmond Borough Chamber of Commerce - T 020 88917457 First Floor 1-3 Richmond Road Twickenham TW1 3AB Email: email@richmondchamberofcommerce.co.uk Website: www.richmondchamberofcommerce.co.uk Future events: http://richmondboroughchamberofcommerce.eventbrite.com https://twitter.com/chamberrichmond https://www.linkedin.com/company/2001031?trk=tyah https://www.facebook.com/therichmondchamberofcommerce https://www.youtube.com/channel/UCy9WbtwAUwLPpKYNuWhhOYw https://www.instagram.com/richmond_chamber/ You have received this email because you agreed to be contacted by email by the Richmond Chamber of Commerce. If you no longer wish to receive emails from the Richmond Chamber of Commerce please let us know by writing to us at First Floor, 1-3 Richmond Rd, Twickenham, TW1 3AB or emailing us at email@richmondchamberofcommerce.co.uk . If you email us, we may keep your message, email address and contact information to respond to your request. ____________________________________________________
Sales Have Ended
Ticket sales have ended
Dear Guest, Thank you for booking the Chamber Coffee Morning at Côte Bistro on Friday, 13 March 2020 at 10:00. The restaurant is located on Hill Rise Rd in Richmond town centre, which is a 10 minutes' walk from Richmond Station and major bus routes. There is ample parking available in the Paradise Road pay and display car park nearby. We remind you to bring business cards, so that you can connect easily with other business professionals and we promise you an enjoyable relaxed Coffee Morning in this beautiful central location. Please feel free to contact us on email@richmondchamberofcommerce.co.uk should you have any further questions and we look forward to seeing you there. Kindest regards, Chamber Team Richmond Chamber of Commerce Richmond Borough _____________________________________ Marketing, representing and supporting over 5,000 businesses and CSR Richmond Entrepreneurs Conference 2016 Video: https://youtu.be/DD5SLucGi3s Enter the Richmond Business Awards 2019- www.richmondbusinessawards.com Richmond Business Awards 2016 Video :https://youtu.be/DD5SLucGi3s The Richmond Borough Chamber of Commerce - T 020 88917457 First Floor 1-3 Richmond Road Twickenham TW1 3AB Email: email@richmondchamberofcommerce.co.uk Website: www.richmondchamberofcommerce.co.uk Future events: http://richmondboroughchamberofcommerce.eventbrite.com https://twitter.com/chamberrichmond https://www.linkedin.com/company/2001031?trk=tyah https://www.facebook.com/therichmondchamberofcommerce https://www.youtube.com/channel/UCy9WbtwAUwLPpKYNuWhhOYw https://www.instagram.com/richmond_chamber/ You have received this email because you agreed to be contacted by email by the Richmond Chamber of Commerce. If you no longer wish to receive emails from the Richmond Chamber of Commerce please let us know by writing to us at First Floor, 1-3 Richmond Rd, Twickenham, TW1 3AB or emailing us at email@richmondchamberofcommerce.co.uk . If you email us, we may keep your message, email address and contact information to respond to your request. ____________________________________________________
Chamber at Cote - chilled business networking in Richmond upon Thames + corporates, SMEs/micros, professionals, tech, creatives etc
About this event
Chamber at Côte
Tuesday, 25th January 2022 09:30 to 11:00 at Côte Richmond
A chilled mid morning business networking in Richmond upon Thames, where businesses of all types and sizes meet to discuss opportunities, challenges, performance, achievements or just 'life in general' over coffee, tea and pastries.
Located at 24 Hill St, Richmond TW9 1TW , Côte is the destination for relaxed all day dining inspired by the brasseries of Paris serving classic brasserie dining from breakfast through to lunch and dinner daily. Inspired by new trends in Paris, award-winning Côte is dedicated to serving authentic dishes with a modern twist, using high quality produce at great prices. On the menu, guests will always find brasserie favourites such as steak frites and tuna Niçoise - www.cote-restaurants.co.uk 
Chamber Booking Information: For those booking who do not have a VAT number, please book as an individual and not a business – you can still complete your business details when making your booking. If you have an issue with your credit or debit card, you will need to register it using either of the following telephone numbers, 0870 730 7191 or 0800 358 7911, subsequent to which you will have no difficulty booking the events.
Cancellation Policy: Event booking cancellations are refundable if received 48 hours before the event starts. After 48 hours before the event starts refunds are not payable.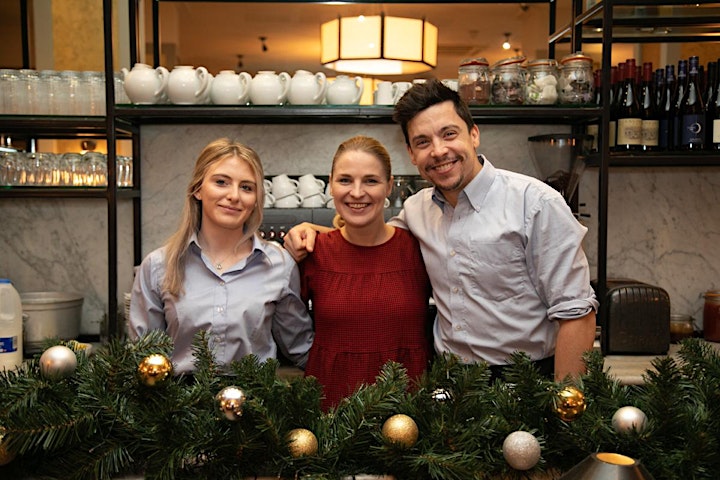 Organiser of Chamber at Côte - chilled business networking in Richmond upon Thames
Richmond Chamber of Commerce is a vibrant and well established network of businesses, professionals and organisations committed to enhancing business and prosperity within the Borough of Richmond upon Thames. Join at https://www.richmondchamberofcommerce.co.uk/join-the-richmond-chamber-of-commerce/. The Chamber facilitates, lobbies, mentors, markets, represents and supports business and CSR. Join, make a difference and benefit from free mentoring, advertising opportunities to more than 40m digital and print views London-wide, enjoyable regular professional events of all sizes including breakfasts, evenings, coffee mornings, Richmond Awards Balls, seminars, training and the Chamber writes a business page seen by more than half a million people weekly across many media titles in London. Enter Richmond Business Awards at https://www.richmondbusinessawards.com/ and book the Ball to celebrate business.