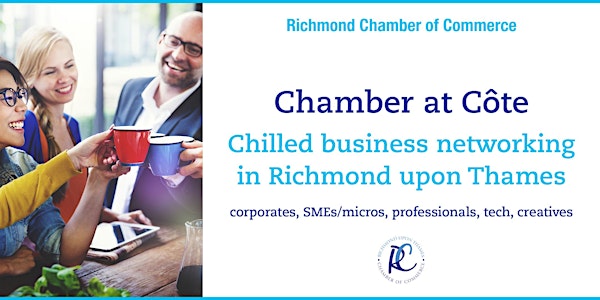 Chamber at Côte - chilled business networking in Richmond upon Thames
Location
Cote - Teddington
172 High St
Teddington
TW118HU
United Kingdom
Refund policy
Refunds up to 30 days before event
Chamber at Côte RIchmond for chilled Richmond upon Thames business networking + corporates, SMEs/micros, professionals, tech, creatives...
About this event
Chamber at Côte
Tuesday, 21st June 2022 09:30 to 11:00 at Côte Teddington
A chilled mid morning business networking in Richmond upon Thames, where businesses of all types and sizes meet to discuss opportunities, challenges, performance, achievements or just 'life in general' over coffee, tea and pastries.
Located at 172 High St, Teddington TW11 8HU in the Borough of Richmond upon Thames, Côte is the destination for relaxed all day dining inspired by the brasseries of Paris serving classic brasserie dining from breakfast through to lunch and dinner daily. Inspired by new trends in Paris, award-winning Côte is dedicated to serving authentic dishes with a modern twist, using high quality produce at great prices. On the menu, guests will always find brasserie favourites such as steak frites and tuna Niçoise - www.cote-restaurants.co.uk 
Chamber Booking Information: For those booking who do not have a VAT number, please book as an individual and not a business – you can still complete your business details when making your booking. If you have an issue with your credit or debit card, you will need to register it using either of the following telephone numbers, 0870 730 7191 or 0800 358 7911, subsequent to which you will have no difficulty booking the events.
Cancellation Policy: Event booking cancellations are refundable if received 48 hours before the event starts. After 48 hours before the event starts refunds are not payable.