Sales Have Ended
Ticket sales have ended
This event is either closed or sold out. If the event is sold out you can add yourself to the waiting list but please feel free to contact us on 01273 719097 or admin@businessinbrighton.org.uk
Sales Have Ended
Ticket sales have ended
This event is either closed or sold out. If the event is sold out you can add yourself to the waiting list but please feel free to contact us on 01273 719097 or admin@businessinbrighton.org.uk
Description

The Jeanius breakfast
There are plenty of things that Brighton is well known for. Vicious, thieving seagulls. The Pride Festival. A dilapidated pier. But jeans?
But a mile or so from the seafront, in unassuming Hollingdean Road, a husband and wife team are producing top end, hand-made jeans and other denim products. They are made using sewing machines from the fifties and sixties. The material is Japanese selvedge denim*, woven and dyed in Okayama.
Kelly Dawson and Scott Ogden are the pair behind Dawson Denim, made in Brighton but exported to Cologne, Tokyo, California….and Doncaster.
They will be talking about how the business started from their second bedroom, where their love of denim came from, and whether they were any good at sewing at school.
*Don't know what selvedge denim is? You'll need to come to the breakfast to find out.
Design: FDM Design
Copy: The Sentence Works
Cancellation policy: Places are limited and events usually oversubscribed. Please give 2 working days' notice via email or you must pay for your place in full.
If you have never been a member of the Brighton & Hove Chamber you are welcome to book and join us as a guest at two of our events. After this, you will need join the Chamber to enjoy the benefits of membership.
Thank you to our event sponsor: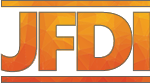 JFDI is a technology consultancy with clients all over the world, specialising in software systems for business, collaboration platforms like SharePoint Intranets, and the Internet of Things. Our systems Automate Everything and Motivate Everyone. Have a free 15-minute consultancy session, and discover what we could do for you or your clients.