Sales Have Ended
Ticket sales have ended
This event is either closed or sold out. If the event is sold out you can add yourself to the waiting list but please feel free to contact us on 01273 719097 or admin@businessinbrighton.org.uk
Sales Have Ended
Ticket sales have ended
This event is either closed or sold out. If the event is sold out you can add yourself to the waiting list but please feel free to contact us on 01273 719097 or admin@businessinbrighton.org.uk
Description

The 'making a difference' breakfast
How do you choose your career? Some people follow in their family footsteps, while others "fall into" their jobs almost by accident. For some there is a defining moment that makes them realise what they can do.
Fiona Martin arrived at Sussex University in 1985, a 22-year-old single parent with two pre-school children. It was a time of change and unrest. She had already been involved in the miners' strike and Greenham Common and Wapping and the Poll Tax riots were just around the corner.
History student Fiona campaigned as a member of the revolutionary left and was elected as union officer. She and her fellow sabbaticals led the student occupation of Sussex House in protest against cuts in education.
Three weeks later Fiona and 45 other students faced disciplinary action - and she needed to find legal representation. Peter Polizzi, a solicitor at Brighton Law Centre, represented everyone for free and managed to prevent any expulsions.
Fiona decided that legal knowledge expertise could come in handy in fighting social injustice and went on to train as a solicitor. In 2004,Cate Searle and Fiona set up Martin Searle Solicitors.
At our November breakfast, Fiona will talk about her inspiration and values – and why she believes it is important to get out there to " make a difference."

Design: FDM Design
Copy: The Sentence Works
Cancellation policy: Places are limited and events usually oversubscribed. Please give 2 working days' notice via email or you must pay for your place in full.
If you have never been a member of the Brighton & Hove Chamber you are welcome to book and join us as a guest at two of our events. After this, you will need join the Chamber to enjoy the benefits of membership.
Thank you to our event sponsor: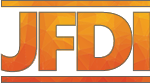 JFDI is a technology consultancy with clients all over the world, specialising in software systems for business, collaboration platforms like SharePoint Intranets, and the Internet of Things. Our systems Automate Everything and Motivate Everyone. Have a free 15-minute consultancy session, and discover what we could do for you or your clients.