Sales Have Ended
Ticket sales have ended
This event is either closed or sold out. If the event is sold out you can add yourself to the waiting list but please feel free to contact us on 01273 719097 or admin@businessinbrighton.org.uk
Sales Have Ended
Ticket sales have ended
This event is either closed or sold out. If the event is sold out you can add yourself to the waiting list but please feel free to contact us on 01273 719097 or admin@businessinbrighton.org.uk
Description

The 'two for one' breakfast
Brace yourself for something a little different at our October breakfast. There will be two people on the "stage" at Carluccio's, with Alex Pearson from Blue Yurt interviewing Mebrak Ghebreweldi.
And Mebrak's got two strings to her bow as she is founder and director of a pair of organisations.
Mebrak's background is unconventional to say the least. Born in Eritrea, she was a member of the People's Liberation Front there for nearly two decades. As a young independence fighter she was a barefoot doctor and then a Morse Code radio operator.
After coming to this country to study, she set up Vandu Language Services to provide interpreting, translation and health & social care advocacy to public and private sector organisations.
Her second company is Diversity Resource International (DRI), a social enterprise that provides research, executive coaching, business management and leadership training to cross sector organisations in the UK and Africa.
Mebrak is also the Social Entrepreneur in residence at the University of Brighton, a public speaker, facilitator, business start-up mentor and coach. She works as a mentor to international migrants.
So come along to our October breakfast and pick up a tip or two about how she's fitted so much in so far.
Design: FDM Design
Copy: The Sentence Works
Cancellation policy: Places are limited and events usually oversubscribed. Please give 2 working days' notice via email or you must pay for your place in full.
If you have never been a member of the Brighton & Hove Chamber you are welcome to book and join us as a guest at two of our events. After this, you will need join the Chamber to enjoy the benefits of membership.
Thank you to our event sponsor: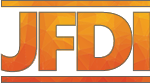 JFDI is a technology consultancy with clients all over the world, specialising in software systems for business, collaboration platforms like SharePoint Intranets, and the Internet of Things. Our systems Automate Everything and Motivate Everyone. Have a free 15-minute consultancy session, and discover what we could do for you or your clients.