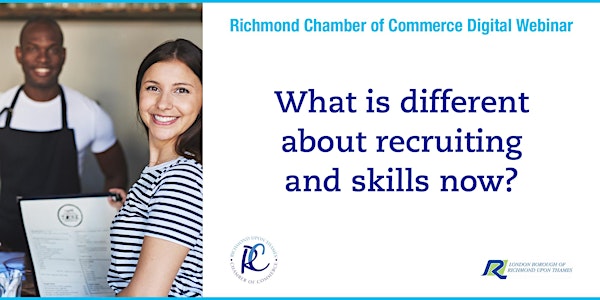 Chamber Recruitment and Skills Webinar for Employers sponsored by LBRUT
Chamber Seminar sponsored by Richmond Council - what's different about recruiting and upskilling people now?
About this event
Is your business struggling to recruit and retain skilled staff?
Join Richmond Chamber of Commerce experts discussing new ways to recruit, upskill and retain their people. Hear how new hiring, retention and skills strategies are being piloted and deployed by businesses large and small and about the results directors and their teams are delivering. Richmond Council too will be sharing details of their popular free recruitment service for businesses.
Agenda
14:30 Chair Anne Newton, Richmond Chamber of Commerce RCC introduces the webinar and Cllr Richard Baker
14:30 Cllr Richard Baker Spokesperson for Richmond Council LBRUT introduction
14:33 Anne Newton thanks Cllr Baker and then welcomes the panel and first speaker
14:35 Harbour Hotels Group's Head of People on new recruitment and retention strategies deployed across the group, together with skills strategies deployed or in-development
15:15 Petersham Nurseries GM shares their new hospitality and retail hiring measures, as well as skills challenges and opportunities across the retail and hospitality sector
15:35 Richmond upon Thames College RUTC Assistant Principal on recruitment challenges in the education sector and opportunities for businesses: apprenticeships, placements, Kickstart. Skills strategies
16:05 LBRUT Head of Employment & Skills on Work Match Richmond a free recruitment service for Borough residents and businesses
16:20 Chair coordinates Q and A
16:30 Webinar closes
Organiser of Chamber Recruitment and Skills Webinar for Employers sponsored by LBRUT
Richmond Chamber of Commerce is a vibrant and well established network of businesses, professionals and organisations committed to enhancing business and prosperity within the Borough of Richmond upon Thames. Join at https://www.richmondchamberofcommerce.co.uk/join-the-richmond-chamber-of-commerce/. The Chamber facilitates, lobbies, mentors, markets, represents and supports business and CSR. Join, make a difference and benefit from free mentoring, advertising opportunities to more than 40m digital and print views London-wide, enjoyable regular professional events of all sizes including breakfasts, evenings, coffee mornings, Richmond Awards Balls, seminars, training and the Chamber writes a business page seen by more than half a million people weekly across many media titles in London. Enter Richmond Business Awards at https://www.richmondbusinessawards.com/ and book the Ball to celebrate business.