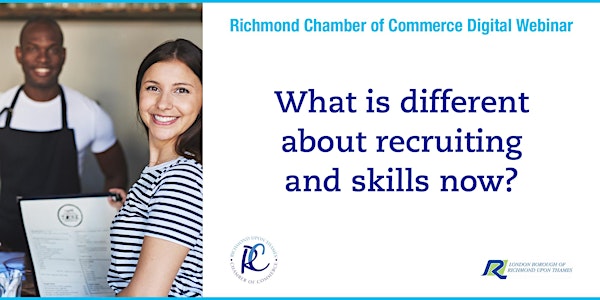 Chamber Recruitment and Skills Webinar for Employers sponsored by LBRUT
Chamber Seminar sponsored by Richmond Council - what's different about recruiting and upskilling people now?
About this event
Is your business struggling to recruit and retain skilled staff?
Join Richmond Chamber of Commerce experts discussing new ways to recruit, upskill and retain their people. Hear how new hiring, retention and skills strategies are being piloted and deployed by businesses large and small and about the results directors and their teams are delivering. Richmond Council too will be sharing details of their popular free recruitment service for businesses.
Agenda
14:30 Chair Anne Newton, Richmond Chamber of Commerce RCC introduces the webinar and Cllr Richard Baker
14:30 Cllr Richard Baker Spokesperson for Richmond Council LBRUT introduction
14:33 Anne thanks Cllr Baker and then welcomes the panel and first speaker
14:35 Richmond upon Thames College RUTC Assistant Principal on recruitment challenges in the education sector and opportunities for businesses: apprenticeships, placements, Kickstart, Skills strategies
15:15 Petersham Nurseries GM shares their new hospitality and retail hiring measures, as well as skills challenges and opportunities across the retail and hospitality sector
15:35 Harbour Hotels Group's Head of People on new recruitment, skills and retention strategies deployed across the group, together with skills strategies deployed or in-development
16:05 LBRUT Head of Employment & Skills on Work Match Richmond, a free recruitment service for Borough residents and businesses
16:20 Anne coordinates Q and A
16:30 Webinar closes