Champions Boards Learning Event with the Life Changes Trust
Join the Life Changes Trust and partners for an exploration of the impact of Champions Boards across Scotland!
About this event
Champions Boards provide a space for young people, Corporate Parents, and other professionals to come together with a shared goal – to radically improve the way services are designed and delivered. They are built on the foundation of participation and engagement and supported by a focus on relationship-based practice.
Champions Boards aim to :
have a positive impact on the skills and aspirations of young people with care experience
influence policy and practice (around themes such as housing, health, education, employability and youth justice)
contribute to wider system change.
In this event, the Life Changes Trust will reflect on our strategic investment (circa £6 million) in 21 Champions Boards across Scotland and in a National Network designed to facilitate connections, shared learning and peer support between Boards. We will also publish findings from the independent evaluation of this ambitious investment.
Research Scotland will share highlights from their comprehensive exploration of the impact of Champions Boards and the National Network. For a fuller analysis of the evaluation findings, be sure to sign up for the afternoon session too.
This event is for anyone interested in participation and coproduction, making rights real for young people with care experience and implementing The Promise across Scotland.
The event will take place on Zoom. Joining instructions will be sent by email shortly before the event.
If you have any questions or any difficulties registering then please email: ypce@lifechangestrust.org.uk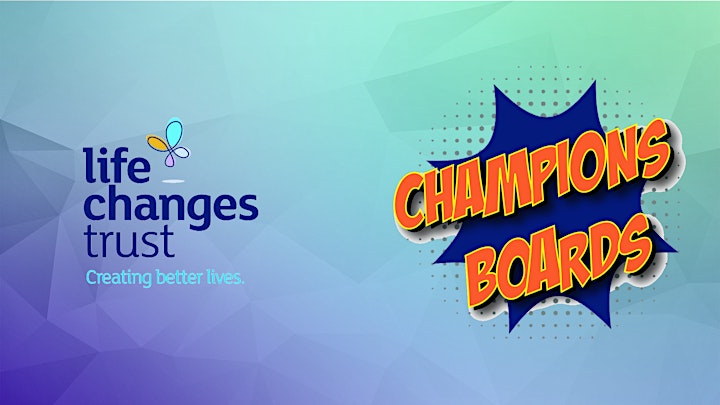 Organiser of Champions Boards Learning Event with the Life Changes Trust
The Life Changes Trust will close in March 2022. We are focused on leaving a positive legacy, and sharing evidence and learning from our work is a vital part of this legacy. This series of events will focus on learning from the Young People with Care Programme. Each event will showcase the impact of funding from the Trust, offer insights around opportunities/challenges and share an evidence base to influence practice and policy.