Introducing CHANGE Campaign, a new Skills and Employability Program to support and empower young people.
About this event
The CHANGE Campaign focuses on helping young people with their skills and employability by increasing their job prospects, commercial awareness, opportunity to discover career paths. Our goal is to equip young people with experience, insight, tools, and advice to succeed as tomorrow's workforce.
As we kickstart our mission at this launch seminar, join us for a conversation to discuss the role of corporate and local businesses in transforming and helping young people from disadvantaged backgrounds by providing them with appropriate training and employment opportunities.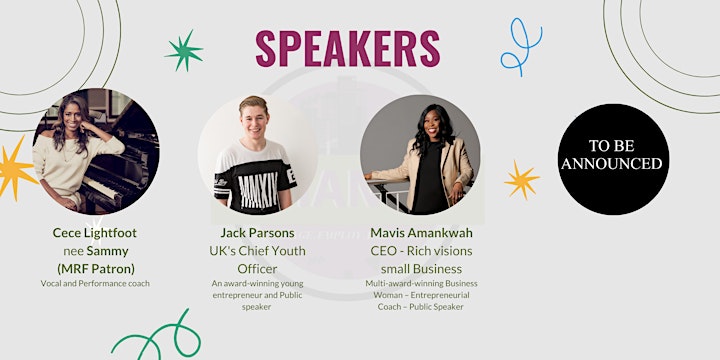 Meet our speakers:
Cece Lightfoot nee Sammy (MRF Patron): CeCe Sammy is a British vocal and performance coach, known for her TV appearances and behind the scenes contributions as a vocal coach, judge, talent scout, advisor and trouble-shooter on various music and entertainment shows such as The X Factor: Battle of the Stars, VH1's Make or Break: The Linda Perry Project, The Voice UK, American Idol and America's Got Talent. In 2016, she was the chairperson of the British jury for Eurovision Song Contest 2016; the following year, CeCe Sammy acted as the judge for the Eurovision: You Decide 2017.
Jack Parsons : Jack Parsons is an award-winning young entrepreneur, public speaker and subject expert on youth, and is known as the UK's Chief Youth Officer. Jack's been honoured awards over the last 3 years including Young Digital Leader Of The Year, The 100 Faces of a Vibrant Economy, Most Connected Young Entrepreneur, 50 Top kindest leaders and Top 10 UK Young Entrepreneurs to Watch. Jack is currently the CEO of The Youth Group which is building the world's largest most connected marketplace and community for young people with one aim: to help improve the odds for young people across the world to achieve their full potential in work. On top of running The Youth Group, Jack advises a number of organisations and figure heads.
Mavis Amankwah : Mavis Amankwah is a multi-award-winning entrepreneur, Public Speaker and Business Coach with over 20 years in the Communications and professional services industry. As one of the UK's foremost Diversity Ambassadors, Mavis has dedicated her career to making a positive impact in the diversity and business world by bridging the gap between communities, whilst, conversely, transforming social disparities into profitable and sustainable business models.