Change Convention: a space to explore how to create positive change in unc...
Description
Corra Foundation knows that many of the communities and organisations it works with are grappling with a climate of change and uncertainty and that, along with ongoing budget pressures, this can feel overwhelming. It can be difficult to think about longer term change when immediate need is growing and resources shrinking. In this context, the Corra Foundation wants to offer a space for the voluntary sector to discuss some of the most challenging and complex issues, to contribute their ideas and experiences as well as hearing from insightful speakers.

The event coincides with a time of change for the Foundation launched its new name, brand and strategy at the end of August. The strategy reflects a belief in the possibility of positive change and a strengthened focus on partnership as a powerful way to achieve this. Corra Foundation will continue to work alongside other charities and funders, communities and policy makers and is already developing a number of conversations around issues where gaps exist and where collaboration could enable greater impact.

The event is being supported by Fortify. Fortify is a social enterprise, run by the Corra Foundation with a commitment to reinvesting any surplus back into the voluntary sector.

The event will:
Offer a space for conversation of some of the major issues currently impacting upon the sector – aiming to explore challenges and opportunities and to offer inspiration.

Provide useful advice and information in relation to funding, including the wider funding environment and practical support.

Provide opportunities for networking.

Be balanced in terms of insightful/inspiring speakers and participative/discussion-based format.

Provide an opportunity for the Foundation to introduce its new strategy, name and look to the sector.
---
Programme: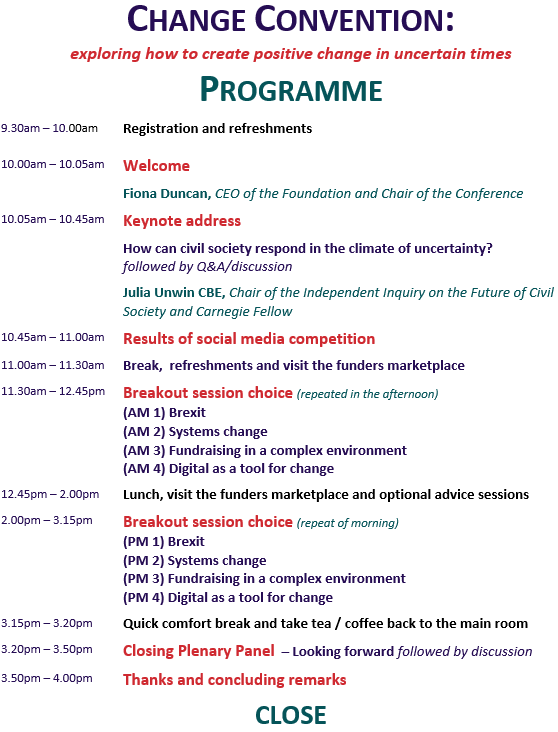 The Corra Foundation is a charity registered in Scotland (No SC009481) and is also a company limited by guarantee (No SC096068). Fortify Social Enterprise CIC is a community interest company registered in Scotland and is also a company limited by guarantee (No SC507457). It is a member of the Scottish Grant Makers, the Association of Charitable Foundations and the Scottish Funders Forum. The Corra Foundation was previously called Lloyds TSB Foundation for Scotland.