Description
Intrapreneurship
is the act of behaving like an
entrepreneur
while working within a large organisation. Intrapreneurship is known as the practice of a corporate management style that integrates risk-taking and innovation approaches, as well as the reward and motivational techniques, that are more traditionally thought of as being the province of
entrepreneurship
At our second event of 2017, we will be looking at the challenge of bringing intrapreneurship into our organisations.
We will look at the following questions:
How entrepreneural am I or is my organisation?
How do we develop a more entrepreneurial mindset in our organisation?
What is the mindset of an entrepreneur?
We will be working with our hosts from Entrepreneurial Spark who will be sharing elements of their Intrapreneurship programme.
The Power Of Mindset is everything. If there is something in common between the world's most highly successful intrapreneurs and entrepreneurs - it is their winning mindsets. In this session we'll explore the following:
What it means to have a growth vs a fixed mindset.
The ingredients required for a growth mindset.
The importance and power of a growth mindset organisation.
How to develop and use a growth mindset effectively within your role or organisation.
Entrepreneurial Spark is the world's largest free people accelerator. They have developed a proprietary 'entrepreneurial enablement' approach that takes entrepreneurs through a cognitive and action centred development process.
The focus of the Entrepreneurial Spark enablement is on the individual, developing entrepreneurial mindsets and behaviours to create acceleration and growth. They've heped thousands of entrepreneurs across the UK realise their entrepreneurail dreams - their passion and commitment is seen in the fact that 85% of the businesses they work with are still trading today.
This is our second event of 2017. We've based this year's event agenda on the Change Management Institute's competency framework and will be looking at four key areas as shown on the image below: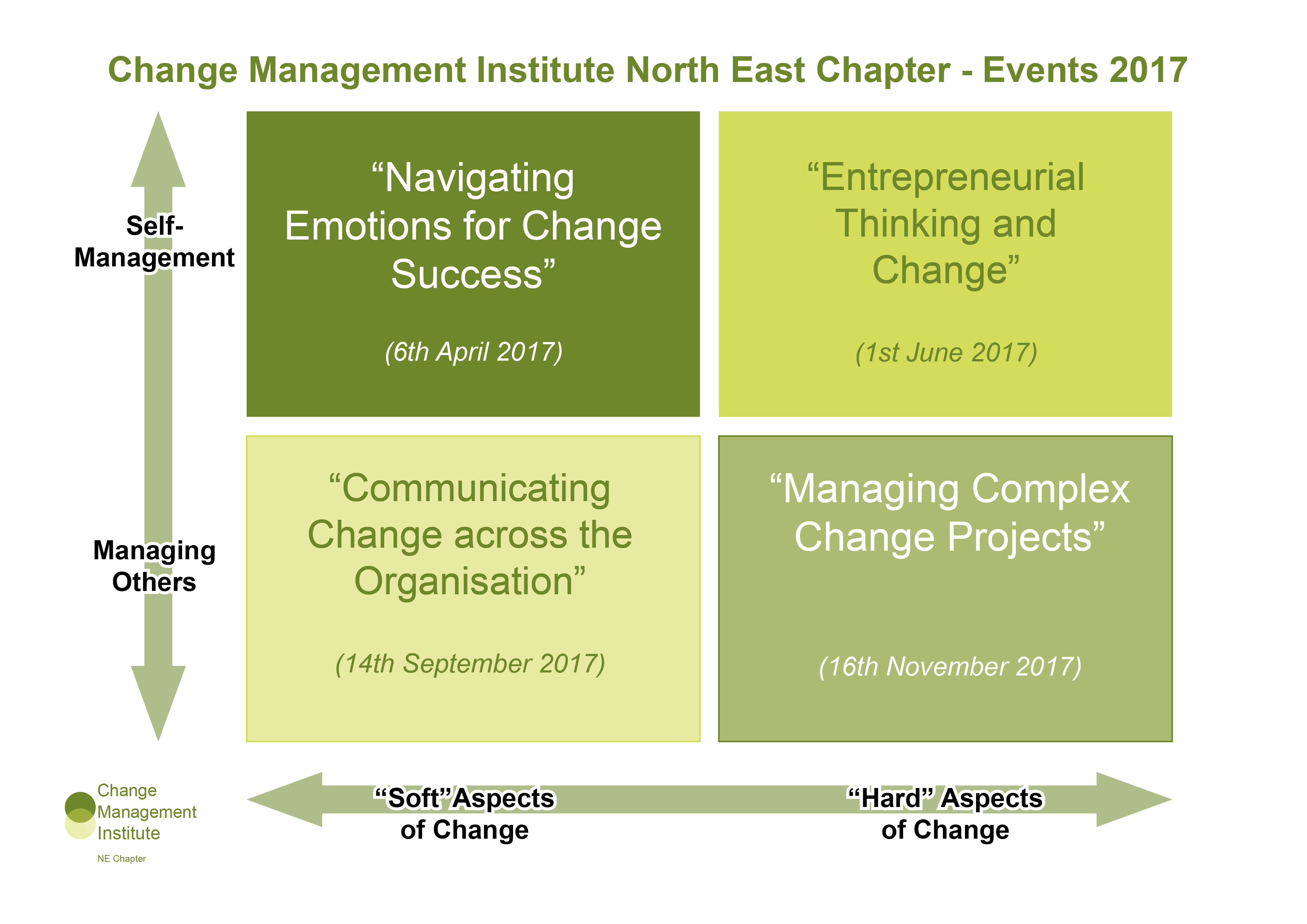 What people have said about our first event in 2017
"Thanks for sharing the slides and for the highly informative session yesterday. I found it very helpful and insightful"
"Thanks again it was enjoyable and thought provoking"
"Thanks for a very stimulating and enjoyable session at the CMI last night"
---
The Venue

Free parking is available after 5pm in the Quayside multi storey car park next to the venue