Description
FULL PROGRAMME AVAILABLE HERE!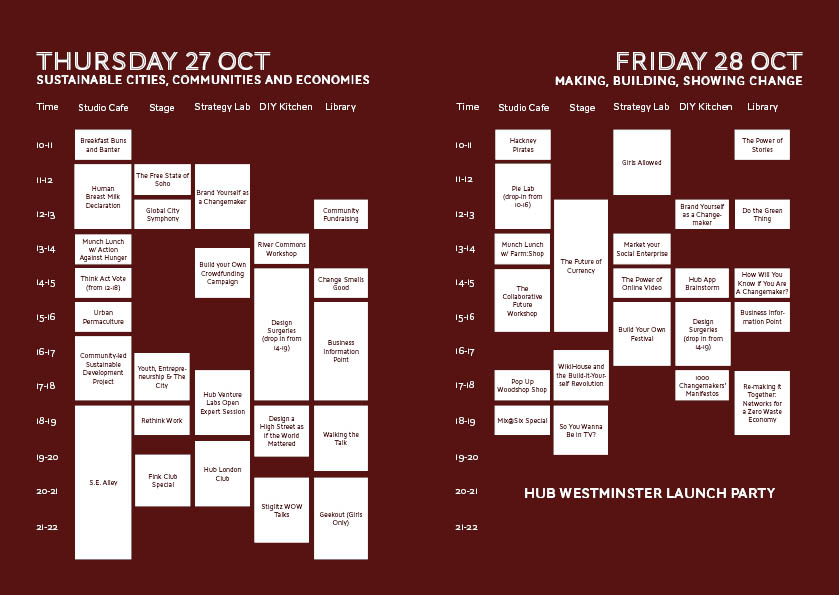 THURSDAY 27 OCTOBER: SUSTAINABLE CITIES, COMMUNITIES AND ECONOMIES
Featuring...
New Economics Foundation: Fink Club Special - Finding Ways to Survive and Thrive Through the Bigger Bang | SHINE Unconference: S.E. Alley (social entrepreneurs' networking event) | The Remakery: Urban Permaculture | Hub Venture Labs: Open Expert ?Panel | Team Barry's Lounge: Disrupting the Disruptors | Pecha Kucha | Buzzbnk: Build your own crowdfunding campaign | Action Against Hunger & Munch: Sustainability Lunch | ?Wow Stiglitz Talks | Spark+Mettle & 00:/ : Youth, Entrepreneurship & The City | ?+ 2 surprise events!| Retail Reset: Design A Highstreet As if The World Really Mattered | London Community Neighbourhood Cooperative | London ?Metropolitan and DSDHA - The Free State of Soho | Big Bang Lab: Global Cities Symphony | Change Smells Good | ?Human Breastfeeding Declaration: Mothering_Amplified | West Lexham & Reboot - Walk the Talk | MzTEK - ?Tinker Geekout (Girls Only) | Empowering Individuals and Communities to Create Pathways for a Better Future - ?Forster | Westminster Reference Library | Think, Act, Vote | 1000 Changemakers' Manifesto
FRIDAY 28 OCTOBER: MAKING, SHOWING, TELLING CHANGE
Featuring...
Social Spaces: PieLab | The Future We Deserve: Collaborative Future Workshop | ?Ogunte: Girls Allowed | WikiHouse designers: WikiHouse and the Build-It-Yourself ?Revolution | TransEuropa Network: Micro Festival Camp | Do the Green Thing: Making/?Sewing Corner | Hub Culture: The Future of Currency | Togethr: FabHub Tinker Session | ?Think Smith: The Power of Story | Farm:Shop & Munch: Grow-It-Yourself Lunch | So You Wanna Be in TV?| 00:/ Design Surgeries | Go Wild Films - The Power of Online Videos | Hackney Pirates | ?Pop Up Shop and Open Workshop - East London Furniture | NB Research & Volans - How Will You Know if You ?Are A Changemaker? | Guerilla Gardening | AnnLytical - Rethink Work: Job Creation Policies in Transition
This in an invitation to join us for our 48 hours Changemakers' Fayre; the culmination of a 3 week long celebration of civic entrepreneurship, impact venturing and change making at the Hub. Over the course of the festival, we aim to seed a thousand conversations on everything from the future of impact investment to the reintroduction of 'micro-making' in our cities.
By seeding a thousand conversations at the Hub, we're hoping to create the fertile ground for community groups, activists, policy makers, social enterprise leaders and innovators to come together and deal with some of the major questions and challenges that the world is facing today, including:
How do we create truly sustainable places, neighbourhoods and cities in an era of increasing polarisation and discontent?
What is the future of currency and capital in a post-recession world plagued by chronic financial crises?
How do we create genuinely democratic avenues for learning and making which empower individuals and communities to create their own pathways for a better future?
How do we not only invest in, but also learn from, the emerging economies of the global south and those countries otherwise left behind by globalisation?
It's time to make an impact - and you're invited to lead.