Location
Maloko
60 Camberwell Church Street
London
SE5 8QZ
United Kingdom
Description
How can local Camberwell shops, restaurants, food production and community input be looked at afresh and linked together to improve local wellbeing?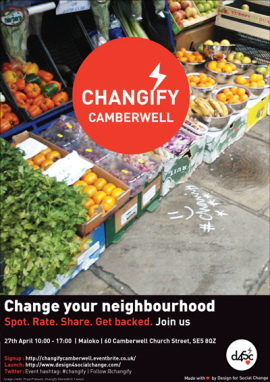 Come to Changify Camberwell - part of the Camberwell Food & Drink Festival on Saturday 27th April - and find out... a day of discovery, discussion and delicious futures!

LOCAL FOOD TOUR

Take a guided walk through Camberwell's cuisine and wellbeing landscape (from restaurants, cafes and shops to local health facilities) and hatch some tasty new ideas for the neighbourhood...
It's time to get inspired and informed - have fun as you turn local explorer, gather evidence, and get involved in shaping ideas on how Camberwell's diverse foodscape could be adapted for the better.
NEW FOOD-BASED IDEAS & PLANS!

Back at the venue, we'll review the findings of our walk and join the dots between food, eating out, shopping, growing stuff and making a difference - producing new ideas for the local area!
Ideas fashioned by you in groups on the day go on to be posted as projects on Changify's crowdfunding service to raise awareness, build support and find backing from friends, neighbours, local businesses, high street brands and the council.
Lightning talks:
Sue Amos - Burgess Park Food Project
Paul Mackay - Transition Belsize
Simone Saviantoni - The Cycling Veg

Participating food & wellbeing outlets & spaces:
Two groups will visit a selection of the following and sample food, on local walks curated by Tom Leighton and Alexander Grunsteidl.

• The Secret Garden
• Sophocles (bakery)
• Camberwell Leisure Centre
• The Co-operative (supermarket)
• The Stormbird (gastro bar)
• Falafel (takeaway)
• TFC (Turkish Foodcourt)
• Maloko (Cameroonian cafe)
• The Crooked Well (Michelin-starred restaurant & bar)
• Camberwell Superstore
• Butterfly Pharmacy (chemist)
• Crusons (green grocers)
• United Stores (African / Caribbean)
• MacDonald's
• Kalabash (African restaurant)
• The Bear (gastro pub)
• Wuliwuli (Szechuan restaurant)
• Food City
• FM Mangal (Turkish restaurant)
** All attendees also get a Changify Cambwerwell loyalty pack featuring local discounts & vouchers **

Places are limited - so book now and see you there for a day of exciting community food ideas and action!
Venue 1 (morning): Maloko, 60 Camberwell Church St, London SE5 8QZ
Venue 2 (afternoon): The Recreation Ground, 65 Camberwell Church Street, London SE5 8TR

WE'RE ALSO AT THE CAMBERWELL FOOD FAIR 20TH APRIL
Come and chat to us at our Food Fair Infopoint on Camberwell Green and check out our food map of the world showing the provenance of global ingredients available at local Camberwell food outlets.

GET EVENT UPDATES:
Facebook
http://bit.ly/ChangifyFacebook
Twitter
http://twitter.com/Changify
EMAIL: For all enquiries please email us on events(AT)design4socialchange.com

EVENT & ATTENDEE INFO:

BOOK NOW (we'll email you a reminder closer to the event with more details). Please bring your mobile phone and / or digital camera to take & share photos and videos; and your laptop (not essential, only if you have one).

SPONSORS & PARTNERS:

We're seeking sponsors for the event, so we can make it better for everyone! If you'd like to sponsor it or discuss other partnership options please email us on events(AT)design4socialchange.com
[Image credits: Photo courtesy of wonderferret on Flickr]