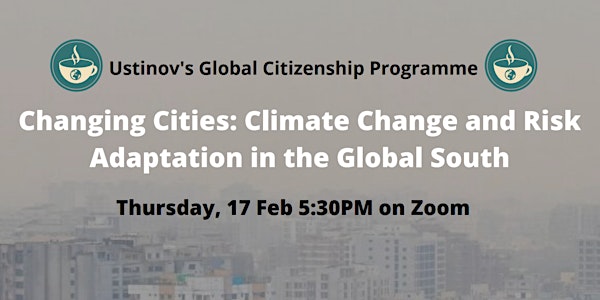 Changing Cities: Climate Change and Risk Adaptation in the Global South
This panel discussion explores the effects of climate change on cities in the Global South and risk adaptation policies.
About this event
Scholars have long debated the impact of climate change on the Global South, with many agreeing that populations there have been hit by the changes in climate the hardest. More specifically, it has been argued that climate change is likely to exacerbate poverty and inequality in cities in the Global South despite the presence of international agreements and conventions to enhance sustainable development.
Hosted by Ustinov's Global Citizenship Programme's Cafe Politique team, this panel event explores the effects of climate change on cities in the Global South and policies that support climate change mitigation and adaptation.
We are joined in this panel event by:
Professor Glenn McGregor - Professor of Climatology in the Department of Geography, Durham University and Principal of Ustinov College. His research interests fall into four areas: namely synoptic climatology, biometeorology, hydroclimatology, and climate and society.
Dr Erwin Nugraha - Postdoctoral researcher at the University of Twente, Netherlands and a senior research fellow at the Resilience Development Initiative, Indonesia. His research focuses on climate change adaptation, urban environmental justice and planetary decolonisation particularly from cities in the global South. He was one of the recipients of the Allianz Climate Risk Research Award in 2017.
Link to join Zoom:
https://durhamuniversity.zoom.us/j/94423498394?pwd=amhqdjlBUHA4SnZZRzhiN0M3RjE2QT09
Meeting ID: 944 2349 8394
Passcode: 459339