Description
Do you wish to be a change-agent and make a difference?
Join us on 22nd June for another engaging and meaningful Changing Perceptions workshop at the School of Health & Social care.
"The School of Health and Social Care at Edinburgh Napier University have been working with the Gloag Foundation for over a year now as part of our Global Healthcare Project. Both organisations are focussed on improving maternal and child mortality in sub-Saharan Africa through educational, workforce and practice developments. In Malawi we are collaborating to support the educational preparation of nurse/midwives to address the human resource crisis and to ensure that women have access to skilled birth attendants during childbirth. We are also leading various interventions to improve womens' experiences of maternity care so that they are treated with respect and dignity. Both organisations are passionate about working with Africans to achieve sustainable improvements in maternal and child health and we are already seeing evidence of how effective this partnership can be in raising awareness and engaging others in this agenda." - Professor Tracy Humphrey PhD, Dean, School of Health & Social Care
Why should you not miss this one?
We will have representatives from Gloag Foundation who will share about their work in Kenya and Malawi!
There are two paid internship opportunities to work in Kenya and Malawi with Gloag Foundation. Lois Boyle (director of Operations and Communications) and Paul McNeil (Operations and Human Resources Director) from Gloag Foundation would be speaking at the workshop about the specific programmes, "Kenya's Children's home" and "Freedom from Fitsula" at the workshop.

Nick Fannin, Head of Bright Red Triangle, will be introducing Changing Perceptions followed by Bob Wright, Director, Innovation & Enterprise, School of Health & Social Care sharing the vision and milestones of School of Health & Social Care.
Mandy Gentleman, Lecturer, School of Health & Social Care, will deliver an interactive talk with two students from the school who have recently worked in Ghana as part of Work The World international placement for development work.
The talks will be followed by a problem-solving, idea generation workshop titled as, 'Design for Community'. The workshop is based on the design thinking appraoch and is facilaited by BRT team memebers, Nick Fannin and Nika Puri (Programme Co-ordinator, Changing Perceptions). For any questions regarding the workshop, write to Nika at n.puri@napier.ac.uk
Here is the programme schedule: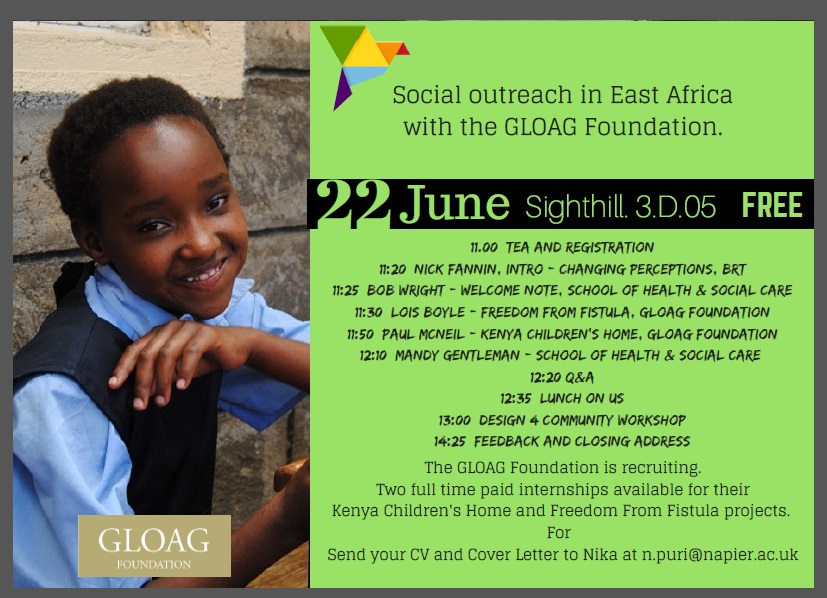 We look forward to seeing you on the 22nd!
About Changing Perceptions
Changing Perceptions is inspired by the potential that community activism holds towards the pace and nature of development. We stand by the idea that every person can contribute their time and energy towards a just development process. Through Changing Perceptions, we seek a powerful force that would enable everyone to contribute to encouraging curiosity as well as inculcating the culture of questioning the unquestioned.
In principal, it is an interactive workshop series organised by Bright Red Triangle and is open to students, staff and network partners aspiring to shape, share and develop ideas that encourage inclusion in a multi-cultural society, the economy, and diverse communities of Scotland.
The focus of the workshops is to consolidate the energies of staff and students from diverse backgrounds and nationalities residing in Scotland to inculcate in them a culture of questioning the ambiguity prevalent in the society and challenging the pre-conceived stereotypes.