Event Information
Location
Frankopan Hall
West Court
Jesus College, Jesus Lane
Cambridge
CB5 8BQ
United Kingdom
Description
We are pleased to welcome the Gazi Research Project and Open Citadel to the Intellectual Forum to screen their short film Pizza, Democracy & the Little Prince.
The current refugee crisis shows no signs of abating. With limited resources available in the affected countries and the current handling of the situation questioned by many, could a shared effort by individuals and organisations be the answer? How can the the 'us and them' narrative currently dominating European media be challenged, and how far would this go towards fostering an understanding of refugees by the public?
Pizza, Democracy & the Little Prince challenges
the idea that refugees have nothing in common with people in prosperous western societies.
Following the screening of the film, a panel of experts will discuss the development of practical solutions for the empowerment of refugees as a joint effort.
Ambassador Farukh Amil (Former Permanent Representative of Pakistan to the United Nations)
Ambassador Farukh Amil was the Permanent Representative of Pakistan to the United Nations in Geneva. Before he served as Ambassador of Pakistan to Japan and Deputy Permanent Representative to the United Nations in New York. A career diplomat with extensive Ambassadorial experience in Asia, North America, the Middle East, Europe and the United Nations.
Extensive multilateral work from the UN General Assembly and Security Council in New York to the Conference on Disarmament and Human Rights Council in Geneva. He was elected the Asia-Pacific Member to the HRC Working Group on Situations. Other notable roles include the President of UNCTAD's Investment, Enterprise and Development Commission, Chair for the G-77 & China Group and Chair of the Organization of Islamic Cooperation in Geneva. Ambassador Amil holds degrees from the University of Manchester, University of Westminster, Fletcher School and National Defense University.

Rosalind Copisarow (Advisor at the World Bank's Microfinance Policy Board)
Ms. Copisarow has more than 20 years' professional experience in developing microfinance institutions and sustainable social enterprises in high impact sectors including affordable housing, renewable energy, food and agriculture, water and sanitation, in Africa and Asia. Ms. Copisarow serves on the World Bank's Microfinance Policy Advisory Board. In the context of the global refugee crisis, she is currently involved in introducing inclusive business models in Jordan to create mutually reinforcing employment and income opportunities for refugee communities and their Jordanian hosts. Prior to that, she worked as an investment banker at Citicorp, HSBC, and JP Morgan.
Ms. Copisarow holds a B.A. in Human Sciences from Oxford University and an M.B.A. from the Wharton School of Finance. She serves on a number of advisory boards including the Lauder Institute. Ms. Copisarow is a Fellow of the Royal Society of Arts, Commerce, and Manufacturing and was awarded the Polish Officer's Cross of the Order of Merit in 2000 for her ground-breaking work in sustainable poverty alleviation.
Rossella Pagliuchi-Lor (UNHCR's Representative to the UK)
Ms. Rossella Pagliuchi-Lor took up her post as UNHCR's Representative to the UK in December 2018. Prior to this she had served two years as Director for External Relations at UNHCR's Headquarters in Geneva.
Ms Pagliuchi-Lor has over 30 years of experience in refugee and humanitarian work, and has served UNHCR in diverse country contexts, including Pakistan, Nepal, Iraq, Kenya, Belgium, Hungary and Italy. Ms. Pagliuchi-Lor holds a Master's degree in Political Science (International Relations) from the University 'La Sapienza' in Rome, Italy.
Paweł Świeboda (Deputy Head of the European Political Strategy Centre)
Paweł Świeboda is the Deputy Head of the European Political Strategy Centre, the in-house think tank of the European Commission. Prior to joining the EPSC, Mr Świeboda was President of demosEUROPA – Centre for European Strategy, an EU policy think tank based in Warsaw, from 2006 to 2015. Earlier, he was Director of the EU Department at the Polish Ministry of Foreign Affairs in the years 2001-2006 and EU Advisor to the President of Poland from 1996 to 2000.
A graduate of the London School of Economics (BSs in Economics), and the University of London (MA in International Relations), he is a member of the Strategic Council of the European Policy Centre and a member of the European Council on Foreign Relations. In 2013/2014, he was Rapporteur of the Review of European Innovation Partnerships.
Elena Horn (Filmmaker/Producer, Documentary director for ARTE RE)
Elena Horn is a young German filmmaker who started her career as a media psychologist researching the framing effects in the news coverage of the Iraq War in the US, Britain and Sweden. Today she is working as a story producer for New York Times, ZDF, WDR, SKY and SPIEGEL TV Wissen. Elena's films focus on questions around education, migration, working culture, love and ethnic conflict employing visual inspirations from the world of music and dance. As a director, Elena is a fellow of the Logan Non-Fiction Program in New York.
In 2018 she was selected for the Global Short Doc Forum in London with her debut documentary "The Lesson". The short documentary "Pizza, Democracy and the little Prince", co-directed with Alessandro Leonardi, earned the "Best Short Documentary Award 2019" at the Sedona Film Festival. Currently Elena is working as a director for ARTE - a French-German culture channel.
Dr Julian Huppert (Founding Director of the Intellectual Forum)
Dr Julian Huppert is the Founding Director of the Intellectual Forum, which is aimed at covering the widest range of academic interests across the College. His research focuses on science and technology policy, including the challenges of privacy in the digital age. He has also worked on how to best use evidence in public policy making – a perennial challenge. Dr. Huppert joined Jesus College in 2016. Prior to that he held a University Lectureship in the Cavendish Laboratory, Cambridge, having previously held an RCUK Academic Fellowship and a Junior Research Fellowship at Trinity College, Cambridge. He served as the Member of Parliament for Cambridge between 2010 and 2015, and was the Liberal Democrat spokesperson for Home Affairs, Justice and Equalities. Among various awards, he was named ISPA Internet Hero of the Year in 2013 for his work in ending the so-called Snooper's Charter, and was also elected as Parliamentary Beard of the Year in 2013.
How do I get to West Court, Jesus College?
The entry to West Court is directly on Jesus Lane, near to the intersection with Park Street. Please DO NOT ENTER through the main entrance to the Porters' Lodge, known as "the Chimney". A map is included below to assist you in finding our entrance.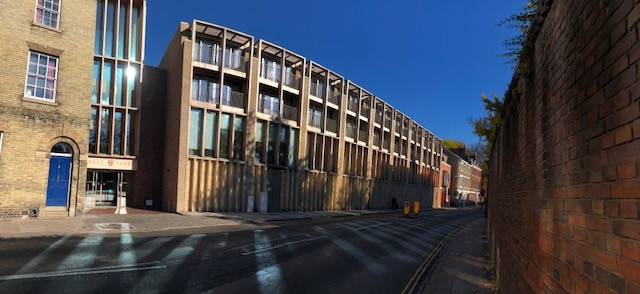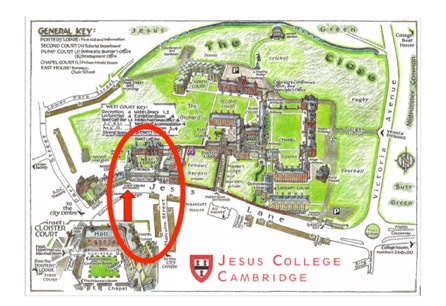 What transport options do I have?

There is no on-site car parking at Jesus College for those attending our events. There is limited on-street parking outside the College and the Park Street Car Park is very close. There are also multiple Park and Ride options to the City Centre, a short walk from the College.
A regular train services runs to Cambridge from London's Kings Cross Station, London Liverpool Street Station and many other mainline UK stations. The College is located approximately 2 miles (3.2 kilometres) from the railway station. Buses run about every 10 minutes and there is a taxi rank outside the station and one here in the city centre for your return.

What time do I need to arrive?
We ask that you arrive 15 minutes before the event and doors will close at the face time on your ticket. We may not admit latecomers, especially if seating is now full or filming is taking place. Our staff will be on site to validate tickets and so it would be helpful to have either an electronic or printed form of your ticket with you. Please also bring photographic ID for validation.
Does my ticket guarantee entry?
Unfortunately not everyone who receives a ticket turns up on the day and so we have to over-issue tickets to ensure a full event. We decide carefully how many tickets to issue as it is important to have a full event but the last thing we want to do is disappoint people. In order to be as fair as possible we admit ticket holders on a first come first served basis. It is helpful to us if you cannot attend that you cancel your ticket. More accurate numbers mean less overbooking in the future and reduce the risk that people with tickets will be denied entry. For some events we may be able to ticket at the door and this will be advised to the waitlist. Please join the waitlist if the event is sold out and we will let you know if this will be an option.

What can I bring with me?
There are coat hooks around our building, but there are no storage or coat minding facilities and we cannot take any responsibility for items left unattended. Mobile phones are allowed, but must be silenced or placed on airline mode during the event. Flash photography is prohibited.
What if I have access requirements?
West Court is access friendly and there are hearing loops. Please let us know about any access requirements at least three days in advance of any event via if-coordinator@jesus.cam.ac.uk. There is limited permit disabled parking, and again this must be prearranged. The building has extensive access-friendly bathroom facilities, and some limited seating in the waiting area.
Is there food or drink available?
For refreshments, our College Cafe or Bar will often be open across the courtyard selling drinks and food around our events. Details of the opening times for the cafe can be found at https://www.jesus.cam.ac.uk/college/life-jesus/food-and-drink/cafe and for our bar can be found at https://www.jesus.cam.ac.uk/college/life-jesus/food-and-drink/bar.
Filming, social media and data protection
The Intellectual Forum often films and live-streams its events. Notices about any filming will be placed around the venue, and if you have any concerns please contact if-coordinator@jesus.cam.ac.uk.
By signing up to attend this event, those attending give permission to the Jesus College Intellectual Forum and those authorised by Jesus College to record images and/or sound at the event by photograph and/or video/film and/or recording. A full waiver we be required in the ticketing process.
You can find information on how we manage your data at https://www.jesus.cam.ac.uk/college/about-us/data-protection.
How to cancel your ticket
Many of our events are oversubscribed and we operate a wait list. In order to allow the maximum number of people to be in attendance, we ask that if you find you can no longer attend, please cancel your order. Instructions on how to cancel your ticket can be found here: https://www.eventbrite.com/support/articles/en_US/How_To/how-to-cancel-your-free-registration
Date and Time
Location
Frankopan Hall
West Court
Jesus College, Jesus Lane
Cambridge
CB5 8BQ
United Kingdom