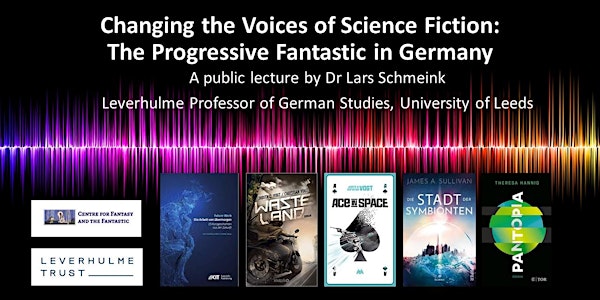 Changing the Voices of SF: The Progressive Fantastic in Germany
Location
University of Glasgow - Room 253 (Seminar Room 1 - Yudowitz), Wolfson Medical School
University Avenue
Glasgow
G12 8QQ
United Kingdom
Join us for a public lecture on the "progressive fantastic" in Germany, by Dr Lars Schmeink, Leverhulme Professor of German Studies, Leeds.
About this event
The Centre for Fantasy and the Fantastic, University of Glasgow, are delighted to invite you to join us on 26 May 2022 at 5pm BST (on campus and online!) for a public lecture by Dr Lars Schmeink, Leverhulme Professor of German Studies, University of Leeds, on "Changing the Voices of Science Fiction: The Progressive Fantastic in Germany". The lecture will take place in Room 253 (Seminar Room 1 - Yudowitz), at Wolfson Medical School but will also be broadcast via Zoom webinar.
German science fiction has traditionally been a conservative genre, its main authors to this day mostly white, cis, hetero males of middle age. Until recently, diversity of genders, non-heteronormative sexuality, race or varied ethnic and cultural backgrounds, or representations of other marginalized groups (age, (dis)ability, etc.) has been sorely missing. But there has been a concerted effort by a younger, more diverse group of writers to change the approach to fantastic literature as a whole. Under the umbrella of the "progressive fantastic", they have called for the inclusion of other identities in speculative fiction, the strengthening of own-voices, and a keen-eyed reexamination of traditions and structures in fantastic texts. In this talk, Dr Schmeink will present the key features of this "progressive fantastic" by looking at exemplary texts of recent German SF production: Judith and Christian Vogts groundbreaking work in writing in a non-heteronormative language and presenting intersectionally diverse communities in Wasteland (2019) and Ace in Space (2020); James Sullivan's investigation of belonging and self-positioning via Afrofuturist estrangement in Die Stadt der Symbionten (2019), Lena Richter's subtle emphasis on (dis)abled and neurodivergent characters in her short stories "Feuer" (2020) and "3,78 Lifepoints" (2021), and Theresa Hannig's reinvigoration of the hopeful narrative strategies of utopia as a genre in Pantopia (2022). 
Find out more about this event here.