Live comedy with Lloyd Griffith, Jen Brister, Ola Labib, Stuart Laws, Olga Koch and Kate Smurthwaite in support of refugees.
About this event
Christmas chuckles for charity
To get you in the festive mood this December, we have a fantastic line-up to keep you chuckling all night. Our MC Jen Brister will introduce sets by Ola Labib, Stuart Laws, Olga Koch, Kate Smurthwaite and headliner Lloyd Griffith!
Grab some mates and have a laugh to help us support refugees across London and Birmingham. (Event kindly sponsored by Weil.)
Date – Tuesday 7 December at 7:30pm
Venue – The Comedy Store, Leicester Square
Price – £20
Virtual ticket
If you'd like to live-stream the evening from your home (or anywhere), you can purchase a virtual ticket (£15) from The Comedy Store Live: https://www.thecomedystorelive.co.uk/shows/jokes-and-spokes-december-2021
About The Bike Project
Jokes and Spokes is the comedy fundraiser event for The Bike Project. Proceeds from your ticket will go straight to supporting refugees and asylum seekers in the UK. Did you know that asylum seekers are only given £39 a week and not allowed to work? At The Bike Project, we believe no-one should have to choose between eating a square meal and catching the bus. We collect, fix up and donate second-hand bikes to offer refugees some freedom, independence and a sense of community. We also provide free female-led cycling lessons to female refugees. Thank you for your support and happy holidays!
COVID policy
For the reassurance of all our guests, we request all audience members over the age of 18 years to obtain a Domestic COVID-PASS (or international equivalents). Customers without a COVID-PASS must provide a negative COVID test result within 48 hours of their visit to The Comedy Store. We politely encourage patrons to wear a face mask while moving around inside the venue.
Please note: the comedy line-up is subject to change.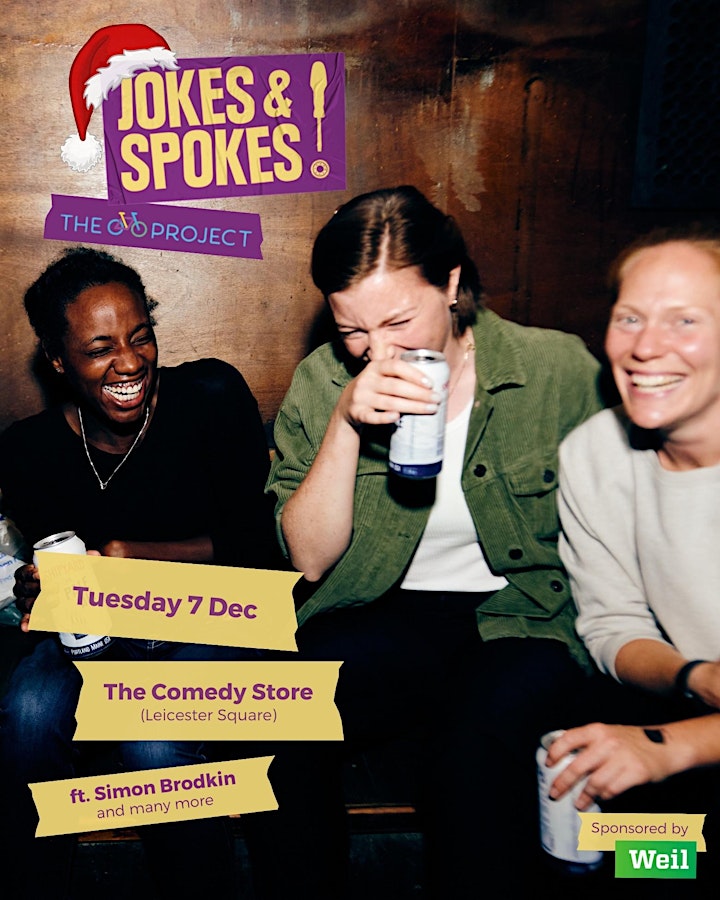 Organiser of Charity Comedy Fundraiser: Jokes and Spokes ft. Lloyd Griffith
The Bike Project is a charity that takes in secondhand bikes, refurbishes them and donates them to refugees and asylum seekers in the UK. You can support our work by donating a bike, coming along to our comedy fundraisers, or buying bikes and accessories from our online shop.