Event Information
Refund Policy
Refunds up to 1 day before event
Eventbrite's fee is nonrefundable.
About this Event
Charity Meetup Aylesbury -
Feel Connected ~ Get & Give Support ~ Share Ideas
Please join us for the online Charity Meetup networking and skills sharing event. 
Venue: Online
Event theme: Career Development
Join us to explore how you can navigate career development even in a challenging job climate. Gain practical insight on how to get a job you love and improve your confidence and communication skills.
Who is this for?
This event would be useful to anyone in the charity sector
Event Schedule:
1. Welcome - From Host Leah Lewis
2. Networking Game – Welcoming participants new and returning, this is a great opportunity to share who you are and what you do in a relaxed and informative atmosphere.
3. Talks - Based on the event theme
4. Q&A - Speakers answer questions from the group
5. Reflection & Close

Talks & Speakers:
Talk 1 - 5 Steps to take Control of Your Career
In these uncertain times it is more important than ever that we take control of our careers instead of leaving it up to our employer. In this session Carla will share her top tips for developing your career including how to stand out within your company with one simple mindset shift and the skill that every successful leader has mastered.
Carla Miller - Leadership Coach
Carla is a leadership coach who helps female leaders to tackle self doubt, become brilliant at influencing and make more impact at work. She is the creator of the Influence & Impact programme for female leaders and the Leadership Skills Lab and the author of Leading Successful Fundraising Teams. Carla is also a former charity CEO, Fundraising Director and ran Charity People for a year so she knows a lot about career development.
Talk 2 - Change in Career Direction
Nikki will talk to us about resilience during dificult times. She will discuss coping mechanisms whilst eing furloughed and share with us as to how she secured her new role.
Nikki Wrench MinstF (Cert) – Wish Family Engagement Manager- Make-A-Wish® UK
Nikki started her career as a Junior Fundraiser at a children's hospice in Staffordshire and has since fulfilled the roles of Relationship Manager, Challenge Events Manager and Regional Fundraising Manager, where she worked closely with her team of volunteers across 11 counties, managing community income and corporate partnerships. Fundraising has been a part of Nikki's life since she set up her own support group after being diagnosed with Acute Myeloid Leukaemia in 1999. After receiving her own wish from Make-A-Wish UK, Nikki became a volunteer for the charity and when a Regional staff role was created at the end of 2017, Nikki knew it was her dream job. Nikki's role, like many others, was furloughed due to COVID-19 and she set up the Furloughed Fundraisers Chat group on Facebook, where she helped hundreds of charity workers by joining them with organisations that needed their skills during such a difficult time. Nikki's role was then made redundant due to a restructure within her organisation.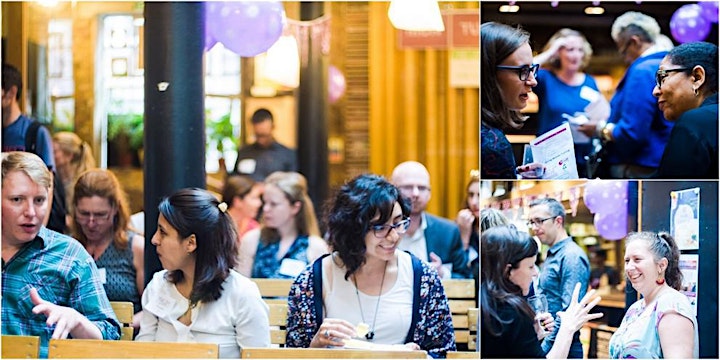 Host:
Leah Lewis
Based in Buckinghamshire, Leah has over four years of experience in Community Fundraising working for organisations such as Pace and WheelPower. She has worked with national charity partnerships, fundraising campaigns and mass participation events. Leah holds a degree in Events Management and started her career as an Events Manager for a small not-for-profit organisation working on both regional and national events. From this her passion quickly grew into wanting to help others to reach success.
Leah is qualified to Level 1 in British Sign Language and uses this to communicate to beneficiaries when working in the community. Currently on furlough, during this time she has begun to explore Mentoring & Coaching and successfully completed a UKPD Certificate in this subject to further develop her knowledge and expertise in supporting individuals.
Leah is delighted to be supporting the return of Buckinghamshire Charity Meetup, connecting with fundraising professionals new and returning in a time where support networks are at their strongest.
You can connect with Leah and ask any questions before the event here: https://www.linkedin.com/in/leah-lewis-3ab04a128/
About this group:
Following a successful series events in Buckinghamshire and London, designed for people who work at charities, volunteers and supporters of the sector, we have had over 20 events so far. https://morellomarketing.com/charitymeetup/
What is it?
The Charity Meetup event was designed to make it easy and enjoyable for people working in the not for profit sector to make new connections. The networking is facilitated by the organiser Dawn Newton and participants are supported and encouraged through activities and games.
A relaxed, informal event with refreshments, chatting, networking and fun. Everyone is welcome. Participants can arrive or leave at any point during the event.  
Who will you meet at the Charity Meetup?
A diverse network of connections is essential for both people and organisations in the non-profit sector. The purpose of the Charity Meetup is to help foster and grow these connections. The event has a good mix of participants including people from different parts of the charity sector including fundraisers, marketers, companies, consultants, in-house staff, freelancers, agencies and we hope that this will continue with the future events.
The Charity Meetup is a friendly event full of skills sharing, networking and fun, and all are welcome. The event was created by Dawn Newton, after noticing that there were lots of events but nothing which supported participants to network in a practical way through facilitated activities. Read about our past events and register to receive updates.
Participant quote:
"I would definitely recommend the event. It was a great mix of people from a wide variety of backgrounds. Really relaxed atmosphere. Good mix of activity and opportunity to have conversations with various attendees. Thank you for the hard work that obviously went into organising."
FAQs
How can I contact the organiser with any questions?
Email dawn@morellomarketing.com
What's the refund policy?
Refunds will be given with at least 24hrs notice.
Date and Time
Location
Refund Policy
Refunds up to 1 day before event
Eventbrite's fee is nonrefundable.