Event Information
Refund Policy
Refunds up to 1 day before event
Eventbrite's fee is nonrefundable.
About this Event

Charity Meetup Aylesbury - July 2020
Feel Connected ~ Get & Give Support ~ Share Ideas
Please join us for the online Charity Meetup networking and skills sharing event. 
Event theme: Evolving Events & Competitions
Date: Tuesday 28 July 2020 from 10 am – 12 noon
Venue: Online
Speakers: Jane Curtis and Vicky Harman
Event Description:
We are delighted to bring back the successful Buckinghamshire Charity Meetup networking and skills sharing events.
Our theme this month is 'Evolving Events & Competitions' and the event is suitable for everyone working within the sector with advice and idea sharing aimed specifically at fundraisers. This is also a good opportunity for furloughed fundraisers, or those that are looking to get back into the sector, please join us and share your expertise and experience.
Event Schedule:
Welcome - Our host Leah will welcome everyone from 9.45am and encourage introductions between participants and there will be a brief introduction to the event.
Networking Game – Welcoming participants new and returning, this is a great opportunity to share who you are and what you do in a relaxed and informative atmosphere.
Talks -
1. Transitioning Challenge Events Online -
We will be hearing from Vicky from Florence Nightingale Hospice who will share how they transitioned their fundraising events to function online, resulting in "Florence to Florence", a virtual sponsored walk from Florence Nightingale Hospice in Aylesbury to Florence Nightingale's birthplace in Florence, Italy. This event attracted over 500 participants, raised £5,000 and generated significant local publicity and social media engagement.
Vicky is currently organising 'Not the Midnight Walk', a virtual reimagining of the Midnight Walk, which is currently exceeding expectations and matching signups and sponsorship rates of the traditional Midnight Walk event.
2. Evolving events -
Jane will share how charity event projects have evolved and will continue to adapt in the future due to social distancing. She will showcase creative alternatives to in person events and good practice around virtual event organising.
Ask the expert – a panel discussion with the speakers who will be taking questions on all matters relating to fundraising.
Speakers –
Vicky Harman - Event and Community Manager at Florence Nightingale Hospice Charity
Vicky Harman is an experienced Event and Community Fundraising Manager, responsible for organising Aylesbury's iconic Midnight Walk. Her events experience is broad and longstanding, ranging from licensed Beer Festivals, remembrance services, sponsored runs, outdoor theatre, long distance treks and events to support families caring for very sick children. During the COVID-19 crisis, Vicky has transitioned the charity's events fundraising online, resulting in "Florence to Florence", a virtual sponsored walk from Florence Nightingale Hospice in Aylesbury to Florence Nightingale's birthplace in Florence, Italy. This event attracted over 500 participants, raised £5,000 and generated significant local publicity and social media engagement.
Jane Curtis - Founder of The Charity Events Specialist
Jane Curtis is a charity fundraiser and event specialist with 20 years project, people and change management experience. She has created and managed successful fundraising strategies and programmes at a variety of national and international charities (incl. Anthony Nolan, WaterAid, Leonard Cheshire Disability, Prostate Cancer UK, Pancreatic Cancer UK) across events and community income streams and lead teams in raising tens of millions of pounds through events.
In 2018, Jane decided to become a Consultant working with charity events teams to help future-proof their events activity and raise more funds.
In June 2020 Jane launched her first membership; The Charity Event Specialists Collective a low cost solution enabling more Event Fundraisers to access the tips, tricks and skills Jane has learnt from 20 years successful event fundraising. Through connection, mentoring and event specific training Jane is helping Event Fundraisers to grow and become more resilient and confident; in turn making them better fundraisers and ensuring their programmes are fit for purpose now and in the future. www.thecharityeventspecialists.com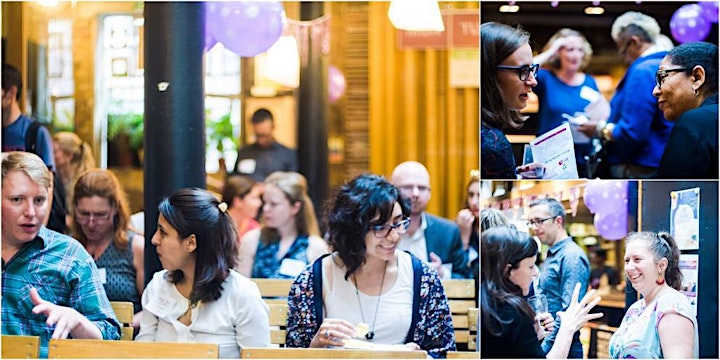 Host:
Leah Lewis
Based in Buckinghamshire, Leah has over four years of experience in Community Fundraising working for organisations such as Pace and WheelPower. She has worked with national charity partnerships, fundraising campaigns and mass participation events. Leah holds a degree in Events Management and started her career as an Events Manager for a small not-for-profit organisation working on both regional and national events. From this her passion quickly grew into wanting to help others to reach success.
Leah is qualified to Level 1 in British Sign Language and uses this to communicate to beneficiaries when working in the community. Currently on furlough, during this time she has begun to explore Mentoring & Coaching and successfully completed a UKPD Certificate in this subject to further develop her knowledge and expertise in supporting individuals.
Leah is delighted to be supporting the return of Buckinghamshire Charity Meetup, connecting with fundraising professionals new and returning in a time where support networks are at their strongest.
You can connect with Leah and ask any questions before the event here: https://www.linkedin.com/in/leah-lewis-3ab04a128/
About this group:
Following a successful series events in Buckinghamshire and London, designed for people who work at charities, volunteers and supporters of the sector, we have had over 20 events so far. https://morellomarketing.com/charitymeetup/
What is it?
The Charity Meetup event was designed to make it easy and enjoyable for people working in the not for profit sector to make new connections. The networking is facilitated by the organiser Dawn Newton and participants are supported and encouraged through activities and games.
A relaxed, informal event with refreshments, chatting, networking and fun. Everyone is welcome. Participants can arrive or leave at any point during the event.  
Who will you meet at the Charity Meetup?
A diverse network of connections is essential for both people and organisations in the non-profit sector. The purpose of the Charity Meetup is to help foster and grow these connections. The event has a good mix of participants including people from different parts of the charity sector including fundraisers, marketers, companies, consultants, in-house staff, freelancers, agencies and we hope that this will continue with the future events.
The Charity Meetup is a friendly event full of skills sharing, networking and fun, and all are welcome. The event was created by Dawn Newton, after noticing that there were lots of events but nothing which supported participants to network in a practical way through facilitated activities. Read about our past events and register to receive updates.
Participant quote:
"I would definitely recommend the event. It was a great mix of people from a wide variety of backgrounds. Really relaxed atmosphere. Good mix of activity and opportunity to have conversations with various attendees. Thank you for the hard work that obviously went into organising."
FAQs
How can I contact the organiser with any questions?
Email dawn@morellomarketing.com
What's the refund policy?
Refunds will be given with at least 24hrs notice.

Date and Time
Location
Refund Policy
Refunds up to 1 day before event
Eventbrite's fee is nonrefundable.