Event Information
Refund Policy
Refunds up to 1 day before event
Eventbrite's fee is nonrefundable.
Discover how charities are adapting to the new challenges of working remotely, we will be sharing tips on how to increase engagement.
About this Event
Charity Meetup Aylesbury
Feel Connected ~ Get & Give Support ~ Share Ideas
Please join us for the online Charity Meetup networking and skills sharing event. 
Venue: Online
Event theme: Nurturing Relationships Remotely
Discover more about how charities are adapting to the new challenges of working remotely, we will be sharing tips on how to increase engagement with staff and clients with a focus around communication and utilising new technology.
Who is this for?
This event would be useful to anyone in the charity sector
Event Schedule:
1. Welcome - From Host
2. Networking Game – Welcoming participants new and returning, this is a great opportunity to share who you are and what you do in a relaxed and informative atmosphere.
3. Talks -
Moving with the times: adapting service delivery during Covid - and keeping staff / clients on board during change
Speaker: Hannah Asquith - CEO, Youth Concern Aylesbury
How we can make internal comms collaborative
Speaker: Dr Natalie Peck - Digital Workplace Lead at Citizens Advice
4. Q&A - Speakers answer questions from the group
5. Reflection & Close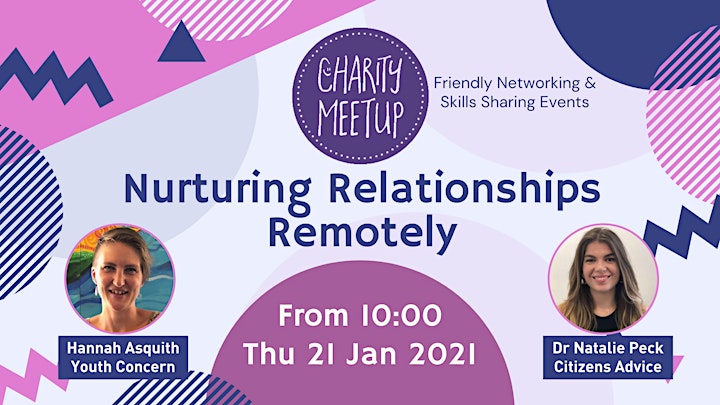 Talks & Speakers:
Session 1: Moving with the times: adapting service delivery during Covid - and keeping staff / clients on board during change
Hannah will be sharing the lessons learned from managing relationships with staff and clients during 2020 and beyond. Including how she works hard to engage her team and keep them motivated.
Learn from a CEO of a small charity how they are working in practical terms
Frequency - understanding how often communications need to happen
Listening - ensuring there is two way communication with every team member
How they have adapted services for their clients and supported staff to deliver in new ways
Speaker: Hannah Asquith - CEO, Youth Concern Aylesbury
Hannah became CEO of Youth Concern in March 2020, and had to work swiftly to make big changes to the charity and their services as they were previously working almost exclusively in their drop in centre to pivot and move things to run remotely. Hannah's voluntary sector career spans fundraising, grant-making and senior leadership roles, working for regional, national and international charities. Hannah has held trustee and long term voluntary positions.
Dedicated, accomplished and adaptable professional with the ability to think strategically and the desire to deliver great work. Hannah's ability to communicate and influence at all levels means she has a proven track record of making a personal impact at events, in meetings and in the board room.
Session 2: Supporting collaboration in a remote-first environment
How clear missions, fit-for-purpose tools and team cultures help staff and volunteers engage in an organisation spread across different teams, locations and services.
Speaker: Natalie Peck, Digital Workplace Lead, Citizens Advice
Natalie has worked across private, public and third sector organisations leading internal and external communications and product development. She currently oversees a multidisciplinary team at Citizens Advice to help staff and volunteers access the information, knowledge and tools they need to do their jobs, and is also a lead in the organisation's Future of Work programme.
Learn more about how the national Citizens Advice charity encourages collaboration and communication
How they involve senior leaders in the platforms they use including Facebook Workplace
How they work to engage a huge number of volunteers across the country in new ways
What they have learned during the pandemic and how you can use these tips in your organisation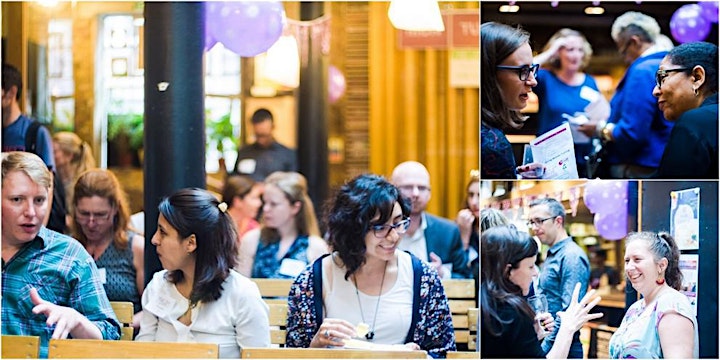 About this group:
Following a successful series events in Buckinghamshire and London, designed for people who work at charities, volunteers and supporters of the sector, we have had over 20 events so far. https://morellomarketing.com/charitymeetup/
What is it?
The Charity Meetup event was designed to make it easy and enjoyable for people working in the not for profit sector to make new connections. The networking is facilitated by the organiser Dawn Newton and participants are supported and encouraged through activities and games.
A relaxed, informal event with refreshments, chatting, networking and fun. Everyone is welcome. Participants can arrive or leave at any point during the event.  
Who will you meet at the Charity Meetup?
A diverse network of connections is essential for both people and organisations in the non-profit sector. The purpose of the Charity Meetup is to help foster and grow these connections. The event has a good mix of participants including people from different parts of the charity sector including fundraisers, marketers, companies, consultants, in-house staff, freelancers, agencies and we hope that this will continue with the future events.
The Charity Meetup is a friendly event full of skills sharing, networking and fun, and all are welcome. The event was created by Dawn Newton, after noticing that there were lots of events but nothing which supported participants to network in a practical way through facilitated activities. Read about our past events and register to receive updates.
Participant quote:
"I would definitely recommend the event. It was a great mix of people from a wide variety of backgrounds. Really relaxed atmosphere. Good mix of activity and opportunity to have conversations with various attendees. Thank you for the hard work that obviously went into organising."
FAQs
How can I contact the organiser with any questions?
Email dawn@morellomarketing.com
What's the refund policy?
Refunds will be given with at least 24hrs notice.
Date and Time
Location
Refund Policy
Refunds up to 1 day before event
Eventbrite's fee is nonrefundable.