Charity Meetup Buckinghamshire - Corporate Partnerships at John Lewis
Description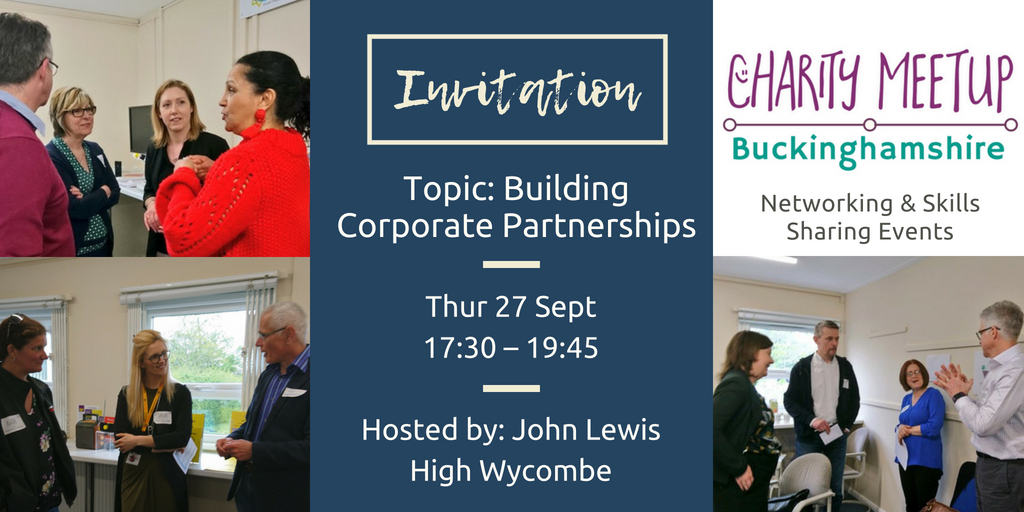 Please join us for the Charity Meetup in Buckinghamshire, kindly hosted by John Lewis
Our theme: Building Corporate Partnerships
Guests will be welcomed and we will get a chance to meet all of the participants at the event over a cup of tea or coffee in a relaxed informal atmosphere.
Drinks on arrival are included in the ticket fee. Free Parking is available.
Event Schedule:
1. Networking Game
Kicking off with a warm welcome and a game to help the group mix and meet new people and get the conversation flowing.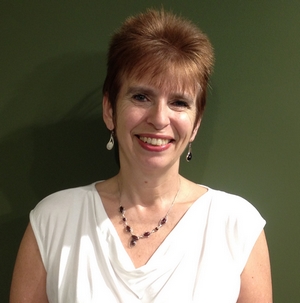 2. Building Real Partnerships - From the Corporate Perspective
Talk and activity from our host Dawn Stokoe, Community Liaison Co-ordinator, John Lewis High Wycombe
Dawn comes from a varied background in Public Service, Sales Management and also the charity sector. She currently works for John Lewis in Corporate Social Responsibility and also works as a trainer for an anti-slavery charity. Outside of work she combines being a supportive mum at her sons' numerous football matches with various social justice projects.
Talk will cover: What JLHW is able to offer to its local community and top tips on how to build corporate partnerships.

3. Corporate Partnerships from the charity perspective
Session by Sharon Cooper, Corporate Fundraiser at Chilterns MS Centre.
Sharon has been working in the charity sector for almost 17 years. Working at the British Red Cross in 2002 as Senior Community Fundraiser, I developed a comprehensive programme of community events working with volunteers and building fundraising groups. Moving to the Chilterns MS Centre two and half years ago, Sharon joined the community fundraising team where she was able to bring her experience to help develop community fundraising including developing new ideas and strategies to increase income. Sharon has now taken on a new role at the charity as their first ever Corporate Fundraiser, where she manages a successful a Corporate Friends scheme including networking events, to bring local businesses together.
Sharon has a passion for working in the charity sector and working with volunteers and is keen to help share all aspects of her experience with other fundraisers.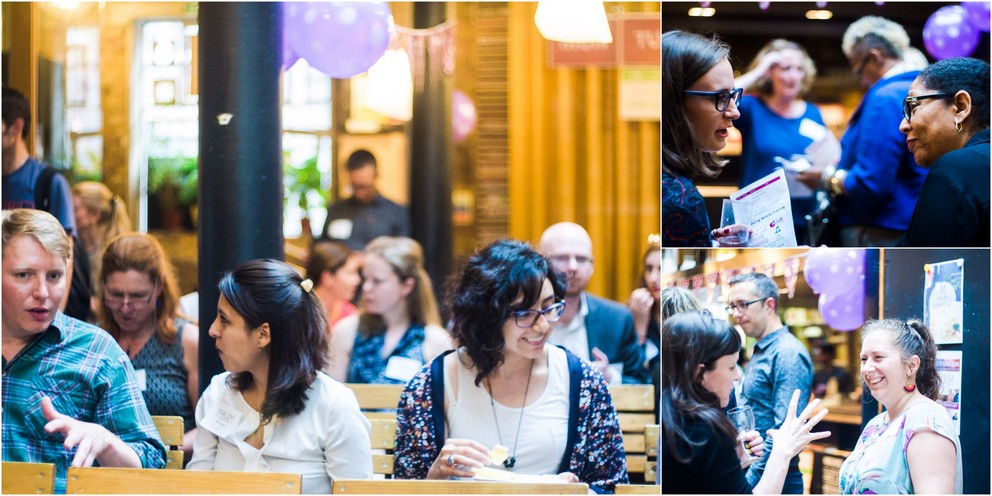 About this group:
Following a successful series of 13+ networking and skills sharing events held in London. We have setup a second group which is local network in Buckinghamshire for people who work at charities, volunteers and supporters of the sector, we have had two successful events so far.
What is it?
The Charity Meetup event was designed to make it easy and enjoyable for people working in the not for profit sector to make new connections. The networking is facilitated by the organiser Dawn Newton and participants are supported and encouraged through activities and games.
A relaxed, informal event with refreshments, chatting, networking and fun. Everyone is welcome. Participants can arrive or leave at any point during the event.
Who will you meet at the Charity Meetup?
A diverse network of connections is essential for both people and organisations in the non-profit sector. The purpose of the Charity Meetup is to help foster and grow these connections. The event has a good mix of participants including people from different parts of the charity sector including fundraisers, marketers, companies, consultants, in-house staff, freelancers, agencies and we hope that this will continue with the future events.
The Charity Meetup is a friendly event full of skills sharing, networking and fun, and all are welcome. The event was created by Dawn Newton, after noticing that there were lots of events but nothing which supported participants to network in a practical way through facilitated activities. Read about our past events and register to receive updates.
Participant quote:
"I would definitely recommend the event. It was a great mix of people from a wide variety of backgrounds. Really relaxed atmosphere. Good mix of activity and opportunity to have conversations with various attendees. Thank you for the hard work that obviously went into organising."

FAQs
How can I contact the organiser with any questions?
Email Dawn: Dawn@morellomarketing.com
What's the refund policy?
Refunds will be given with at least 24hrs notice.