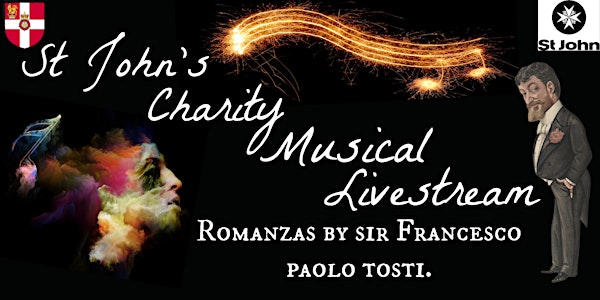 Charity Musical Evening: Romanzas by Sir Francesco Paolo Tosti
A programme of Arias and Romanzas by Sir Francesco Paolo Tosti, Italian opera composer of the late XIX century and a Royal singing Master
About this event
This will be a live-streamed performance. The event's fundraising will go towards supporting various London St John Priory initiatives, including St John of Jerusalem Eye Hospital's funding needs.
Get ready for a memorable evening with a unique musical performance by a quartet of singers from the choir of St. Paul's, Knightsbridge. Set in the stunning Belgravia location at the St Paul's Church in Knightsbridge, you will experience an evening of arias and romanzas by Sir Francesco Paolo Tosti, Italian opera composer of the late XIX Century. He was a member of the Royal College of Music, and Singing Master to Queen Margherita of Savoy, Queen Victoria, and the Prince of Wales, later King Edward VII, who knighted him in 1906.
*Gift Aid declaration option at checkout*
Boost your donation by 25p of Gift Aid for every £1 you donate. Gift Aid is reclaimed by the charity from the tax you pay for the current tax year.
By signing this agreement you agree that:
I want to treat Gift Aid donations any donations I make on or after the date of this declaration and all donations that I have made in the past 4 years' to St. John Ambulance.
I am a uK taxpayer and understand that if I pay less income tax and/or capital gains tax than the amount of Gift Aid claimed or all my donations in that tax year it is my responsibility to pay any difference. I understand the charity will reclaim 25p of tax on every £1 that I have given.
Please notify St. John Ambulance if you; want to cancel this declaration, change your name or home address, no longer pay sufficient tax on your income and/or capital gains
To view our privacy policy please visit sja.org.uk/privacy.
Date and time
Location
Refund policy