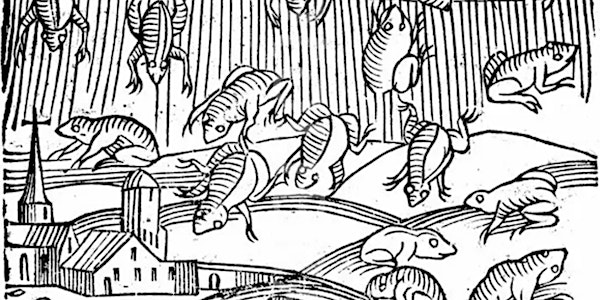 Charles Fort and the Making of the Twentieth Century: Zoom by Colin Dickey
Refund policy
Refunds up to 1 day before event
In the Fort Archive: Charles Fort and the Making of the Twentieth Century – an online Zoom talk by author Colin Dickey
About this event
Secreted within the New York Public Library's collections are the Charles Fort archives: literally thousands of small scraps of paper, loosely indexed, each containing small notes written in smudged pencil by the uncategorizable writer, Charles Fort, father of all things 'Fortean'. Crumbling and largely illegible, they nonetheless tell a hidden story of human culture, an alternative picture of how the world works.
Fort's four books – The Book of the Damned, New Lands, Lo!, and Wild Talents, published between 1919 and 1932 – arrived at a time when scientific pursuit had been largely institutionalized, removed from amateur naturalists and dilettantes to university labs and government funded research. And while science had once been aligned with religion (for centuries, scientific inquiry had been understood to be a means of better understanding the works of God), by the twentieth century these two realms were firmly opposed to one another. Fort's interest in rains of frogs and fish, of ball lightning and inexplicable meteorological phenomenon, or the strange and unsettling, resisted this binary between science and religion; Fort focused intensely on those things which seemed to fall between the cracks, events which had neither easy scientific explanation nor theological import. By focusing on stories that were "damned," outside of the bounds of science and religion, he set the stage for much of the twentieth century's obsessions, from cryptids to UFOs, from the Bermuda Triangle to spontaneous human combustion.
Colin Dickey has spent many hours in the Fort Archives of the New York Public Library, and far more hours trying to decipher what Fort wrote on those tiny slips of paper in his illegible pencil scribblings. In this talk he will not only report on the archive and some of the unpublished writings of Fort contained therein, but also situate Fort's work in the larger context of the twentieth century and its systems of belief.
Colin Dickey is the author of The Unidentified: Mythical Monsters, Alien Encounters, and Our Obsession with the Unexplained, and Ghostland: An American History in Haunted Places, among other books. His next book, on secret societies and conspiracy theories, is due out in fall of 2022.
Your host for this event will be the writer Edward Parnell, author of Ghostland: In Search of a Haunted Country – this is the first time the authors of the two very different Ghostland books have appeared together! Edward Parnell lives in Norfolk and has an MA in Creative Writing from the University of East Anglia. He is the recipient of an Escalator Award from the National Centre for Writing and a Winston Churchill Travelling Fellowship. Ghostland (William Collins, 2019), a work of narrative non-fiction, is a moving exploration of what has haunted our writers and artists – as well as the author's own haunted past; it was shortlisted for the PEN Ackerley 2020 prize, an award given to a literary autobiography of excellence. Edward's first novel The Listeners (2014), won the Rethink New Novels Prize. For further info see: https://edwardparnell.com