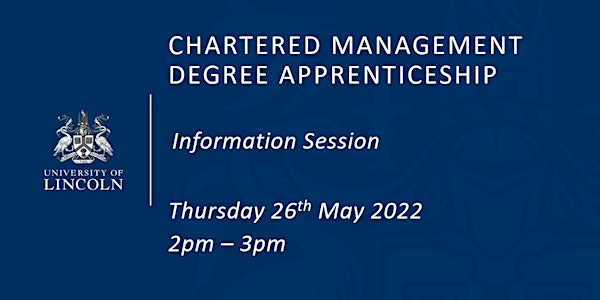 Chartered Management Degree Apprenticeship Information Session
Chartered Management Degree Apprenticeship - Level 6 BA (Hons) Professional Practice in Leadership and Management
About this event
Register today for an opportunity to learn more about our Chartered Management Degree Apprenticeship from the University of Lincoln.
We will provide an overview of the programme, with what it takes to complete an apprenticeship and how you can apply. Our Programme Leader Karen Burrows will be on hand to explain the course structure and the commitment required, and you'll be able to hear from one of our apprentices about their experience. You'll get an opportunity to ask questions throughout the session.
The benefit of the programme are three fold with regards to qualifications attained:
Apprenticeship
BA (Hons) Professional Practice in Leadership and Management
CMI Level 5
As an employer, you can use your training levy to train and develop you employees to impact the business more productively.
As an employee, you can develop your skills, to make yourself a more rounded employee and position yourself to take the next step in your career.
We are now enrolling for our next cohort!
Register today.