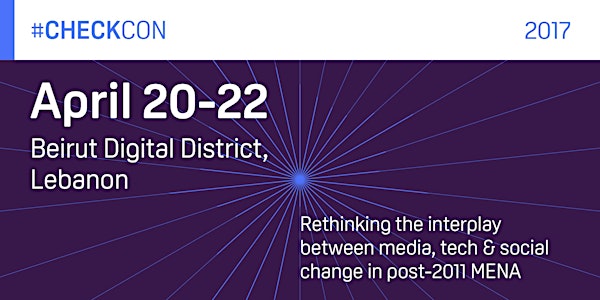 Event Information
Location
Beirut Digital District
Nassif Yazigi
Beirut, Beirut Governorate
Lebanon
Description
UPDATE: We are delighted to announce just a few of the key experts and advocates in journalism, verification and citizen media who will be joining us at CheckCon.
January 25, 2017 marks the sixth anniversary of the Egyptian revolution. While Syria's and Yemen's wars, Libya's political uncertainties, and Egypt's rising authoritarianism have made some doubt the significance and legacies of the 2011 Arab uprisings, now is a good time to convene and assess the future of media, technology and social impact in the MENA region.
CheckCon is a 3-day event that aims at bringing together grassroots media collectives, digital technology enthusiasts, professional journalists, and media students & scholars from across the Arab region to reflect on the experiences, successes, challenges and lessons learnt since 2011. The conference builds on five years of work on the Check project in Lebanon, Syria, Egypt, Jordan, Palestine, the US and the UK, and brings together everyone who has contributed to the project since 2011, including speakers and participants from Check partners' network.
Thursday 20th April - Friday 21st April 2017
Participation on Thursday and Friday of CheckCon is by invitation only. If you are interested in attending, please email Dima Saber at dima.saber@bcu.ac.uk
Saturday 22nd April 2017
Participation on Saturday of CheckCon is open to the public, and will be run as an 'unconference'. Register here if you would like to attend!
If you would like to submit a pitch to the CheckCon unconference, please do so at the end of this wiki or please email Dima Saber at dima.saber@bcu.ac.uk and we'll add it for you.

We invite session pitches that explore and address topics such as:
The human, social, economic and political legacies of the 2011 Arab uprisings

The relation between digital media and social change in the MENA

The role of the media (mainstream and alternative) in the coverage of revolutions, conflicts, displacements and social turmoil

Fact-checking and the importance of investigative reporting in the age of media convergence

Fake news, 'alternative facts', and the role of truth in politics and political journalism

Ways in which digital technologies can help raise awareness of and address the challenges posed by conflict and rising authoritarianism

The interplay between digital technologies, ethics and the media representation of wars, refugees and forced displacements

The future of digital technologies amidst the Arab region's political and social uncertainties
In the meantime, please help us spread the word amongst your networks of activists, media practitioners, students and lecturers. In order to make all postings related to this event searchable, please tag everything with: #CheckCon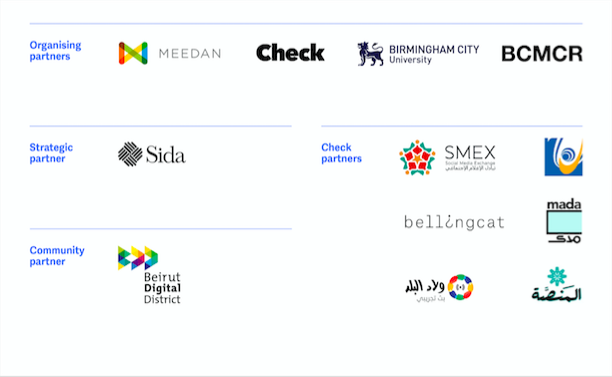 Date and time
Location
Beirut Digital District
Nassif Yazigi
Beirut, Beirut Governorate
Lebanon