Join Michelin-starred chef Daniel Galmiche & editor of Chef & Restaurant Magazine, Claire Bosi for a live cookalong from Daniel's new book
About this event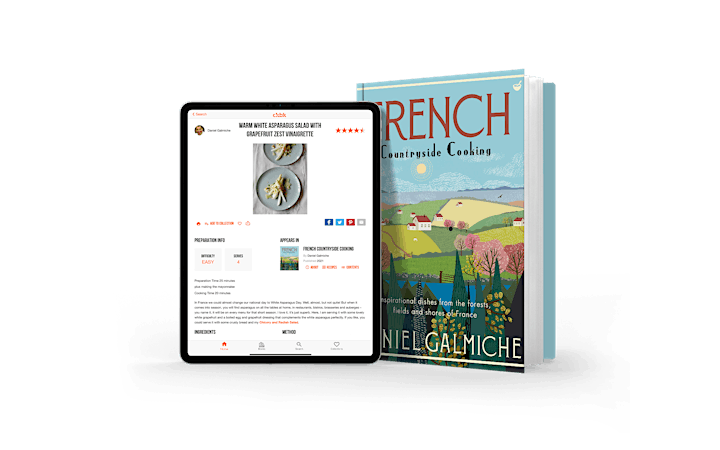 ckbk and Nourish Books are pleased to host a live cookalong from chef Daniel Galmiche's home, where he will show you how to create a recipe from his brand new book - French Countryside Cooking: Inspirational Dishes from the Forests, Fields and Shores of France.
Daniel will show how to make Warm White Asparagus Salad with Grapefruit Zest Vinaigrette. He'll also give tips on how to source these seasonal ingredients in the most sustainable way. You will discover his award-winning style of taking a French rural classic and elevating it into a sophisticated dish, full of flavour and easy to create at home.
Claire Bosi, editor of Chef & Restaurant Magazine, is Daniel's longtime friend and she will be talking to him about his background and inspiration for the new book and also taking your questions.
It's the perfect event if you're looking to master innovative French cuisine and reduce food waste! You'll be captivated by Daniel's intensity, passion and soon see why he has been described as "the champion of classic cooking with a contemporary twist".
The cookalong will be happening via Facebook Live, so follow ckbk's Facebook page to be notified when the livestream starts.

The Recipe - Warm White Asparagus Salad with Grapefruit Zest Vinaigrette
If you're taking part in the LIVE Cookalong, you'll need to get prepared. So here are the ingredients you'll need in advance.
1 egg
1 kg/2 lb 4 oz white asparagus, peeled and woody ends discarded [if you have trouble tracking down white asparagus ahead of the cookalong, this recipe is also great when made with English green asparagus]
1 white grapefruit
1 tbsp Dijon mustard
1 heaped tbsp Mayonnaise
6 tbsp sunflower oil
1 tsp chopped chervil leaves
sea salt and freshly ground black pepper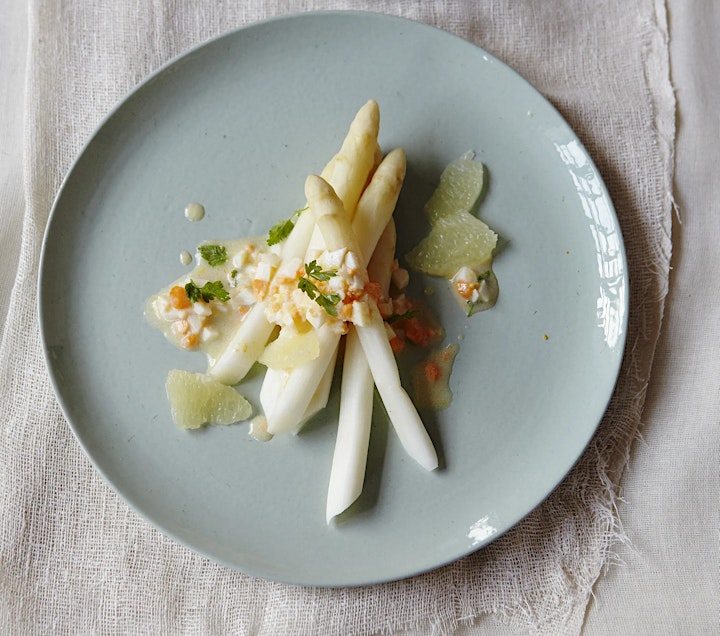 Send us your questions for Daniel
To post your questions in advance for Daniel, go to #ckbkclub and join the conversation. #ckbkclub is our online community of cookbook lovers on Facebook and its a great place to share your experiences as you cook from our library of over 500 cookbooks. When French Countryside Cooking is released on 11th May 2021, we will inviting #ckbkclub members to cook recipes from Daniel's new book and share their results. You can also submit your questions via to hello@ckbk.com, or tag @ckbk on Twitter.
Get French Countryside Cooking on ckbk
The full content of French Countryside Cooking , including every recipe, will be available to ckbk members from the day of publication. Starters, mains, sides and desserts are organised by the origin of their key ingredient. From the meadow, gather flowers for a dandelion, wild thyme and lemon cake. From the farmyard, make use of a chicken carcass to create a beautifully clear and nourishing broth. Or from the sea, create a stunning scallop soufflé with mushroom and tarragon cream.
Order a print copy of French Countryside Cooking
Follow the "Buy this Book" link on ckbk to place an advance order for a print copy of Daniel's beautifully produced book - the perfect gift for yourself, or any food lover!
Your chance to win a signed copy!
Thanks to our friends at Nourish, everyone who registers for this live event will be entered into a prize draw to win a signed copy of French Countryside Cooking.
"In this book, Daniel shows who he really is and where he comes from...I have huge respect for the man and the craftsman, his talent, his passion, his style of cooking and also the love he has for the produce, for nature and his peers. A man of my own heart." - Raymond Blanc
We look forward to seeing you at the event and bringing Daniel's innovative cookery to your home!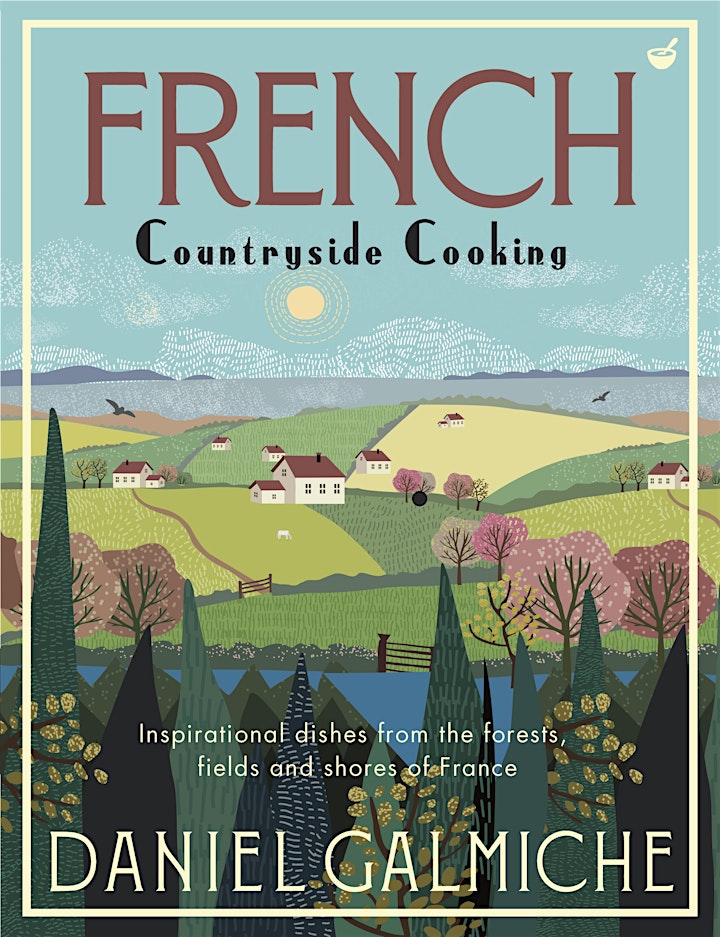 Organizer of Chef Daniel Galmiche in conversation with Claire Bosi: Free cookalong + Q&A