Description
Having just concluded the run of her critically acclaimed production of Tennessee Williams' Summer and Smoke (Almeida, 2018), director Rebecca Frecknall joins us to lead this workshop on her uses of Chekhov technique in directing. This session will be of interest to directors and actors/performers, and offers unique insights into the ways in which Chekhov's work can be used in the context of text-based work and chorus.
Ticket holders for this workshop are also invited to join us for a panel discussion, 4-5.30pm at the Jerwood Space (near Waterloo Station):
'Directors as Collaborators: On hierarchy, empowerment and kindness in the rehearsal process' Saturday 9th June 2018 | 4-5.30pm | Jerwood Space, Space 8
A panel discussion with Emma Baggott, Francesca Castelbuono and Rebecca Frecknall, hosted by The Chekhov Collective, chaired by Cass Fleming
'The Actor is the Theatre' (Michael Chekhov, 1936). As the theatre world grapples with questions of agency, exclusion and exploitation, the power dynamics between director and actors need re-visiting.
To take this forward, we have invited three directors to discuss the ways in which they collaborate with actors in film and theatre: To debate how conventional hierarchies can be subverted, how creativity can be both empowered and harnessed, and to reflect on the role of kindness in the creative process.
Accessibility: The studio at Goldsmiths is wheelchair accessible. Please email us with any access requirements at thechekhovcollectiveuk@gmail.com.
Cost: We are keen to make our workshops as accessible as possible, and there are concessions available. If you would like to make a special application for a free ticket, please contact us via email at thechekhovcollectiveuk@gmail.com.
Rebecca Frecknalls biog: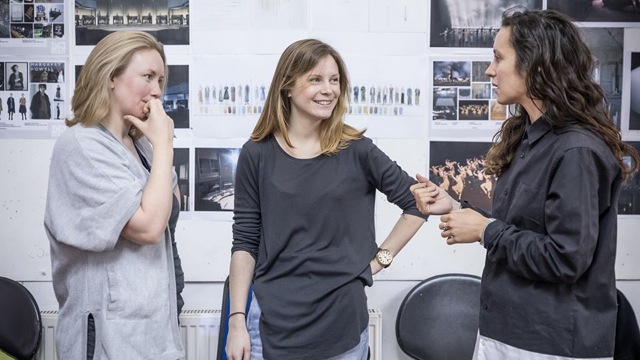 Image and Title Image: Marc Brenner
Rebecca trained at Goldsmiths and LAMDA. She was the 2015/16 Recipient of the acclaimed RTYDS Bursary at Northern Stage where she worked as Resident Director for 18 months and directed Zinnie Harris's Julie to both critical and popular success. She was one of the first winners of the Michael Grandage Company Futures Bursary, was Runner-Up for the Royal Theatrical Support Trust Director Award 2016 and a 2017 finalist, and was a finalist for the 2014 and 2017 Genesis Future Directors Award at the Young Vic. In 2017 Rebecca was Resident Director at The Almeida and has worked as Staff Director at the National Theatre and RSC. She was awarded one of the Jerwood Assistant Director bursaries to train at the Young Vic upon graduating from LAMDA, and was the 2012/13 recipient of theNational Theatre Studio's Resident Director Bursary.