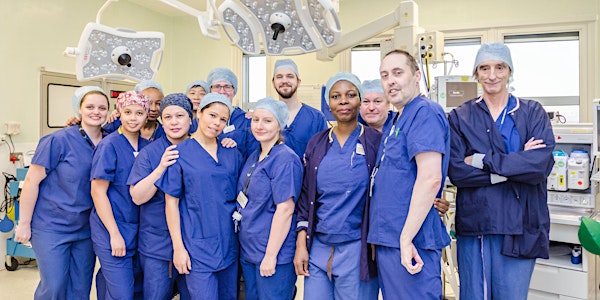 Chelsea and Westminster Hospital theatres open day
Location
Chelsea and Westminster Hospital
369 Fulham Road
London
SW10 9NH
United Kingdom
We are hosting an open day for anyone interested in a career in operating theatres!
About this event
We're hosting an open day on Saturday 28 May for anyone interested in a career in our operating theatres as a nurse or an operating department practitioner (ODP).
Our theatre services have several vacancies at Chelsea and Westminster Hospital for innovative and proactive professionals.
We have a great team here and are looking for dedicated people with relevant experience and qualifications to join us.
The recruitment open day will provide an opportunity to find out what it is like to work in our modern operating theatres.
Come and visit our four amazing theatre complexes here at Chelsea and Westminster Hospital to learn more about the amazing clinical care, research, and education opportunities our organisation has to offer. We have bespoke day care and paediatric theatres, alongside our main theatre complex, as well as a dedicated highly specialised burns theatre.
Our organisation specialises in all elements of surgery; both adults and children. We have a highly reputable colorectal unit, and are soon to be launching robotic surgery in colorectal and gynaecology. We have a specialised hand management unit and are a regional centre for burns care.
Access to training and development is available across our workforce with a highly supportive senior team to support staff through their career development.
Agenda:
10–10:30am
10:30–11:30am
Presentation
Questions and answers
Allocate tour groups
12–1pm
Tours: main theatres, treatment centre, paeds theatres, burns theatres
1pm
1:15pm
Opportunities to interview, if desired