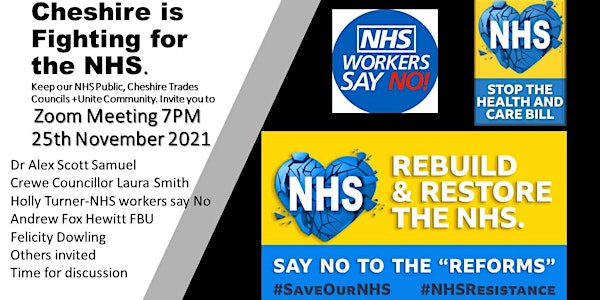 Cheshire Fights for the NHS, not ICS, and not the Health and Care Bill
We demand world-class health care for all with decently paid staff and all the treatments we require without rationing or charging.
About this event
We all need the NHS from cradle to grave. It's a necessity, and should be free from the point of need.
We DO NOT need the American model.
Cheshire has Conservative MPS and they must listen to the people. The Health and Care Bill is going through Parliament right now.
Staff are exhausted, hospitals and care services are under funded, maternity services stretched beyond bearing.
GPs vilified and grossly understaffed too. The NHS has huge staff shortages. We need the people to know what is happening and how it can and should be fixed.
Let's make this a huge campaign so the government has to listen!
Join campaigners, trade unionists and nurses to hear the truth.
Plenty of time for discussion.