Description
High Speed Chesterfield
The recent government announcement to bring a HS2 rail station to Chesterfield and with over £1 billion of developments on site and more on the way, the Chesterfield Investment Summit will make sure you are on track with the investment opportunities in Chesterfield and North Derbyshire!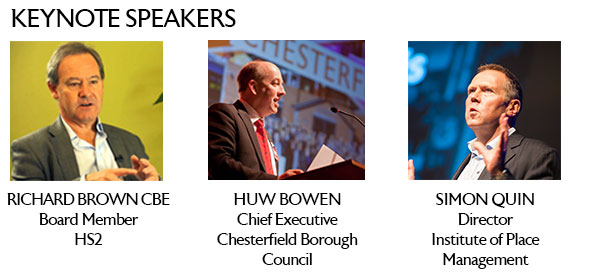 On the morning you will hear from:
Richard Brown CBE, is a Board Member of HS2 and a non-executive member of the Department for Transport Board. He was Chief Executive of Eurostar from 2002 – 2010 when he became Chairman until June 2013. He will give an overview of what HS2 could mean for the area.
Huw Bowen, Chief Executive of Chesterfield Borough Council, will update on the £1 billion of development projects in Chesterfield and the next phase of regeneration sites that are starting to come forward.
Frank Horsley, Head of Regeneration at Derbyshire County Council, will take about the investment opportunities across North Derbyshire.
Andy Dabbs, Director at Whittam Cox Architects will talk about the design and developmentof town and city centres for the future.

Simon Quin, Director of the Institute of Place Management, will discuss how market towns need to adapt to attract investment and customers in the future.

As well as the keynote speakers, there will be a networking breakfast, an update on sites across North Derbyshire, exhibitors from key regeneration sites and a question and answer panel with our speakers and local decision makers.
The event is organised by Derbyshire Economic Partnership, Destination Chesterfield and Marketing Derby and is part funded by the European Regional Development Fund.