An interview workshop, tailor-made to walk you through preparing for a Chevening Scholarship interview.
About this event
The third series of the 101 Series focuses on preparing you for your Chevening Interview.
Congratulations on being shortlisted to attend an interview!!
Information
The zoom workshop will feature 4 speakers who are current Chevening scholars, who will share their insights in preparing you for the interview.
The session will be followed by a QnA session with the speakers.
FREE sign up NOW! Limited seats available.
You will then receive a follow-up email with information about how to sign in to the event.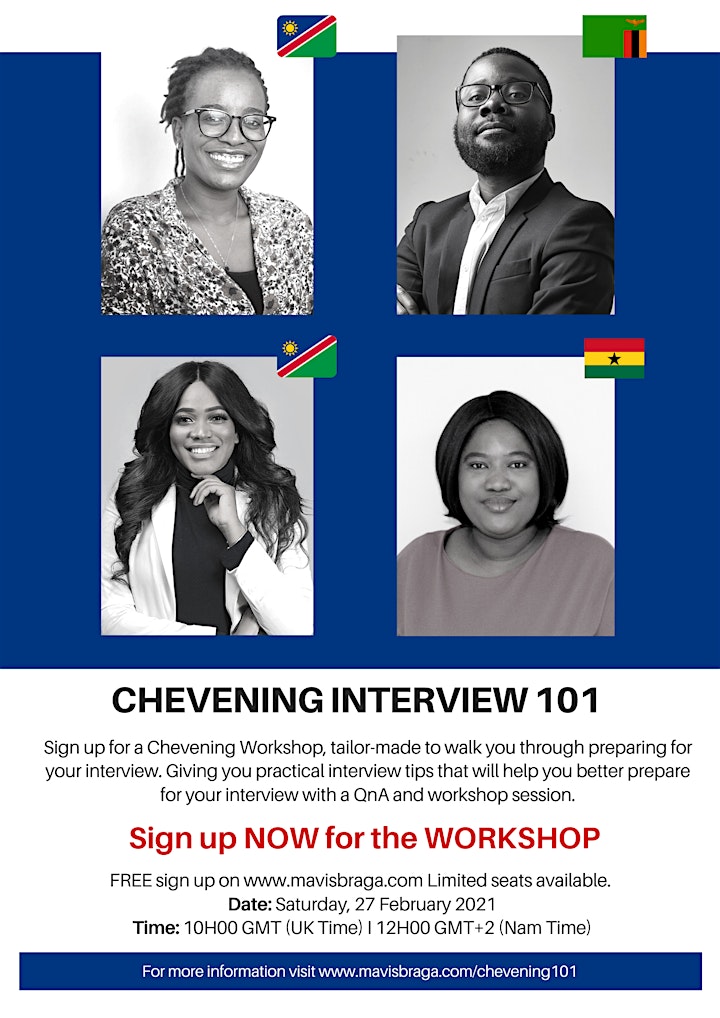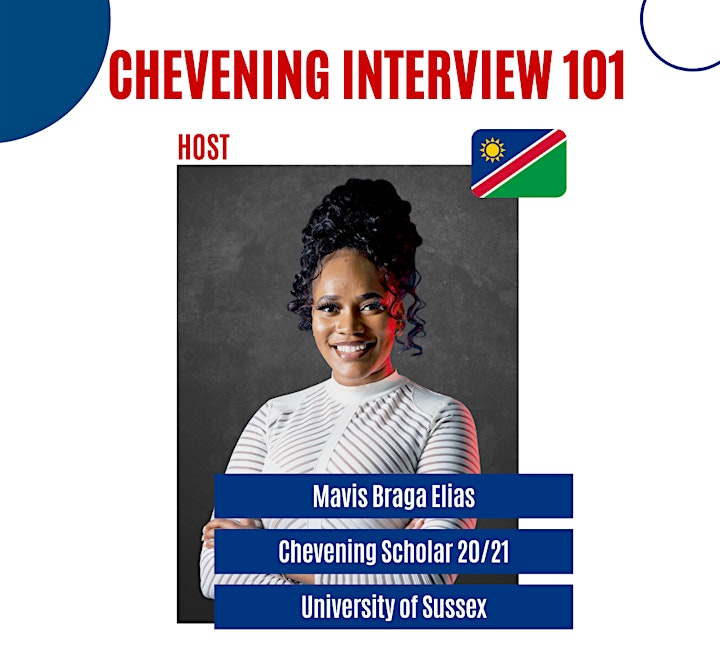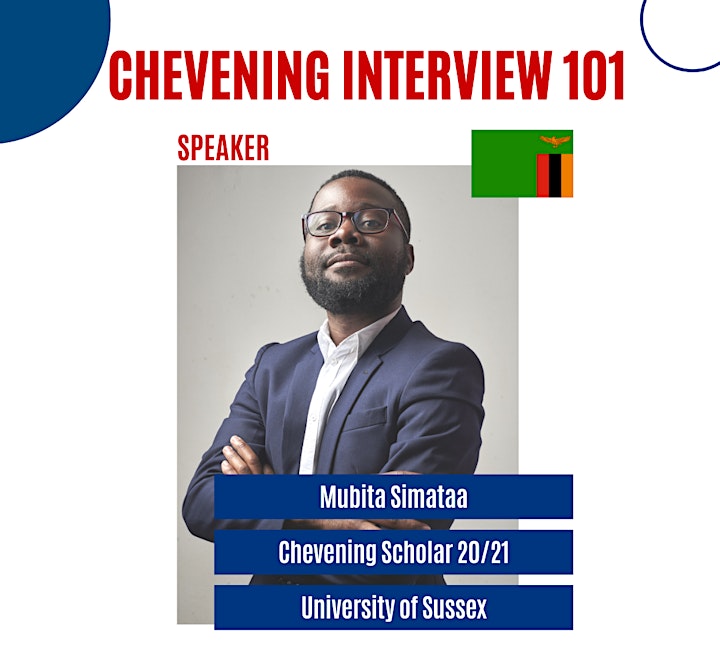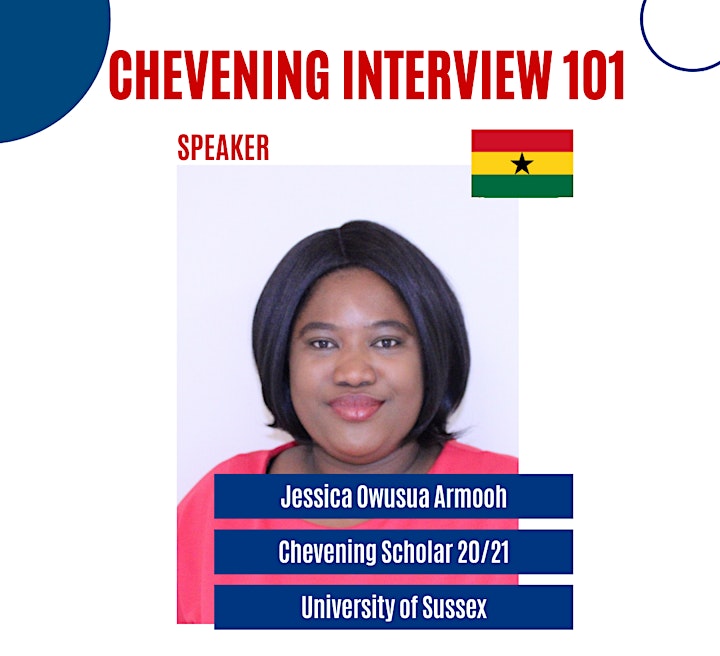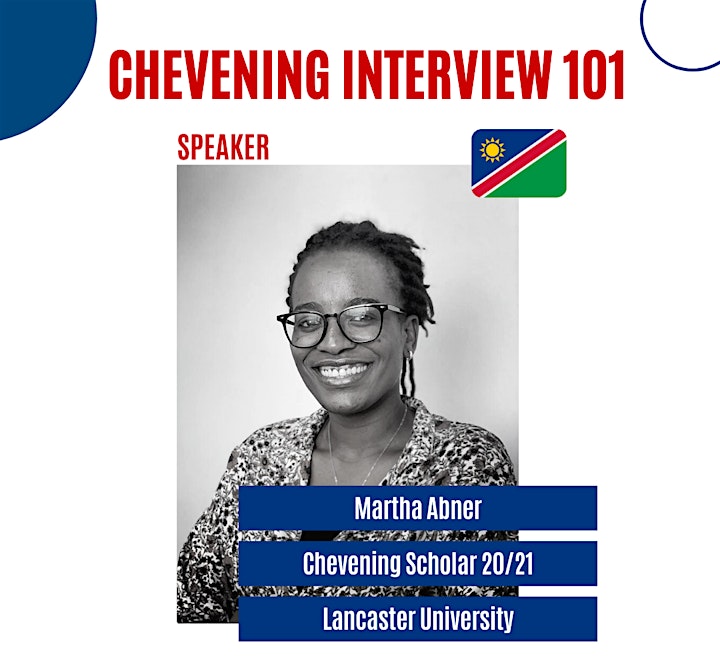 PROGRAM
12H00 I Opening
Overview
12H10 I Session 1
Leadership and Influence
Chevening is looking for individuals who will be future leaders or influencers in their home countries. Explain how you meet this requirement, using clear examples of your own leadership and influencing skills to support your answer.
Delivered by Martha Abner
12H25 I Session 1 QnA
12H30 I Session 2
Networking
Chevening is looking for individuals with strong professional relationship-building skills, who will engage with the Chevening community and influence and lead others in their chosen profession. Please explain how you build and maintain relationships in a professional capacity, using clear examples of how you currently do this, and outline how you hope to use these skills in the future.
Delivered by Mavis Braga Elias
12H45 I Session 2 QnA
12H50 I Session 3
Career Plan
Chevening is looking for individuals who have a clear post-study career plan. Please outline your immediate plans upon returning home and your longer-term career goals. You may wish to consider how these relate to what the UK government is doing in your country.
Delivered by Jessica Armooh
13H05 I Session 3 QnA
13H10 I Session 4
Studying in the UK
Outline why you have selected your chosen three university courses, and explain how this relates to your previous academic or professional experience and your plans for the future. Please do not duplicate the information you have entered on the work experience and education section of this form.
Delivered by Mubita Simataa
13H25 I Session 4 QnA
13H30 I Workshop
Workshop and QnA in breakout rooms (30 minutes)
14H00 I Closing