Description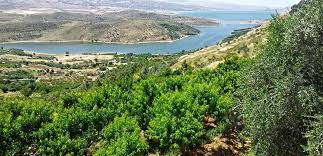 Chateau Musar's red vineyards are situated towards the southern end of the Bekaa Valley, north of Lake Qaroun and about 30 km south-east of Beirut. The grapes used to make Chateau Musar Red are Cabernet Sauvignon and Southern Rhone varieties of Cinsault and Carignan from long established, mature vines.Every wine of Chateau Musar is produced naturally with a 'non-interventionist' wine making philosophy and the winery was the first in Lebanon to implement organically certified viticulture.
"When you are a winemaker you have the luck to work with something that is alive and you should never kill it." Serge Hochar
Many people ask why Chateau Musar's winery is more than a two and a half hour drive from the vineyards in the Bekaa Valley. When Gaston Hochar began making wine in 1930, the boundaries of Lebanon had not been set, and he wanted to ensure that his premises would be inside the newly- demarcated country. Thus he chose to install his winery in the family's 18th century castle overlooking the Mediterranean at Ghazir, a Maronite Christian enclave about 25km north of Beirut. Its name in Arabic is 'M'zar':
'Place of extraordinary beauty/shrine to be visited' and Gaston adapted this name for his new enterprise.
At harvest time, the grapes are hand-picked by Bedouins in the cool of the morning to preserve freshness, and driven in sizeable trucks over the mountains to the winery at Ghazir.
The policy at Chateau Musar has always been to release their 'Chateau' reds and whites when they are ready to drink and this is generally 7 years from the harvest.
The evening hosted by our Wine Director Francesco Gabriele takes place in the Wine Room and is limited to just 16 guests. Enjoy an aperitif and canapé reception, followed by a four course dinner with paired wines.
Non-residential £100 per person
Includes: aperitif & canapé reception, four course dinner with wine pairings, coffee and chocolates.
Set Menu Coming Soon

1998 - Cinsault-dominated elegant, fragrant and well structured with fine acidity
2001 - Deep blood red colour with a smoky, spicy, nose of black fruits
2004 - Intensely warm aromas, floral notes, succulent and rich
2006 - Deep scarlet colour, blackberries, Assam tea, dark chocolate
2007 - Cherries, blackcurrants and prunes, a hint of dark chocolate
Dress Code: Smart Casual (jackets preferred for gentlemen)
Terms and Conditions:

Full payment is required at the time of booking and is non refundable. If due to unforseen circumstances, the event has to be cancelled a full refund will be made.