Chewton Glen Special Event - New Zealand Wine Dinner with Little Beauty
Description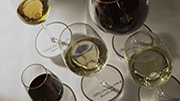 Join a small group of wine and food lovers for our April wine dinner.

The New Zealand dinner "Little Beauty"
THE PRODUCER
Little Beauty's regional home is the world famous Marlborough region of New Zealand. It's a place of great natural beauty with unique climatic conditions.
Summers are generally long and dry with bright sunlight.
Nights are cool and clear and both These qualities create perfect conditions for growing ripe, intensely flavoured fruit.
The Little Beauty vines are nestled in a sheltered part of the region known as the Southern Valleys.
This area produces distinct characters not found in other parts of Marlborough.
The key features of the site (41 ha in total) are the undulating river terraces with diverse soil profiles. This creates unique micro-climatic and organic activity specific to our site.
All wines are 100% sustainably produced
The Winemaker is Eveline Fraser (formerly head winemaker at Cloudy Bay)
Having only launched Little Beauty to market in 2009 with a 2008 vintage, she believes it was important to immediately mark a difference between her wine and the others on the market.
The Kiwi believes that the purity of fruit and the "vibrancy and honesty" about the wines that come from Marlborough, and in particular their vineyard play their part.
Little Beauty site is quite an extreme site, it's tucked up under the mountains, very stony with lots of stone evident in the top soil and lots of minerality.
It was really important for the Estate to have a really distinctive name to reflect individuality and with a sense of authenticity about it.A brand and a name to provoke some thought in peoples' minds
"To make a good wine you have to love the wine and the vine and our team really love the wine and the vine and that's something that's right throughout our company no matter where. So with all the people we work within the market and the consumers, we're looking for that love." [Eveline Fraser, winemaker]
The evening hosted by our Head Sommelier and representative from the vineyard, takes place in the Wine Room and is limited to just 16 guests. Enjoy an aperitif and canapé reception, followed by a four course dinner with paired wines.
Non-residential £95 per person Includes: aperitif & canapé reception, four course dinner with wine pairings, coffee and chocolates.
Menu to be confirmed nearer the date