Description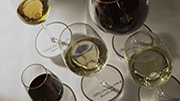 Join a small group of wine and food lovers for our May wine dinner with wines introduced by Daniele Pelassa of the Pelassa Family - owner of the Pelassa Wine Estate, Monta d'Alba region, Piemonte, Italy.

Piedmont or Piemonte, as it is called using the mother tongue, comes from 2 words linked:
Pie', foot, and Monte, mountain and it means foothill: what a perfect way to describe the location.
We are in fact sitting at the foot of Western Alps on the north side and on the south side we have the Apennine Mountains;
Both mountains chains are responsible for a favorable climate which along with a unique soil makes this place special and not just because of the wine but also for some great food…truffle?
Piemonte is often compare to Burgundy and not for the wine or grape varietal which are very different but for the passion, the way people love and respect their land, the method they produce and age the wine and the list could be much longer.
The main grape varietals are Nebbiolo, which fairly enough means from the foggy place, Barbera, mainly used for every day wine, Dolcetto, Brachetto, Arneis and many others.
The evening hosted by our Head Sommelier and representative from the vineyard, takes place in the Wine Room and is limited to just 16 guests. Enjoy an aperitif and canapé reception, followed by a four course dinner with paired wines.
Wines include;
Roero Arneis DOCG, 2016 - San Vito
Barbera d'Alba Superiore DOC, 2014 - San Pancrazio
Nebbiolo d'Alba DOC, 2013 - Sot
Barolo DOCG, 2011
Non-residential £95 per person Includes: aperitif & canapé reception, four course dinner with wine pairings, coffee and chocolates.
Menu to be confirmed nearer the date