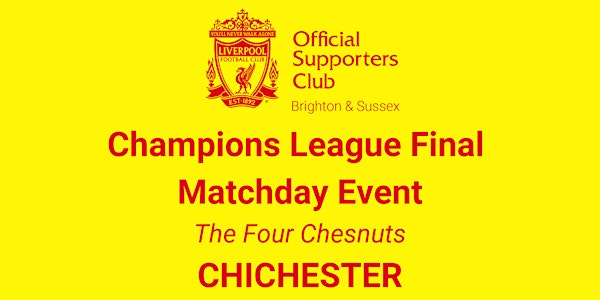 CHICHESTER | Four Chesnuts | CHAMPIONS LEAGUE FINAL | 20:00 k/o
Location
The Four Chesnuts
Oving Road
The Hornet
Chichester
PO19 7EJ
United Kingdom
Sales Have Ended
Registrations are closed
Thank you for registering for our Matchday Event, please read the information below. 1) COVID- SAFETY: If you, or anyone in your group, develops COVID-19 symptoms between the time of booking and the Matchday Event, please cancel your tickets and do not book for another Matchday Event until you have had a confirmed negative COVID test. In the spirit of community and friendship, we politely request that you, and anyone in your group, takes a COVID Lateral Flow test before attending the event. Please be respectful to other members and mindful that not everyone attending the event will be feeling so confident about the COVID situation. Please check before hugging people and be mindful of personal space and close contact as much as possible (especially when we score!). We need to find a way to gradually get back to normal and let those who are more nervous about the situation develop their confidence in these sorts of environments - it's all about the community! 2) If you book tickets and realise that you, or anyone from your group, can no longer make the event, please cancel the order on Eventbrite, or contact us so the ticket(s) can be made available to another member of our supporters club community, as we may have limited capacity. 3) Seating is on a first come first served basis. Try to arrive as early as possible to be considerate to our Events Team who will be checking people in. If you have not arrived by kick off we may offer your place to someone on the waiting list. Do NOT move tables or chairs from the positions you find them in on arrival. 4) If in doubt, make sure you carry a valid ID as our partner venues have a 'Challenge 25' policy.
IMPORTANT: Please read the information below before booking your ticket(s)
About this event
1) YOU MUST ENTER THE NAME OF EACH INDIVIDUAL PERSON you register a ticket for. Failure to follow this instruction may result in your tickets being cancelled.
You should also add each individual's email address so they are on our mailing list for future events or they may miss out on any priority tickets. You can use your own email address/phone number for under 18s, but please enter their name on their ticket.
You must only book tickets for people you know are definitely going to be attending, and check they have not already booked a ticket for themselves, or for you.
2) CANCEL YOUR TICKETS on the Eventbrite website (you can't do this on the mobile App) if you, or anyone from your group, can no longer attend the event. This is so the ticket(s) can be made available to another member of our Supporters Club community.
3) SEATING is on a first come first served basis. We will do our best to be accommodating, but we cannot guarantee larger groups will be seated together, especially if you arrive late.