Sales Have Ended
Ticket sales have ended
Thank you for confirming your place at Chief Disruptor LIVE, March 2019. We will email you your ticket closer to the event, as well as additional information you will need to know for your chosen day(s). In the meantime, please do keep an eye on our Chief Disruptor LIVE website, for exciting updates on the agenda! Whilst you wait, why not take a look at our most recent edition of Chief Disruptor magazine: http://bit.ly/2OsSqjH
Sales Have Ended
Ticket sales have ended
Thank you for confirming your place at Chief Disruptor LIVE, March 2019. We will email you your ticket closer to the event, as well as additional information you will need to know for your chosen day(s). In the meantime, please do keep an eye on our Chief Disruptor LIVE website, for exciting updates on the agenda! Whilst you wait, why not take a look at our most recent edition of Chief Disruptor magazine: http://bit.ly/2OsSqjH
Description

Disrupt your industry before someone else does
---
"Chaos" as a Constant
Rapid technological advancement means that "chaos" is a constant for every organisation.
While technology precipitates chaos, it's humans that are truly chaotic.
The Nimbus Ninety community is the home for disruptive thinking. All of our members, whether secure or vulnerable, must act now to seize the opportunities from imminent changes.
We're a home for "chief disruptors" from every sector and remit. Chief Disruptor LIVE has been built with, and for, those who create and deliver change.
We will examine the causes of tomorrow's changes for your organisation; to identify where you fit in local and global trends, and to show practical steps to accelerating your disruptive programme.
Take a look at the agenda.
Take a look at the webpage.
---
Benefits of Attending:
Chief Disruptor LIVE March 2019 will:

Equip you with the tools you need to understand your competitive threats. This is especially true if those threats aren't obvious.

Orientate you to the changes happening in your industry and identify your place in that change.

Show you the successes and failures of organisations who have experimented.

Illuminate the next steps of the path for those organisations which are furthest ahead.

Build a practical plan to overcome challenges and to enhance successes.
---
How will Chief Disruptor LIVE March 2019 Work?
Our C-Level, Country Manager and disruptive, change-maker members have demanded that we disrupt traditional events. So we're introducing explosive and active session types. We'll jam-pack the days with end-to-end value.
What's new? Where's the value?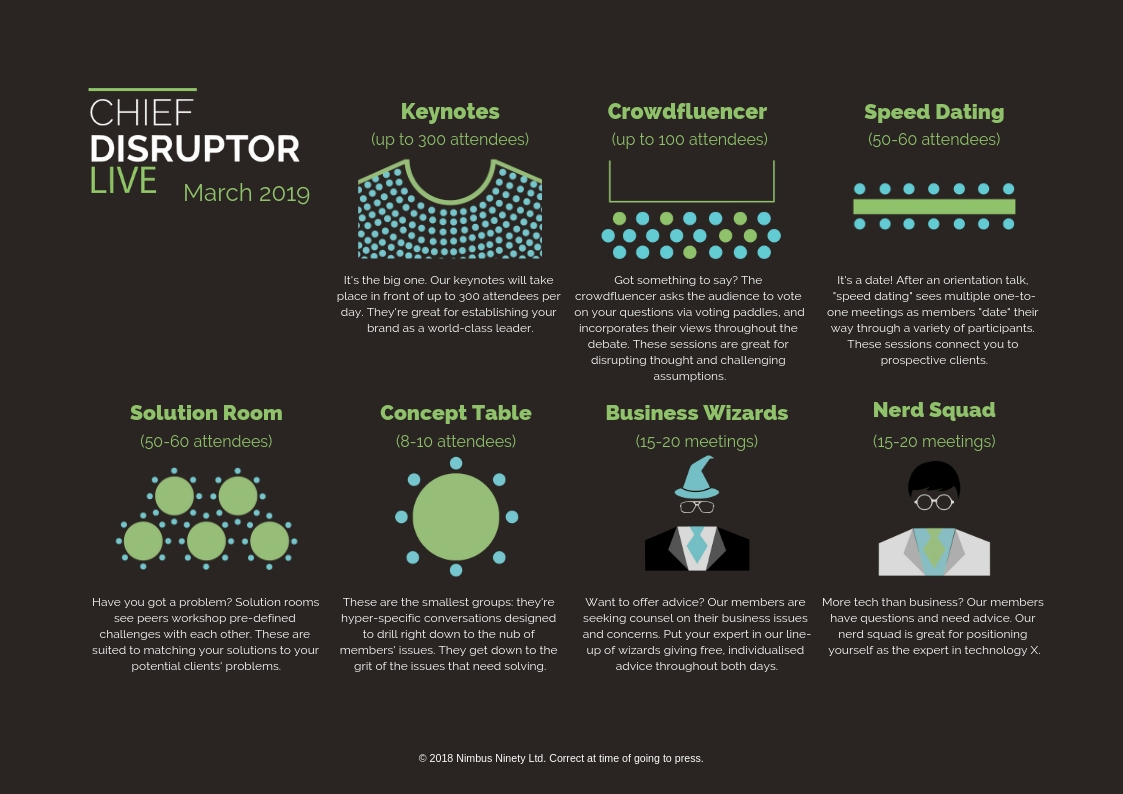 ---


How else is this different from other events?

Chief Disruptor LIVE will address both the big changes, and the narrower question of specific actions you can take tomorrow to address them.

Rather than focusing on specific technologies (AI opportunities, Blockchain, Big Data) Chief Disruptor LIVE will focus on the resultant change; for your organisation, and for your customers.

This event is for all remits and industries. You can meet bankers at banker events; CIOs at CIO events. That's a poor way to focus on disruption because the experiences of those in other industries are the best way to escape the group-think of your own sector. You'll learn from others and then implement change.

Other events are too passive. This is active. Other events will send you to sleep. This will wake you up.
---
Themes and Topics:
DAY ONE: BUSINESS CHAOS
Why Projects Fail
Why do businesses get disrupted? Hear from organisations that have been. Examine the causes of digital project failure, the causes of failure generally, and conduct pre-mortems. Where are your vulnerabilities?
Complacency and Threat
Take a look at the security, human and competitive "threat" landscape for the next 5 years. Nearly all successful disruption relies on assumptions from incumbents. By examining those, we'll be identifying where disruptors can seize market share.
The Amorphous Consumer
How are your customers changing? They discover products differently, think differently, and value different things, than they did 5 years ago. We examine how you can improve your appeal to tomorrow's customer.
DAY TWO: CLIMBING THROUGH CHANGE
Enlightenment 2.0
This is the "information enlightenment" — the way we consume information has changed as businesses and consumers. How must businesses respond? And how can you cater to the all-knowing consumer?
The Collapse of Distance
A rising Chinese middle class. Geopolitics of data. How to minimise the risks of Brexit. We examine ways that a global office, workforce, and consumer base, will continue to change the way we work as businesses.
Technological Politics
The rise of mighty platforms has created CEO-Emperors. "Big Tech" has provoked legislative responses from governments, such as GDPR; the courtroom dramas of Mark Zuckerberg now result in consequences which affect us all. If data truly is the new oil, then like oil, it will surely start to creep into politics.

---


FAQs:
Who can attend the event?
Nearly all of our events are purely for senior level executives (e.g. CIO's, CTO's, CMO's, CDO's, VP's, Director, Head of, SVP, Principal, Lead), their direct reports and those responsible for driving technology projects within their organisation.

However for Chief Disruptor LIVE March 2019, anyone who purchases a ticket is able to attend.