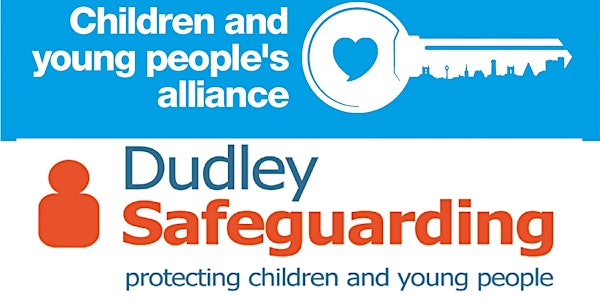 Children and Young People Alliance & Dudley Safeguarding Children Board Eve...
Location
Revival Fires, Apostolic Revival Centre
117 - 120 Wolverhampton Street
Dudley
DY1 3AL
United Kingdom
Description
Early Help - Changing Lives
Putting children and young people at the heart of everything we do
The Children and Young People Alliance and the Dudley Children Safeguarding Board are holding an event for partners and key stakeholders to help shape the future approach for children, young people and their families in Dudley.
At this event attendees will have an opportunity to discuss:
how we can make sure that by working together children and young people can get quality early help in a timely and co-ordinated way

how we can design new approaches to health and wellbeing for children, young people and their families

'Think Family' approaches

the role of the voluntary sector in the early help offer
We will also be offering a Market Place for providers, organisations on the day. If you are interested in having a stall please contact Sally.walker@dudley.gov.uk or telephone 01384 (81) 3927 for more information.
We really look forward to working with you.
Tony Oakman
Chair of the Dudley Children and Young People Alliance Board
Detail of Workshops:
Developing a tier less mental health service for children and young people
Facilitators:
Joy Newey, Emotional Health & Wellbeing Co-ordinator, Public Health, DMBC

Linda Cropper, Children's Commissioner, Dudley CCG

Jackie Alexander, Team Manager CAMHS,

– Dudley & Walsall Mental Health Partnership Trust
This workshop will focus on the development of an early intervention team in helping to promote, protect and improve the mental health and wellbeing of children and young people by improving access and beginning to break down the barriers that exist between services to offer a more seamless pathway of care and support.
The role of the Lead Professional
Facilitators:
Laura Pritchard, Family Nurse Partnership, Black Country Partnership Partnership Foundation Trust

Rachael Foley, Early Help Officer, Family Soultions, DMBC
The lead professional is one of a number of integrated tools and processes which help practitioners to assess and address the needs of a child or young person through a coordinated package of support.
Mainstreaming a whole family approach
Facilitators:
Heather Dudfield, Team Manager, Family intervention, Family Solutions, DMBC

Kay Hillman, Family Intervention Team Leader, DMBC
This workshop will explore learning from the 'whole family approach' adopted by the Family Intervention Team through presentation, case study and discussion.
This will primarily look at what makes an effective whole family worker, how to engage hard to reach families that may be facing multiple challenges and how a systematic approach will help achieve positive outcomes for families.
Voluntary sector and community integration in Early Help locality modelling
Facilitator:
Nicki Burrows, Children, Young People and Families Development Officer , Dudley CVS,

Julia Simmonds, Strategic Partnerships Service Manager, Dudley MBC
This workshop will explore how staff, volunteers and residents can play an integral role in the implementation, improvement and review of the Early Help agenda. Identify what key features are required to successfully achieve a seamless service and excellent customer journey in each locality area.