Description
On Wednesday 17th July at 6.30pm, join author/illustrator Elena Arevalo Melville as she celebrates the publication of her new book Umbrella.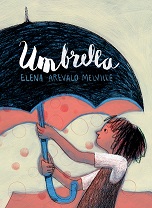 Clara has gone to the park, but there's nobody to play with. She finds an umbrella on the ground and does a good deed by putting it on a bench. The umbrella says 'thank you' and invites Clara to make a wish. So unfolds a magical chain of events where kindness and forgiveness go hand-in-hand. An amusing way to explore themes of empathy, choice-making and citizenship.
Amnesty International UK endorses this book because it celebrates our rights to express ourselves and to choose our own friends.
The launch is free to attend but booking is essential as spaces are limited. Tickets can be booked through this page, by calling 01223 463200 or in person at Heffers bookshop.
If you are unable to attend but would like to request a signed copy, please send an email via the 'contact' button on this page.
Like this? See a full list of our forthcoming events by clicking here.