Location
Summer Barn
Summer Barn
Summer Cottage
Cane End
RG4 9HG
United Kingdom
Refund policy
Contact the organiser to request a refund.
Eventbrite's fee is nonrefundable.
Exclusive private use for you and your family to enjoy our Picturesque Barn & Animal Farm, a hidden gem in the heart of the countryside
About this event
🎉 Childrens Parties at Summer Barn & Animal Farm - Private Hire
Summer Barn is a hidden gem that is situated within 18 acres of outstanding natural beauty in the Chiltern Downs. Exclusive use for your party group, bring along your own food and dine alfresco on our stunning outside gallery surrounded by breathtaking beautiful countryside, stunning woods and our friendly animals, or dine inside Summer Barn lit by Fairylight!
🎉 Party includes:
⏰ 2 hour Private exclusive use
🕰 please note set up and tidy up time is within your booked time slot so please allow for this - all bookings commence and finish on time as Sumber Barn is always fully booked
🐷 see all the farm animals at Summer Barn (Donkeys including our 2 new gorgeous Diddy donkeys-Freddie & Ronnie, Our friendly Miniature Shetland Ponies, Cheeky Goats, Inquisitive Alpacas A team Albert, Arthur and Arnold, Owl, Parrots and our super special waving parrot Mr Summer, our Jersey Cows Buttercup & Daffodil and their baby calf's Primrose & Annie, our giant cob horse Charlie, Bob & Betty our lovely Sulcata giant tortoises, Lenny and Larry our beautiful lambs, & our latest additions to the farm our amusing Emu Ozzy, super cute rescued Muntjac called Pumkin, and our gorgeous new baby foal called Henley Born July 2021!
🐣Depending on the time of year you will get to see our Summer Barn Babies, (Foals, piglets, goats, chick, ducklings) our latest arrival being our beatiful baby foal we have named HENLEY after Henley College Special Needs group! 🐴
⭐️ Optional Extras at Check out
🐴 Book to have one of our gorgeous Miniature Shetland Ponies to join your group to Love and Lead on the farm. Each child takes it in turns to help lead the Pony around the farm with their an accompanying adult and this supervised by Summer Barn Staff, children love this magical experience!
☕️Unlimted Tea and Coffee available - add on at check out for just £5 for your group
❗️Please note animals need to be moved around for grazing so we cannot guarantee which animals you will see, but you see see most of them!
🥕bring carrots or apples if you wish to feed the Donkeys, Alpacas, Emu, Goats & Miniature Shetland Ponies
🎶 Bring your own downloaded music to connect to our Bluetooth speakers
🤩 Bring along party games such as Piñatas 🪅, pass the parcel, pin the tail; o the donkey, play musical animal statues etc
🎊The Pary Barn is always decorated brightly (see picture below) but you can always add any further decoration as required but must be taken with you and Party Barn left as found
🍰 Bring along your own party food or you can order for dominos to deliver direct to Summer Barn, or arrange for a licensed catering company to provide your food (no drinking water on site)
🚻 Toilet, hand washing facility and sanitisers on site
🚗 Private Parking on site up to 30 plus cars
❗️If your special date and time is not available, please email us summerbarninfo@gmail.com as we can often add more times or offer an alternative venue
👭Maximum numbers - 25 children
- under 5's MUST have just 1 accompaning adult
- over 5's - If parents choose to stay - maximum 1 Adult per child Permitted
- no extra siblings or children permitted to stay unless a Sibling of the party child (they are not counted in the numbers)
💰 Prices for groups sizes for 2 hours Private Hire (party child to be included in group size)
- If your party size is smaller than 10 people book on Summer Barn Hire booking link at £30 per hour for 6 people
£150 for up to 10 children
£200 for up to 15 children
£250 for up to 20 children
£270 for up to 25 children
♦️General Rules ♦️
❗️Please familiarise yourself with the picture of the entrance and instructions below, as it can be hard to find
‼️Adult Supervision Is Key‼️
This is a parent controlled event , (Summer Barn Staff are not responsible for the welfare of your children whilst on site) Parents are totally responsible for the care of their children and must be supervised at all times.
Summer Barn owners will explain during your welcome introduction on site the safety requirements that parents & children must adhere to around the animals.
Parents can help prevent injuries by supervising children to ensure they behave appropriately around the animals as children and animals can be unpredictable at times!
The Venue must be left as found and rubbish taken, no climbing on gates or fencing. Private Parking.
- Owners are on site at all times (Mobile Numbers provided inside Summer Barn)
- Private Parking, Toilet with hand washing facility & sanitiser dispensers are located all around Summer Barn.
- If you wish to feed the animals dont forget to bring apples, carrots or celery
- All Summer Barn events are non refundable and non transferable
We hope you enjoy Summer Barn, please post your pics, vids, comments and reviews on our Summer Barn Facebook page.
Tables, chairs, door handles and toilet will be sanitised between every booking. You need to bring your own food, drink, cutlery and crockery, and rubbish bags. Enjoy the peace of mind knowing you can enjoy the farm, picnic and countryside knowing you will not meet anyone as this is for your exclusive use.
Address:
Summer Barn can be difficult to find on various Sat Navs - please use Google Maps this will bring you to the correct location signposted Summer Barn, Cane End , RG4 9HG
If you are lost please do not enter our neighbours driveways and instead call us 07759 823751 or 07850 806729
Book the Magical Pony Experience - to have one of our gorgeous Miniature Shetland Ponies to join your group to love and lead around the farm!
Add this on at check out for just an additional £20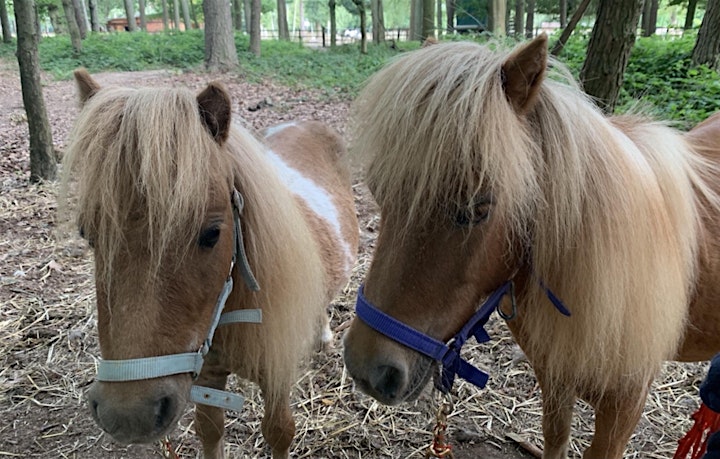 Here are some of Summer Barns baby animals born 2021
(lambs were not dyed pink! their red stamp turned baby pink when we washed them!)