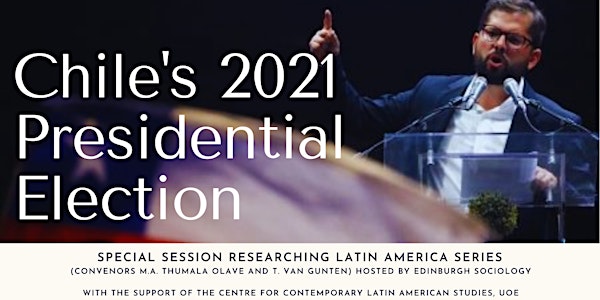 Chile's 2021 Presidential Election - the Researching Latin America Series
Join our social sciences panel for an informal discussion on the recent election in Chile. How was the election won, and what comes next?
About this event
After a fraught presidential campaign, Gabriel Boric defeated right-wing candidate José Antonio Kast in Chile's recent presidential elections. At 36, Boric will be the youngest president in Chilean history and the first to declare himself a feminist. Boric begun his political career as the leader of Chile's 2011 student movement and was elected to Parliament in 2013. His triumph has been cast as a revitalization of institutional politics and a sign of the resurgence of the left in Latin America even as his programme is more social-democratic than radical. For some commentators, the uprising of October 18th, 2019 -a mix of peaceful and violent protests- channelled a deep malaise about social injustice and expressed popular demand for structural changes. Chile is one of the most unequal countries in the world, and one where expectations of inclusion and empowerment have risen sharply over the past decades. The events in October 2019 triggered a process to replace the 1980 constitution drafted during Augusto Pinochet's dictatorship (1973-1989). Together with the implementation of his programme Boric will oversee how the new text, written by a Constitutional Assembly, is put to a popular referendum for approval. This special session of the Researching Latin America Series, hosted by Sociology at the University of Edinburgh, brings together sociologists, political scientists, historians, and a policy expert, to discuss informally the social processes that led to Boric's victory, the meanings of the result, and the likely outcomes and impact of his presidency.
Organising committee: María Angélica Thumala Olave, Carla Quiroz, Tod Van Gunten, José Tomás Labarca. Special thanks to Carla Quiroz for the design of the event's poster (below).
Thursday 27 January, 4-6pm UK (GMT) // 1-3pm Chile
Platform
This event will take place on Zoom. Registered participants will be sent the link and passcode on the same day as the event.
Recording
Please note that this event will be recorded.
Privacy
As part of the registration process, we will ask for basic information about the registering audience. We will use this data to communicate before the event (for example sending you the access details), and we may also contact you afterwards for event evaluation purposes. We will also ask you about your geographic location, your organisation and your occupation. This is to inform reporting on the event, and so that we can know a bit about the audience in advance, which helps with planning. Your details are stored for a limited time, and no more than one year (until the end of the reporting cycle). If you have any questions about this, you are welcome to contact us by clicking on 'contact the organiser'.